François Mommens is the CEO of Linkody, the first cloud based service to check your websites' backlinks. François is truly an international man: Frenchman born in Morocco, he recently moved from Spain to The Netherlands. We interviewed him in the Amsterdam headquarters of Linkody to talk about his view on the Dutch startup scene and his plans to grow Linkody further.
Why did you start with Linkody?

I needed a service to monitor the backlinks to vitalprix.com, a small business I still own. With this business I had partnerships deals where I would feature other people's products  for free in return of a link. I wanted a simple tool to check periodically these links and send me  a warning if they disappeared. I could not find such a tool so I decided to build one.
How much time did It take you to build a first version?
It only took three weeks. We had the idea in 2011. In December we started to build, and we launched in February 2012. The first version was very basic but functional. By now we have a second version that brings the service to a truly professional level, with many new features and a completely reworked design.
What was harder? Building the service or finding customers?
I immediately used the service myself, so in that sense we had customers from the beginning. Initially the customer growth was slow. I was CTO at another startup in Barcelona at the time, and did not spend much time after Linkody's launch. However a French blogger found our tool and published an article. This article helped many customers find us. People started tweeting and more reviews were written and the service got some traction. Building the v2 was quite tough, it required much more work than the V1 and we did that in parallel of our daily jobs, during the evenings and week-ends.
Who is your typical customer?
Linkody has a freemium model: you can check up to 50 links for free, but need to upgrade to check more links and use additional features. The typical 'free' customers use the link checking tool on their own website. Among the paying customers we have SEO agencies and independent social media professionals who use our tools to check their clients' websites.
How do you stand out from the competition?
Initially there was no direct competition, that is why we created the service in the first place. There are some other tools now that also do basic link checking. The version 2.0, came with a lot of additional features: Linkody now provides you with a list of backlinks it has automatically found, gives a lot of information on the source pages like Mozrank and Alexa rank and anchor analytics. The goal is to stay a simple, focused, freemium service, but with just enough extra features to really help our clients. Many professional social media managers use advanced tools like SEOMoz or MajesticSEO, but these tools are too complicated and too expensive for people that just need a backlink management and monitoring service. Linkody is an easy to use alternative from these features heavy tools.
Is there a team behind Linkody? What does it look like?
Linkody was founded by me and Tom Dibaja. We know each other from working at the same startup in Barcelona. I am a tech guy, he is more a product and marketing guy but is not afraid to do his own coding. Tom is now working hard to make his new project www.lovehabibi.com, a dating and meeting site for Muslims a big success. I have decided to focus on Linkody, and I am looking for a marketeer to join our team and help with promoting the tool and attracting more customers. Other companies in this area have teams of people working for them, and to keep ahead it would help to also have a larger team around Linkody.
Does your product have a single 'killer' feature?
The 24/7 monitoring with email alerts is the most important. If you need link checking, you need it to be reliable and responsive. Then all the information provided on these links is essential to see which links to your site have the most value and adapt your link building strategy.
As someone who lived in many countries, you are in an ideal position to compare cities. What made you decide to come to Amsterdam?
When the economic crisis hit the Spanish startup scene, it became harder to find interesting work in Barcelona. My girlfriend and I started talking about moving and initially looked at Scandinavia, because she has roots there. After visiting Amsterdam for a weekend, we decided we liked the city. I checked what the startup scene and job market here was like, found a job and then moved here.
What are the differences between the Barcelona and Amsterdam startup scene?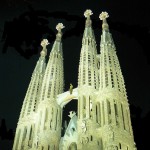 In Barcelona it is really hard for startups to find technical talent. Here there seems to be more tech graduates or people with programming skills for companies. I am not yet deeply involved in the Dutch startup scene, but I do attend meetings like the Hackers and Founders meetup.
How portable is your business? Does it make a difference to your sales that you are now based in Amsterdam?
The business as it currently is, is completely portable. . As soon as we build a team here, that would bind the company to Amsterdam or The Netherlands. Currently many customers are from France because of the French-spoken blog articles that help people find us.
Are you planning to raise funding or apply to accelerator programs?
Probably not for Linkody. Linkody is not a sexy business like those that are typically selected by accelerators. Also it is nice to remain independent with Linkody as long as we can.
I have several other ideas that are more consumer-oriented though, and I might organize a team and start pitching these ideas. One of these ideas is a community App for  rock climbers. I prefer not to disclose the other ones for now.
What is your advice to other people who want to launch a company like Linkody?
You have to be persistent, believe in yourself and your ideas. Also, try to find a partner that you worked with before, so that you know how to work together.
About the author: Sieuwert van Otterloo (twitter: @entreprenl) gives management advice with a focus on IT-enabled business. He gives software related advice via the Software Improvement Group, startup and innovation advice via Inbys and manages his own venture fund Otterloo Ventures. He writes for Startupjuncture and Frankwatching.