In the weekend of March 29-31 Max Schulkens and George Ankomah from startup Saddl participated in the Evolv Weekend in Rotterdam. This three-day interactive workshop is a crash course into entrepeneurship and the Lean Product Development method. It starts on Friday evening with team formation and ends on sunday with a business pitch to 'investors'. Below is an eye-witness report from the weekend by winning participant George Ankomah.
Why did you attend?
We were already familiar with Evolv weekend, since some participants of a similar event Lean Startup Machine Rotterdam enthusiastically told us about their experiences. We could attend with the help of Syntens, who sponsored one ticket. We applied some of the lean principles in our startup, Saddl, as we were still busy validating and fine-tuning our business concept. Next to getting hands-on experience with lean and customer development methods, we signed-up for the weekend to get more insight in to the customer's perception of our own concept.
Team formation and getting started
Evolv weekend started on Friday afternoon. As there was a larger number of concepts than groups, only a limited number of concepts was selected for the groups to work on. Unfortunately, our Saddl concept didn't make the cut. We did, however, work on a concept called 
Giftcannon
, a mobile app in which you could give someone a real-life gift: For instance sending a friend a beer when your running late to meet him at a bar. This app has already been launched in the UK, so we were very much excited to test wether a successful introduction in the Netherlands could be the case.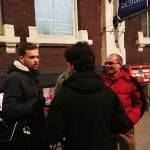 That Friday night we immediately went to some Rotterdam bars to find out if people we're actually willing to give a friend a drink via a mobile application ;). The result: Nobody cared. In all cases people only gave drinks to others while they were physically there. The next day we had to go back to the drawing table in order to rephrase the problem behind the concept. After a full day of experimenting and interviewing people we we tried different routes to get to a real problem.
Pivot
Central to Lean product development is validation of ideas, and moving away from ideas that did not pass validation. Based on the feedback we 'pivot'-ed: we changed the concept and narrowed down our target group to expats. It seemed that expats experience problems in finding personal gifts in foreign countries.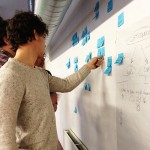 Although we finally found a sweet spot, we didn't feel like creating another (gift) version of the yellow pages at all. So the next couple of hours we struggled with the question if we should develop a concept we didn't love and kind of got stuck. We eventually regrouped and gathered all our data in order to find some new clues. This lead to the creation of Expatkit, the survival kit for expats. We aimed at offering different kinds of boxes with products from foreign countries in order to make the life of people living abroad a little easier. As we lost some time during our struggle that afternoon, we had to spend the entire night on finishing the concept and and creating a mock-up landing page.
On sunday we had to evaluate our experiences of the previous days and had to put things into words for the final presentation. We didn't have any revenue from our Expatkit page but the numerous experiments and failures gave us enough to talk about during our presentation.
Results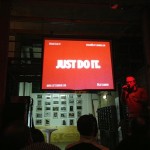 Although we felt like a failure, after no sleep and no working concept on Sunday morning, the entire learning experience was great. We shifted to a completely different concept as our initial concept through experimenting and validating the customer's pain;
we struggled with creating a new concept we were all satisfied with, but it eventually thought us three things:
 If you think you're assumptions on having a concept that actually deals with a problem are right, they're most likely wrong.
You'll have to love your concept in order for it to work, no matter how apparent the customer's pain seems to be.
A good team vibe is essential in order for things to run smoothly and to keep on going, even when it seems like everything is going to fail.
In the end, our team effort was rewarded as, after the final presentations, the jury announced our team as winner of the weekend! The jury highlighted the importance of experimenting and learning during Evolv weekend and that the weekend wasn't focused on creating another innovative business concept.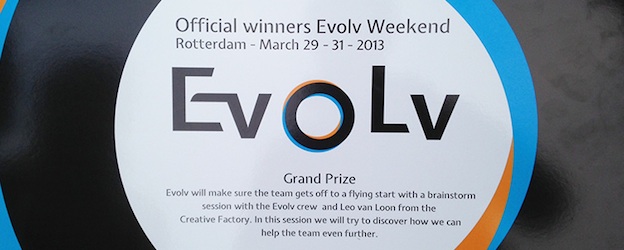 Most surprising insight
The most remarkable discovery was how our own assumptions about the underlying reasons by the customer's problem in relation with the actual responses could be so different. We started with a concept, Gift Cannon, and we ended up with something completely different. This was primarily driven by the notion of finding real customer pain instead of us creating a concept that sounds cool and innovative. Looking back at the weekend, it was a good thing that we didn't work on our own concept, Saddl. Working on the Gift Cannon concept enabled us to look at our findings objectively, as we had no (emotional) connection with the concept at first. We really focused on applying the thought techniques and theory in real life.
What was different about Evolv compared to other events?
Evolv Weekend was very hands-on and lets you put the thought concepts into practice right away. The focus of the weekend didn't lie on reading and conversing about the lean startup or customer development, or creating a new groundbreaking idea. It was all about experimenting, validating and actually getting out of the building.
How to prepare for the weekend?
It's always easier to get familiar with some of the concepts beforehand, however don't let your current knowledge block your learning experience during the weekend. If you want to work on your own business concept, think about what really drives the customer's pain and how your are going to solve it. Present the concept at the weekend, but don't work on it yourself. This prevents you from being biased, and protective about your own concept.
Who should attend?
Everyone who is either busy setting up their own startup or who's aspiring to do so. Even people working for marketing or new business development departments of established companies will benefit from the insights gained at the weekend. If you don't like getting your hands dirty, or if you only want to hear about best practices, Evolv is probably not your thing.
Having completed the weekend, what are you doing currently?
Based on everything we learned during Evolv, we decided to go back to the drawing table with our own company Saddl. With Saddl we offer (online) retailers the possibility to ship and deliver their goods on the same day. Although we applied some of the lean concepts in our own startup before, we're now much more focused on experimenting and learning in faster cycles in order to improve our business concept. This helps us to create a business concept in which actual value (for both the consumer as the retailer) is added to the delivery process. While the main focus and the development of our platform is still important, we changed our focus. We now focus on getting as much contact with our customers as possible through short pilots. These pilots all have a different focus: For one online retailer we organise his shipments in such a way that consumers not only receive their goods within an instance but also have the possibility to try multiple products. Evolv helped us to better organise our customer development process and interpret the data we get from our experiments.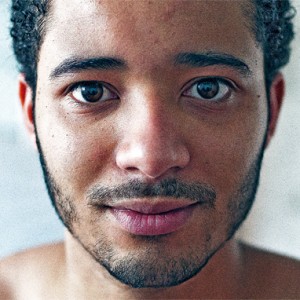 About the author: George Ankomah is co-founder of Saddl. He has a background in International Business Administration and web design. Saddl was selected as a semi-finalist of the Philips Innovation Award 2012, won the audience award ('Social Media Award') of the Philips Innovation Award 2012 and won The Enterprize 2012.