WoodWing Holding has invested in SOWISO, a startup software company based in Amsterdam. SOWISO develops innovative e-learning technology for mathematics and related exact sciences. The exact amount of funding or the valuation are not disclosed, but it is sufficient to scale up the team with a few people for the next 1-2 years.  With the new funding SOWISO is now hiring  developers.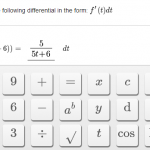 SOWISO offers a cloud-based e-learning platform. The platform enables publishers and universities to create intelligent e-learning solutions that fit the education requirements of the digital world. The system is adaptive and helps students of different levels and didactic preferences by providing an optimal learning path. The software provides feedback on the answers entered by the students. The system not only detects errors, but also recognizes what the error is; most other e-learning tools are limited to multiple-choice questions and binary correct/wrong feedback.
"In order to stay competitive in the global economy, countries have to turn their education upside down to prepare the next generations for a digital and global world," said Erik Schut, Board Member of WoodWing Holding. "We are very impressed with SOWISO's e-learning technology and platform, which allows much better and personalized education. We are pleased to help SOWISO make a change in the global education market."
With an investment in the company, WoodWing Holding is now a substantial minority shareholder of SOWISO. Other investors include the Eindhoven University of Technology and Otterloo Ventures, a venture fund owned by the author.
The system is already in use at the University of Amsterdam, the Amsterdam University of Applied Sciences, the Amsterdam General Hospital, the Belgian publishing company De Boeck.
"This strategic partnership will help SOWISO to accelerate its business, both domestically and across the border," said Marc Habbema, one of the founders of SOWISO. "We are eager to expand so that students and teachers worldwide can benefit from our advanced e-learning technology for the exact sciences. We are looking forward to the future with WoodWing." 
More information can be found in the full press release from Woodwing and SOWISO.