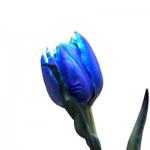 The Accenture Innovation Awards (AIA) is a yearly innovation event in which startups and innovation ideas from large companies compete for the 'blue tulip' innovation awards. It was started in 2007 by consulting and services company Accenture to help startups connect to investors and potential customers. Startups can now subscribe for the seventh edition. We interviewed AIA founder Pieter Paul van Oerle about this initiative and why startups and large companies should enter the competition.
About the AIA founder: Pieter Paul van Oerle is management consultant at Accenture, specialized in media and new technology. He started the Accenture Innovation Awards six and a half years ago, shortly after joining Accenture and is now organizing the event with a small army of Accenture employed volunteers and interns. 
What exactly is the AIA?
The AIA is a year long program about innovations from Dutch startups and other companies in the Netherlands. We invite both large organisations and startups to participate in the various categories. At the various events, the different companies can meet each other. Startups can for instance meet potential investors or new corporate clients. For Accenture it is a way to help our corporate clients connect with innovative entrepreneurs.
Why did you start with the AIA?
When I joined Accenture in 2007 I wanted to do something that really helped my clients gain insight in the latest trends. The 'award' format is a good way to put all latest trends and the entrepreneurs working on those trends in the spotlight.
How did the program develop through the years?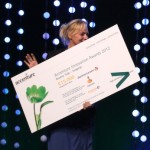 When we started in 2007 we only had one category: media. We received many positive responses from clients in other areas that they were also interested. Therefore we added a new category almost each year: telco in year 2, then high-tech, then finance, until we covered all industries. This year we have six categories in which companies can participate and one extra 'green' prize: communications/media/technology, consumer goods / electronics, energy, financial services, health /public services and the 'green tulip' for sustainable innovation.
You describe the AIA as a program, not an event. What do you do besides the final event?
The highlight of the AIA is of course the final, this year on November 8. Running up to the finals we have jury meetings and pitches. We also add each participant to our 'innovation database' and we show these participants to our clients interested in innovation this year. We also run a media and social media campaign from now until November, that helps startups gain publicity.
Why should startups participate?
We offer startup media attention and also help them to get in touch with investors and corporate clients. The investment directors from venture funds, for instance Sanoma Ventures and RTL Ventures, actively participate and meet many startups through our initiative.
In what phase of their company lifecycle should startups participate?

Any phase, because it will help your startup being found by the right people later on. If you aim to win, it of course helps to have customers and revenue. However one of the winners of last year, solar lamp company WakaWaka, did not have any sales yet but won because of the strength of their innovation.
Also, even if you do not win, it is useful to participate because that way we know you exist and we might introduce you to one of our clients.
Large companies can also participate in the awards. Do you actively stimulate large companies to participate?
Yes we do. We want to have a mix of startups and large companies participating. The startups are easier to convince to participate. For them the prize (€ 50.000 in media publicity) and connections are very valuable and hard to obtain otherwise. Large companies often have the marketing budgets they need, so they do not need the prize per se. However even for them it is interesting to connect to other innovators and that is why we want them to participate.
Last year the final event had a very large number of stages, category winners and prizes: people, including journalists, found it hard to remember who won what. Are you doing things differently this year?
Yes. Last year we had parallel competitions in each category because the field in each category was very competitive so reaching a category top three was a real accomplishment. There also was a public prize per category. This year we will simplify the prize structure and run the show more like the Oscar's. There are still different categories, and in each category there will be a winner ceremony. There will be only one public prize decided upon by the social media and audience. There will also be a different structure, like a menu, for the startup market between the stages. For instance we will make live radio during the event.
What is your advice for startups that are thinking about entering the competition?
Spend time on explaining your innovation when you enter. We have a team of smart professional analysts to handle all entries, but even they struggle to understand some of the entries. We see to many entrepreneurs that are to deep into their niche to communicate their innovation to the rest of the world.
Potential participants, either startups or large organisations with an innovative idea, can enter the competition here.