(update: SellanApp is no longer active. more details here)
Crowdfunding is hard work: entrepreneurs succeed in crowdfunding when they campaign actively and organize their crowd. The crowdfunding platform SellanApp knows this like no other company, and therefore organized a meeting for and with their crowd, together with Symbid. Below you find their view on the future of crowdfunding.
Types of platforms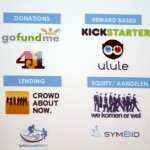 Symbid opened the evening with some interesting facts about crowdfunding: Of all 454 crowdfunding platforms, The Netherlands has about 7% and is therefore a relatively large player in crowdfunding. Each platform has its own model, typically a mix of four models:
Donation based
Reward based
Lending based
Equity based
Symbid strongly believes in the future of equity based financing in general, and equity based crowdfunding in particular. As an entrepreneur you do not know exactly how much you can give back to financers. This makes debt financing problematic.  In fact more and more entrepreneurs are turned down for bank loans because their cash flows are not predictable. Crowdfunding is an interesting alternative for these entrepreneurs. Symbid has financed 17 initiatives in the last years, ranging from high tech to cheesemaking. The Symbid model is fully equitybased.
SellanApp uses a mixture of gift based and equity based financing: people who pledge a small amount receive the app or a related gift, and as of a certain point they share in the revenues.
Ambitions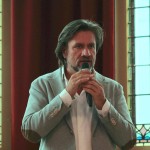 Both Symbid and SellanApp have great ambitions for their platform. Symbid aims to become one of the largest sources of funding for companies, filling the gap between friends and family and informal investors. SellanApp on the other hand aims to become the worlds largest app maker: first in number of apps, than in number of downloads, and finally in revenues. CEO Aernoud Dekker does not think this will be achieved through a single 'angry birds' app. Such an app requires the dedication of a whole company. SellanApps aims at the large middle group of apps based on user ideas: apps as a plug-in for your life. SellanApp does not exclude games from their platform, but expects to make simpler games like wordfeud rather than an angry birds.
Startup valuation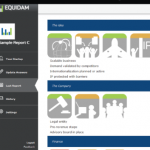 One of the challenges in equity based crowdfunding is valuation: how do investors know that the amount of shares they get for their money is right? The amount should be fair towards the new investors, the earlier investors and the founders. Luckily there is a startup Equidam that helps: the company can provide an estimate of the value based on a combination of five valuation methods.
App promotion
SellanApp is different from the competition because it provides all pieces off the puzzle for app makers. They do not only collect the funding but also select the right development companies, help to set the right prize and manage the project. Up till now they did not do much marketing for the apps, but left the promotion to the original app producer who created the app idea. SellanApp is however changing this model, because many app producers need help with marketing for their app.
Trading shares
One problem that is not urgent but might become important for the long term image of crowdfunding, is the ability tot trade investments. If you invested two years ago in a crowdfunding initiative, you might want to sell you investor to a fellow backer. Currently this is difficult or impossible on most crowdfunding platforms, but Symbid and SellanApp are looking to find a solution.
Next funding round
There is a SellanApp campaign on Symbid for people interested in participating in SellanApp. The campaign however closes on Monday, so people that want to invest have to be quick. If you are too late: there is a parallel SellanApp campaign on Fundedbyme that will stay active for longer.