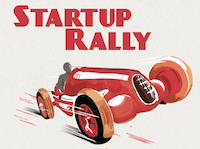 Startup rally 2013 is an initiative to bring startup communities from different cities together. The rally drives across Europe to visit 9 cities, and in each city both local and international startup pitch in front of an audience of investors and fellow entrepreneurs. On August 13th the first edition took place at Rockstart in Amsterdam with a total of 8 startups.
Organization and Jury
Startup Rally was organised in a short timeframe by Leto. Leto is a London based company that helps a lot of startup companies with their digital strategy. Rather than just host one event, they came up with the idea of touring through Europe. For each city they select local partners from the startup community to co-organize the event. For Amsterdam, they contacted StartupJuncture to cover the event (on this blog and twitter) and asked Rockstart to provide a location. Luckily the Rockstart Spaces location was available.
The jury for the evening consisted of four professional investors: Roelof Borggreve from HenQ investments, independent investors Frank Verschoor and Sander van der Blonk and Thijs Gitmans from Peak Capital. In their closing speech they explained to the audience what they look for. As investors they are not interested per se in the product and the features. These often get too much attention in the pitches. The startups should talk about the team, the market and their trackrecord in executing since this is what they as investors are interested in.
Workspace 365: overall winner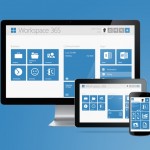 Workspace 365 helps companies migrate to office 365. They have already helped several companies migrate and each time they learn more about what kind of tools each type of company needs, so that they can help companies in that category better and better. Their focus is on small companies, with less than 20 employees.
Workspace 365 was chosen by the jury as the winner of the evening. The jury liked the market the company is in, the team and the ability to execute, and it also helped that this company is well placed to benefit from the move towards the cloud that is taking place.
International guests: Pixelpin and Portfoleo
Pixelpin is a young ambitious company from the UK that wants to replace passwords with pictures: a user identifies themselves by selecting four points on a photo. They have already raised about 400.000 pounds and are aiming to raise a similar amount in the next few months.
Portfoleo
Portfoleo is a career website specifically for architecture professionals. They told a compelling story about the need for their product: employers like CVs that are easy to compare, and that is exactly what their website can offer. One of the questions from the jury was why they choose the architecture market: in some parts of the world, especially outside Asia, the construction market is tough at the moment.
Dutch startups: crowdyhouse
Crowdyhouse is a new crowdfunding platform, to be launched into the Dutch design week in October. Fittingly, they aim at funding designer work by letting people pre-order proposed design products. For designers, this is a good way to estimate demand before ordering material. The crowdfunding market is already crowded with platforms, but if they can get enough unique designs on their platform, they could find a profitable niche. Designers are already excited: they have enough designer to launch two new products each week.
Science Rockstars

Science Rockstars is a company that combines data analysis and behavioral science. Their first product, called persuasionAPI, builds a personal profile for each website visitor on how that visitor likes to be persuaded, so that a website can adapt the content to the personal users. The service is already used by several large websites, including booking.com. Even more impressive, the company already has 14 employees and can fund the operational cost from the current revenues. They joined the rally because they would like to raise funding for further growth.
Science rockstars is partially based in The Netherlands but has strong connection with Stanford university, with two professors in their board.
Twoodo
Twoodo, who are part of this year's class of startupbootcamp, gave a well structured and impressive pitch in which they presented themselves as productivity experts. They are creating the combine harvester for communication: one tool that does it all. It replaces email, chat, and todo-list by the command box. They already have beta customers, including the CEO of Spil Games and are working on new features such as natural language recognition. In response to jury questions they explained that Twoodo is also developing strategies so that twoodo-users can communicate seamlessly with non-users.
We share solar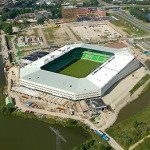 We share solar is a platform for people that want to invest in solar energy, but do not have a good roof themselves. We share solar helps these people with support and administration to create a project and to crowdfund the investment needed. To kickstart their platform, an example project was created:  One million watt ( http://doemee.1miljoenwatt.nl ) that places solar cells on top of the Euroborg stadium in Groningen. Essent is listed as a partner for this project "We started a platform because we wanted to do a project but we did not know where the good roofs were. With our platform we use the local knowledge. "
Buzzoek
Buzzoek is a retail company that helps companies interact in a better way with their customers, by making a loyalty card from a card (e.g. public transport card) that they already have. This should make it much easier for smaller stores to set up a loyalty program and thus get to know their customers better. Individuals can invest in Buzzoek using convertible bonds (a so-called hinksprong). More information is available here:  https://www.buzzoek.com/invest/
Next steps
Startup Rally is now on its way to Hamburg, where they will present tomorrow. From there on they will move from startupcity Berlin to Prague, Vienna, Munich and end up in Zurich. In total they travel 4000 kilometers, an impressive roadtrip. Hopefully the atmosphere in other cities will be just as good as the atmosphere yesterday: Rockstart was packed with many startup enthusiasts that wanted to see these startups pitch.