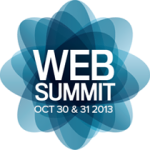 Websummit  is a large conference on web technology held in October in Dublin on Oct 30 and 31st 2013. The organisers call it the 'Rolls Royce of tech events' and have attracted a large crowd of tech-savvy speakers and attendees. 150 startups have been selected to present themselves to investors and media at this conference. We list the 24 Dutch startups that have been selected.
Europe has only a handful of large events that can be used by startups to gather media attention: Slush in Helsinki (Nov 13-14), TheNextWeb in The Netherlands (April 24 25) , LeWeb in France (Dec 10-12) and Websummit in Dublin. Presenting your startup can be beneficial if you want to reach a large group of early adopters quickly, or if tech media attention is necessary for your business model. Other startups attend these events to see other startups and learn, or skip these events completely to focus on their real target customers. The competition to present at these events is fierce, and it is therefore good to see that 24 Dutch startups have sufficiently impressed the organization to get selected. We list these Dutch startups in alphabetical order.
Note 1: This list is only the list of featured early staged startups of the ALPHA program. As Paul O'Connell and John Staunton pointed out, more startups will participate under another program.
Note 2: We initially missed Science Rockstars, linked to Stanford but based on Eindhoven. So it is in fact a list of 25 startups.

24sessions: Not launched yet and no details available. A "disruptive startup in a highly traditional market" is all founder Rutger Teunissen wants to say on linked in. http://24sessions.com
Cityshare: This startup is still in the "launchrock" landing page phase. Their idea is travel tip sharing. http://cityshare.launchrock.com
Eduapp: Discovery of apps that can be used in education. http://eduapp.nl
Give it: They help webshops to offer gift options to their customers, allowing people to buy gifts for others. https://give.it
Hello Dialog: This startup promises smarter email marketing using their platform. http://www.hellodialog.com
Konnektid: This company offers social skill sharing: connecting people with matching or complementary skills. http://www.konnektid.com
Live on demand: This startup allows people to create events to see certain famous people (heroes) live: if enough people buy their ticket, this company will bring the hero here. http://www.liveondemand.com
Orange Tribes: This is a mobile app development company. I presume they will launch one of their apps at this conference. http://www.orangetribes.com
Refurls: This startup helps companies use social marketing in their recruitment process to find the right candidate faster. http://www.refurls.nl
Roomlr: This startups has made a holiday home locator, helping you find rooms to book worldwide. http://www.roomlr.com
Science Rockstars: This company, that participated in the recent Startup Rally, creates a Persuasion API that helps webshops determine what contents to present to which customer. http://www.sciencerockstars.com
Screen6: This company offers a real time advertising platform that helps you coordinate campaigns over multiple platforms. http://screen6.io
Searcle: This company, formerly known as Paypool, facilitates payments between users. https://secure.searcle.com
SellanApp: A crowdfunding platform for apps that not only collects the funding but also manages the app development. We recently listened to SellanApp on crowd funding. https://sellanapp.com
Showrush: This is a platform for interactive TV shows, where webviewers can participate and influence the program. http://www.showrush.com
Smartcheck: This company, located in Venlo but also Belgium and Germany, offers online marketing services such as website development. http://www.smartcheck.me/en/
Snappcar: car sharing network that has been active for a while in The Netherlands. http://www.snappcar.nl/
Themoneyer: This is a personal finance platform that helps you track your expenses, for instance by location. https://www.themoneyer.nl
Tripgems: This is a website where people can share their travel recommendations. http://www.tripgems.com
Ukky: Ukky is an app and service for parents. With Ukky, parents can create a beautiful printed memory book of their children's childhood, directly from their smartphone. http://www.ukky.com
We market: a global B2B marketplace. They are not open yet but you can already register. http://wemarket.com
Withlocals: Website for travel recommendations. Get tips from locals on for instance the best places to eat. http://www.withlocals.com
Yanomo: This Amsterdam startup with a Japanese name makes time tracking software. http://www.yanomo.com/site/eu/
Zazzy: This company makes 3D printed jewellery. They are part of Rockstart Accelerator. http://zazzy.me
If you have not been selected, you can still attend by buying a normal visitor ticket here. They cost EUR 595. All discount and VIP tickets are already sold out. The conference takes place in Dublin, southeast of the city center at the Royal Dublin Society at Ballsbridge.
Websummit image from Sociable.co image gallery