Human is a new fitness app for iPhone that helps you move for 30 minutes each day. The app tracks your activities, shows you your achievements and allows you to share them on social network. The company is founded in San Francisco but founders Renato Valdes Olmos and Paul Veugen travel between SF and Amsterdam. We interviewed Renato about the company background.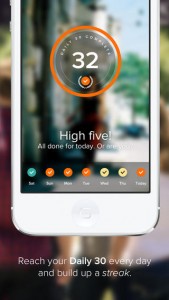 Human is a fitness app with two unique selling points. First of all, it has a focus on a very reasonable goal: 30 minutes of movement per day. This goal is proven to be enough for many people to become and stay healthy. Secondly the app tracks your activities during the day, thus focusing on incorporating exercise in your daily lifestyle. The app is available for iPhone as of this month.
Congratulations on the official launch of Human. How long have you been working on the app? What features did you add to make it release ready?
We've been working on Human since October of 2012. We've tested many iterations of the app before we released publicly. It's probably not what we've added, but what we've left out that makes Human so special.
How did the team behind Human meet?
Paul and I met little over 4 years ago when we founded our previous companies, Cardcloud & Usabilla. We had some of the same investors participate in the rounds raised by those companies, and the rest of the Human team worked for both companies. We've been advising each other on board issues & product since those days. When Cardcloud got acquired and Usabilla became profitable, we met for coffee and decided to build Human together.
You already have a few informal investors behind you. How did you meet them, and how did you convince them to invest early?
We have received funding from a team of veteran investors: Naveen Selvadurai (Foursquare), Alan Braverman (Yammer), Janis Krums (Elementz, Opprtunity), Koen Bok (Facebook), Vitulum Ventures, Boralis, Maarten Wensveen (VistaPrint), Joris Keijzer (AlbumPrinter), Michael Kinsbergen (Comscore, AFC Ajax).
Most of our investors know us through our previous companies. Our entrepreneurial track record was enough for some to get in on the first round. We have a very transparent approach in our progress, which allowed for new investors to see tangible results. We've told people an inspiring story, and have an amazingly talented team & product to back it up. Execution got them on board.
What are the next steps for Human? Will Human become an App company, or will you expand in other directions?
Human was founded with a broad mission: to make people healthy and happy. We have a very clear focus on how we'll do that, and that will be through software for the foreseeable future.
You based the app partly on your own experience with being obese and then losing weight. Did your personal experience play a role in starting this company?

Yes. Having been obese, I can't wait to see what impact our app will have on people that want long lasting positive results on their health. As I wrote on my blog about my personal weight loss experience, the worst enemy for anyone who's trying to lose weight is not seeing any progress. You will see a decrease in weight on the scale, but when you look in the mirror after losing a substantial amount of pounds, you won't see any difference. And that is extremely demotivating. With our app, we hope to support people to stay motivated
Do you have any advice for other startup founders working on an app?
We believe that everybody in a good founding time should spend time building the product. Whether that's engineering or design. This way, it's much easier to manage expectations and build something great, especially if you're going for a crowded market or a tough, big problem.