Businesses are constantly optimizing their sales processes to improve the bottom line metrics for their company. There are several aspects of the sales process which need to be worked at in parallel. To name a few there is lead management, identifying opportunities, appointment setting, need analysis, proposal and closing of deal.
But you would be surprised to know that there is one part of sales process which if improved can have such a significant impact on your revenue targets. Companies across the board are bad at executing this part of the process. And it is simple as following up on leads soon as they come into your sales system which is usually a CRM system.
In a model where there is a lot of face to face interaction between the buyer and seller it is a bit more easier to simply get on the phone. But in a SaaS model where there is greater physical distance between the seller and their customer this is even more of a challenge. There are some pretty hard statistics on the importance of following up with leads. I have decided to share more about this at Startup Juncture as we Europeans are inherently more conservative when it comes to selling.
The idea of hanging on phone the minute a new lead comes in makes us hesitant and there is internal reluctance of whether we should be going after the prospect in this way. Even in the US where the process of hard selling is more common, following up with leads is common problem. I recently wrote a post about the missed opportunities because of lack of immediate action when it comes to leads in sales. You can read more about it
here
.
About the author: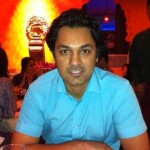 This is a guest post by Khuram Hussain. Khuram is the co-founder and CEO of Fileboard, a technology startup that helps companies respond faster to online leads and learn more about their customers with instant notifications and slide analytics for online presentations. This post originally appeared on KissMetrics Blog. You can follow him @khuramhussain 
on Twitter.