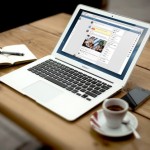 September is a good month for corporate social network Speakap. Not only has this Amsterdam based startup launched officially, they also received their second round of funding. Speakap has received € 900k of funding from a consortium of five investors. The funds will be used to improve their network further.
Speakap is a social network for use inside companies. Employees can connect and share information securely in their private network. Speakap improves upon Yammer by combining features from Facebook, Linkedin and Twitter, offering a complete and easy to use communication platform. The company started in 2012 and has been in private beta for a few months, quietly working and testing their platform. We talked to cofounder Erwin van der Vlist and Patrick van der Mijl about this months' events.
Who are your target customers with the platform?
We are aiming at any corporate environment. We started with Speakap after making a digital plan board for supermarkets. Supermarkets have a large team of staff working partime, so they can use some digital support for their staff to communicate. We quickly realized that also other companies need or want a digital platform.
Do you have any 'dream' customers?
Our dream customers are the internationally known Dutch companies: ABM Amro, Unilever, Ahold, Shell and others. We already have contact with some of these, and hope to reach the rest later this year.
How is Speakap different from other solutions like Yammer?
First of all, user friendliness. We spend a lot of time on the user experience and design so that people recognize what they see. Secondly , integration. Our platform can be integrated with existing planning systems or information systems in companies, or extended with such systems. We do this using an App store approach: third party developers can create additional functionality that is integrated and used via Speakap.
How many people are currently working on Speakap?

We have a team of 17 people, including 11 experienced professionals. We are using some of the funding to extend the team, and have openings for senior front end engineers and back end engineers.
How did you find and approach your new investors?  
During the past year, several people told us informally that they would be interested in investing in Speakap. So when the time was right this summer for the next investment round, we approached the current five investors and picked up the conversation.
What was their motivation to invest in Speakap?
The market that we are aiming at is very large: in number of organizations, users and ultimately revenue. It helps that we have a clear business model based on paying users in combination with additional revenue through our app store. Unlike many other startups, we are not dependent on advertisement.
How will you approach this market?
Until now we have approached many of our customers directly. As of now we would also like to work with resellers: We have created an attractive reseller structure, similar to SAP and Autocad, where resellers help us with sales and can help with the resulting implementation projects.
What advice do you have for other entrepreneurs, based on the experience of Speakap?
It you really believe in what you are doing you will be successful regardless of all the obstacles. Just stay close to yourself and keep working on your vision.