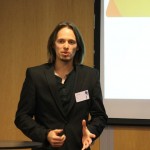 Stunf is the Eindhoven based startup behind Papyrs, a technology platform for creating an online Intranet for companies in an easy way. It was launched in 2010 by Diederik van Houten and Wim Cools. This month they did a major upgrade to introduce Papyrs Apps, making their system a true development platform. We interviewed founder Wim Cools (in the photo presenting at the Accenture Innovation Awards) about this change.
When did you start with papyrs? How long did it take to develop the first version? 
We started development of the first version of Papyrs in the autumn of 2010. In May 2011 we launched our first private beta. Using all the initial feedback we finished the first version and released it to the public in February 2012. We have been continuously adding improvements and new features since.
Is papyrs meant as a replacement for other corporate platforms? Or do customers typically add this to their IT options?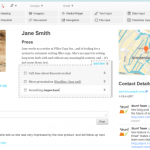 We built Papyrs as an alternative for other (social) intranet platforms. The term intranet is often used very broadly, but we see it as the place where people within a company can internally share, discuss and collect information. In that sense we see Papyrs as a replacement or alternative to other intranet platforms and company social networks, as well as internal company websites, portals and wikis. Of course companies often need specific software outside of their intranet, and we also offer integration with Google Apps for example, for companies already using other applications on Google's platform.
Are you aiming at small or large customers? And what is your sales approach?
Papyrs is mainly aimed at SMBs, so at the moment most of our clients have between 20-500 employees. Most companies find us either through organic channels or because they're using platforms we integrate with such as Google Apps. Companies can sign up for a free trial on the website and get started immediately. We also find it important to offer fast support, and personally help them if they have any questions. That might sound like something that doesn't really scale, but we notice many customers don't use it a lot, they just want to know there's someone they can reach if they have to.
How and when did you decide to add the app feature? Was it customer request?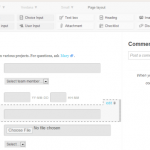 Already in the first version, users could build forms directly on their Papyrs pages, to collect data and process requests. As companies put more data on their forms and pages, we then got some customer requests about whether it was possible to use collected form data to create new pages. This made a lot of sense to us, because a lot of customer use cases could be solved with this combination of structured data and flexible pages, so that's the core idea behind the apps today.
It allows you to build apps without programming. How did you make this possible? 
We spent a lot of time on building our drag&drop editor from scratch, that allows users to build apps with the building blocks (widgets) we created. This is possible because many of the tasks daily users of an intranet want to accomplish are very much alike. Users can just drag form and other widgets they need to a page, and Papyrs then automatically generates a database and web pages (without users needing to know what a database is or how a web page works).
Will you also create an 'app store', so that people can offer ready-made apps?
Yep, we're working on an app directory. We've made two example apps available so far on http://papyrs.com/apps/ (for keeping track of contacts and events), but we'll add many more, also taking into account the feedback we get from customers.
What inspiring app proposals have you seen so far from test users or customers? 
The most inspiring part is maybe not proposals for the individual apps themselves, but the fact that they are very diverse. For example we've had users propose to use it for visually organizing projects, file technical reports related to hardware products or sorting mail for virtual offices.
Stunf, your company, has two official products and a third one in labs. Does it help you to work on more products? How do you keep focus?
Our main focus right now is on Papyrs. Although we might consider new versions or additions to Thymer (our first product) in the future, most of its development was done before we started with Papyrs. The labs projects we mainly use to test out new technologies or ideas; they're not really products in themselves, but we might consider them as products or as feature to an existing product in the future. We don't spend too much time on them, but they're a great way to make more people familiar with what we do, market our existing products, and share/get feedback for our ideas.