Startup weekend is a world wide phenomenon in which teams spend one weekend on forming a team, building a minimal product and pitching their startups. These weekends have been very successful in bringing potential founders together and sharing startup knowledge. Also in The Netherlands startup weekends are a great success, and the upcoming months weekends will take place in Groningen and Utrecht.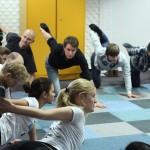 For those not familiar with startup weekend: A startup weekend is an event in which 40-80 people gather on a Friday nights and pitch their startup ideas to each other. Based on these ideas groups are formed, and each group will try to build and test a product based on the idea. During saturday they get help from more experienced mentors, and on sunday they pitch their group's result to a jury. In the mean time, there is time for sunday morning yoga. The main goal is fun and learning, but sometimes the ideas from the group are taken further and form the basis of an actual company.
Two startup weekends are taking place this month:
Both weekend still have tickets left. Be careful to buy the right ticket, depending on the role you would like to take: you need to decide whether you would like to code, or prefer a design or business role.
We have written about startup weekends before on our blog: Tijs Markusse, one of the Startup weekend Utrecht organisers, has given his reasons to attend a startup weekend. We also interviewed one of the participants of a Lean startup weekend before. Of course, there is a difference between startup weekend and a real startup, so keep this in mind. Overall participants are very positive about the experience. The fact that the costs are kept low thanks to sponsors and volunteers of course helps. Even if you cannot attend, it is often possible to attend the final demo and see the ideas that the teams have worked on. So if you are in doubt about getting started on a startup idea, sign up here for either Groningen or Utrecht.