The websummit conference in Dublin included two startup competitions for early stage startup: alpha for very early stage startups and beta for more mature startups. In each category, selection rounds were held and three startups were selected to pitch on main stage for a jury. Here is our overview of the winners and finalists.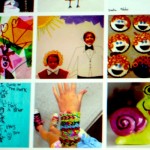 First of the three finalists in the alpha program was Keepy, who built a website to save childhood memories, like pictures.  Keepy already has 100.000 users after two months. Of these, only 200 are paying users, as they are still trying out new business models.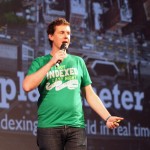 Placemeter turns street camera images into data sources, by for instance counting cars and people entering stores. The information is provided to retail businesses. Privacy is an issues, but placemeter does not identify people, just counts them.
Fab all things sells 3d printed objects.  The platform was launched in June 2013, and has already launched 37 products and has many designers interested in launching their products on their platform. They are one of the few players in this area is Europe.
Placemeter was the overall winner in the alpha category.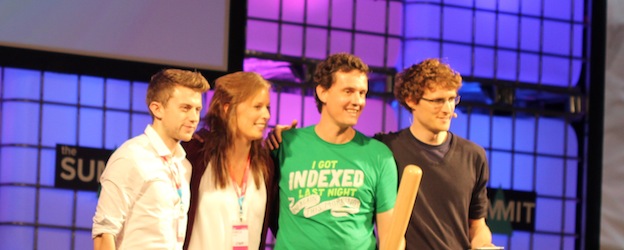 In the beta category, for startups the three finalists were Brandyourself, Import IO and MammothDB. 
Brandyourself is a do it yourself brand management service that helps people manage the results people get when they google you. They already have One million dollar in revenue and growing quickly. It is not search engine optimization, but rather make sure there is good stuff out there about you for google to find.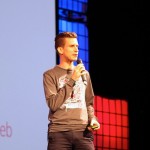 Import IO helps people unlock data trapped in websites by converting it from a webpage to an excel file. You can do this without any code, using their point and click interface. It is currently free, but there will be freemium model in the future.
MammothDB is a big data company that wants to make it cheaper for smaller companies to benefit from big data and data science. They say they put Hadoop technology on steroids. They have two beta customers since this year, including DHL. Their current revenue is near $ 500.000,-.
Import IO was the overall winner. It is surprising to see that both winners are big data / data analytics companies. Neither is directly aimed at consumers, but both help collect and analyse data for further use. Both winners received a baseball bat, as this was a 'pitch competition'. On the right in the photo below Paddy Cosgrave, main organizer of the websummit. Next to him, founder and CDO Andrew Fogg from Import IO.