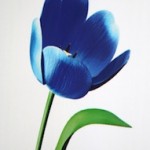 The Accenture innovations award is an annual event, where innovators and startups meet people from the corporate world. As we explained in our previous interview with Pieter Paul van Oerle, initiator of the AIA, it started 7 years ago when Peter had the idea of showing clients what the trends are that startups are working on, rather than telling about them. In this post we introduce the winners to you. Surprisingly, many of the winners are environmentally friendly concepts.
Health : pharmafilter
Pharmafilter is a water cleaning installation for hospitals. By cleaning water locally, no dangerous substances leave the premises. The first hospital using a pharmafilter was the Reinier de Graaf gasthuis in Delft in April 2012.
Public services:  smart highway
Smart highway is a concept to use existing technologies, such as temperature sensitive paint, to make roads interactive and responsive to the traffic. The concept is created by Studio Roosegaarde, the social design lab of artist Daan Roosegaarde.
Consumer goods and services: wingssprayer
The Wingssprayer is an individual spraying unit that sprays crops in a more efficient and environmentally friendly way. The machine can be mounted on all familiar brands of spraying machines for the agricultural industry.
Energy and chemicals: Nereda
Nereda is a sustainable biological wastewater treatment technology that purifies water using the unique features of aerobic granular biomass. Nereda plants require a quarter of the area of traditional installations; the process consumes much less energy; and it is entirely based on natural ingredients. The technology was invented by the Delft University of Technology in the Netherlands and developed in a public-private partnership between the University, the Dutch Foundation for Applied Water Research (STOWA), the Dutch Water Boards and Royal Haskoning.
Financial services: Payplaza
Payplaza calls itself "the invisible force that creates the connection between the terminal, the cash register and the supplier of payment services." The company  basically provides freedom of choice to mix and match equipment, networks and payment providers.
Communications, media and technology: Printoptical
Printoptical is a product developed by LuxExcel, and allows one to use 3D printing for lenses and optical components. Normal 3D printers cannot print lenses because the surfaces produced by 3D printers are not smooth. Some form of polishing is still needed. With their new technology this is no longer necessary. Instead of selling the printers, Printoptical is planning to keep the printers and print objects for customers instead.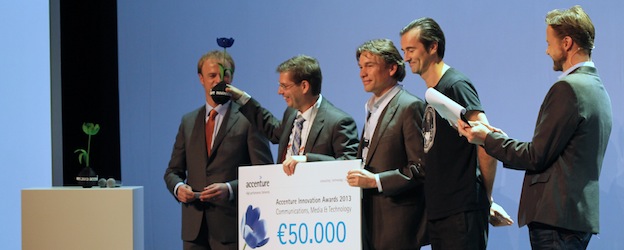 Sustainable innovation: Green motion technologies
Green motion technologies makes new gear designs that reduce friction and thus wear and tear. They were also winners at New Venture last year and are based in Delft. They won the green tulip for sustainable innovation.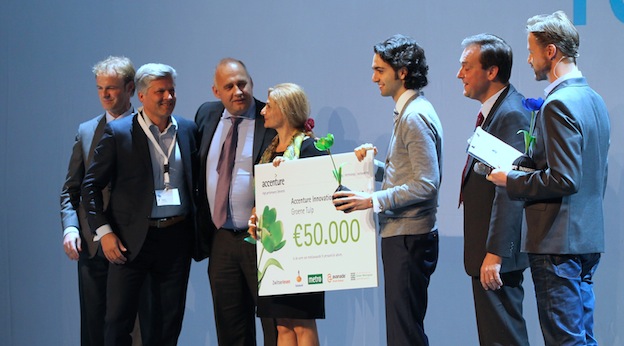 Public prize: Taalvoutjes
Taalvoutjes ('Spelling miztakes') started as a Facebook page showing the most amusing spelling mistakes. What started out as just a Facebook page, is expanding into merchandise. They won the public prize by collecting the most social media votes, showing just how popular their page is.