What's a Startup Weekend like? For 54 hours, I decided to report from the battleground, the beautiful city of Utrecht.
The theme of this year, 'Open Source', is a jury bonus when the attendees present their startups.
First of all, if you don't know the difference between running an actual startup and creating a 'startup' at Startup Weekend, I suggest you read this excellent blogpost. I try to give you an idea of what a Startup Weekend really feels like in this article. Most of all, a weekend like this is one of the few opportunities in the Netherlands to develop an idea with professional help.
Friday Frenzy
After the opening speech everyone who wanted could pitch their ideas. Right after that, it was voting time. And then the craziness unfolded immediately. It went from sitting there like a good boy or girl, to a chaos I haven't seen in a while (the good kind of chaos, that is). But what exactly brought all these people here? Time to dive in the chaos.
Rik Stapelbroek, a Small Business & Retail Management student, got here to meet people and find a programmer for his idea. "This is a good environment to find people with the right mindset", he said. Thijs Tauw, franticly looking for a team to join, came here to learn. His idea for a startup wasn't chosen (indeed, a platform for undertakers isn't that sexy), so he's approaching other people now. "I'm sure I'll find a team that can use me, I'm a creative thinker. As long as it isn't a food startup."
Developers! We need developers!
The general vibe during this chaos was, mildly said, serious. Everyone was flocking around to find the best candidates for their team. "Developers! We need developers!", was heard way more than once that night.
"The networking is like a jungle", says Amarins Sijbesma. Working on a new concept for a salad bar, she is surprised of everything needed for a startup. "I still don't know everything, but the diversity makes it fun to do."
Some were so focused on getting a team, they didn't even had the time to talk about me. A guy said: "Can you come back later, I really need to find people for my startup." His focus explains it all.
Starting up at Startup Weekend
Other people chose a different, but interesting path. Oleksandr Petrykov from Ukraine didn't got selected as well. But instead of joining an other team, he found two designers that really wanted to work with his idea – a new kind of healthy snack (concept name: SideKick). Dennis Maij and Remi Vledder talked with Oleksandr before the outcome of the voting, and they immediately had a 'click'. "His idea matched our expectations. I think the idea for SideKick is more developed than the selected startups", said Maij.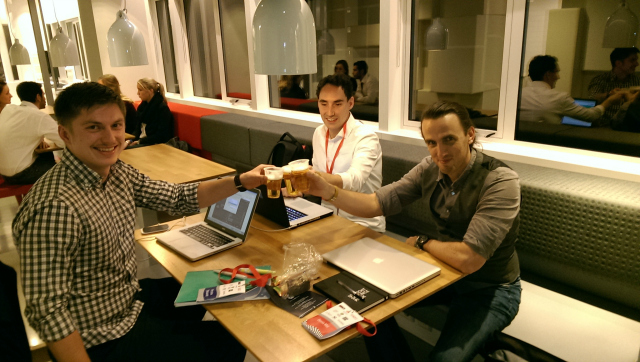 The team of SideKick found eachother very fast
Of course, there are some problems starting up (pardon my pun). For instance, the team of the C My Agenda agenda app had difficulty finding designers. 'We just want a developer and just lift off with our idea', said Rahma Isse. The developer that didn't wanted to talk earlier, headed to her. When she explained their app to him, he refused immediately. 'Not interesting for me', he said.
And then it hit me: the people here want an idea that fits them. They want a click on personal AND business level. That's logical, but a Startup Weekend really is about learning and gaining experience. When Rahma said she wanted a developer not only for the weekend, I knew that it was going to be hard for them getting the right team. When forming a team in Startup Weekend you can't have too much demands. It's holding you down when you just want the creativity flowing. Rahma's team went on without a developer unfortunately.
Eventually everyone got a team, but some just needed more time. I don't think this is different everywhere else around the world.
When it was about midnight, I overheared an interesting conversation between one of the organizers and an attendee, which perfectly matched the drive these people have at a Startup Weekend. "See you tomorrow, 8 am?", said the organizer. The attendee replied: "Make it 9, I have a baby at home."
Super Saturday
Saturday afternoon was meant for customer discovery. The teams went outside to valuate their idea simply by asking potential customers. Mentor Douwe Wester had a little success story in failure: his team Wonderful Wendy (e-learning) quickly realized that their idea wouldn't work, after getting negative feedback by customers. As one of the first teams that got outside, and one of the quickest to return, they really had won some precious time.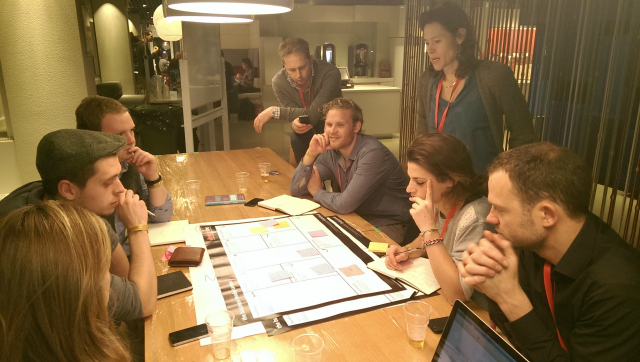 Working on the Business Model Canvas
In the evening, Wonderful Wendy was already making their pitch and a landing page. "The biggest challenge right now is getting potential users to test it", says Gustaaf Vocking. Other teams, such as Share My Recipe, were still struggling to find their focus. As team member Marloes Dobbe said: "We need to get it done right now."
That evening I also checked on Escape Room, an idea for a startup about so called escape room games. This team showed a lot of progress. They even showed something what I like to call 'healthy arrogance'. "Our MVP is ready. Tomorrow at 11 am you can play our game in real life." Quite a promise! But I was not disappointed.
Before I knew it, we were inside the NSA and stealing a code
Indeed, Sunday morning at 11 am sharp, a guy dressed as a security guard told me and my 'team' to infiltrate a room. Before I knew it, we were inside the NSA and stealing a code. The presentation was impressive – we got 20 minutes to solve the real life puzzle in a conference room, including props like a briefcase, gas mask and a pinball machine.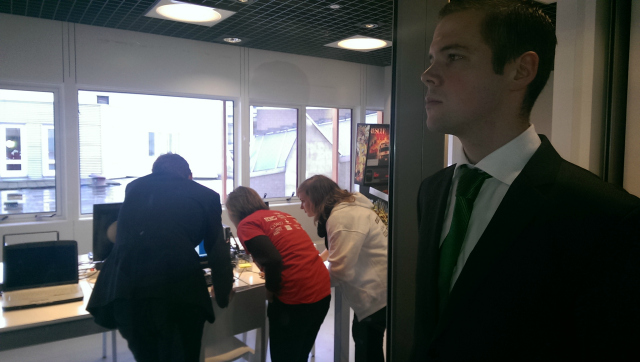 The team of Escape Room created a real life escape room
Besides it being a very original and creative way to present the idea for the startup, it was the most fun thing I had done this weekend. And it was made available by a Startup Weekend attendee. Just awesome.
'Stressy' Sunday
Sunday morning began laid back. But as the hours flew by, I felt the stressy vibe (maybe caused by the music: it went from Bob Marley in the morning to dubstep in the afternoon). Teams were confused on what and what not to use in their pitch. I even heard this: "If the other team is using a video in their pitch, I want that too!" But, with half an hour left to send in the pitches, everyone went back to their inner Bob.
So it got quiet. As the deadline crept up, attendees were walking in and out of the organizers office to make sure everything went well with their sent in presentations. Mentor Johan Manders saw how hard each person was working: "I didn't even dare to touch them."
Some facts and figures
Attendees – 2012: 74 – 2013: 100
Nationalities – 2012: <10 – 2013: 20
Pitches – 2012: 40 – 2013: 50
Startups – 2012: 12 – 2013: 16
Theme based startups – 2012: 4/12 – 2013: 2/16
And the winners are…
Although the theme of the weekend was 'open source', only two startups really had a link with open source. The startup WhatAppened makes it possible to create missions on a party night. Afterwards, the app creates a compilation. The startup Escape Room is renting real life escape room games, where it might be possible for users to come up with missions as well. Right now the jury's deciding which idea gets the Startup Weekend price, and which idea wins the Open Source Award.
WINNERS:
Overall: TriCycle, a way to place advertising on your bicycle.
Open source: Escape Room, as mentioned above.
Photos by StartupJuncture