In order to help the Greek economy recover, The Dutch embassy in Athens has taken the surprising step to open an incubator: Since September innovative Greek and Dutch entrepreneurs are welcome at Orange Grove in the heart of Athens. We visited Orange Grove, gave a workshop and interviewed ambassador Jan Versteeg about this initiative.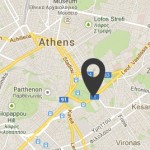 Orange Grove is a startup incubator located at Vassileos Konstantinou avenue, at the heart of Athens. In a large building close to the park, where the Dutch Embassy occupies the fourth floor, the ground floor has been converted to a flex space. A dozen large tables are placed on wheels, and two big meetings rooms can also move around, all in a bright orange color. The atmosphere is very informal: it is place to work and casually meet people. The Dutch ambassador himself frequently visits the space, meets the entrepreneurs and talks to the guests.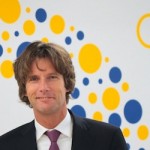 Our visit to Orange Grove was combined with reporting from Disrupt Greece, the Greek startup conference. These are separate initiatives, but with many links. Winner Clio Muse is not based in Orange Grove but is linked to it. OG Startups Sponsorboat, City of errors and Let's meet in Athens were present at Disrupt and pitched for instance in the pitch workshop. In the picture is Jan Versteeg standing on the 'main stage' at Orange Grove, where the worskshops and masterclasses take place.
What motivated you to do take this initiative?
I am familiar with young entrepreneurship because I have been involved in the Anner award, an annual award for student entrepreneurs in Groningen. This award was set up to commemorate my cousin Anner van der Mheen, a student and entrepreneur who passed away at 23.
When I came to Greece in 2012, I noticed the difficult situation the Greek people are in. Due to the crisis, it is hard for young people to find jobs at their level. This has caused a massive brain drain of young Greek people leaving Greece. I also noticed a potential negative sentiment against the European Union and Northern European countries: During a crisis, economies tend to turn inward and buy from local companies first. Something positive was therefore needed, and this is what Orange Grove is: a positive initiative to help the Greek economy, prevent further loss of talent and also an initiative to improve the image of the Netherlands in Greece.
What exactly is the Orange Grove concept?
We rented the bottom floor of our embassy building here in the center of Athens, and created a very modern co-working space. We rent the space at a very low cost to young entrepreneurs, thanks to our sponsors. Besides office space, we also provide a weekly masterclass and other trainings and each startup gets a coach and a mentor. Twice a year we also have a bootcamp for all new entrepreneurs. We had Jeroen van Duffelen from the Ace venture lab and Boukje Vastbinder and Esther Blom from Yes!Delft here for our first bootcamp. Other masterclasses and trainings are sure to come.
Do you also provide funding to startups?
Not directly, but in our training program and partnerships we are helping companies to find funding. Robin Slakhorst from Symbid (see our previous Q&A)  visited recently to tell us about equity crowdfunding. Today we are also visited by Marc Wesselink of Startup Bootcamp, and perhaps some of our startups can join Startupbootcamp as a way to get funded.
Many Dutch incubators are linked to universities. Is Orange Grove linked to a university?
There is not a single university that we belong to, but we are connected to several universities as knowledge partners. Here in Athens, we are supported by The Athens University of economics and business.
We also work together with Dutch knowledge partners to strengthen our program: for instance ACE, Yes!Delft and Wageningen University. The last university is very important to us because many entrepreneurs, even startups, have a background in agriculture. Using the unique Greek experience in agriculture and access to the Greek agriculture products, Greek startups have unique opportunities.
Was it difficult to find sponsors for this initiative?
Not really. The Dutch Embassy already has connection to Dutch companies active in Greece. When I approached them with this idea, they immediately understood the need for a positive initiative for the Greek economy. The first company I approached, Heineken, immediately said yes to sponsor half the program for three years, provided that other companies like Philips would do their half. Our main sponsors are Athenian Brewery (linked to Heineken), Philips, Coco-mat (a Greek furniture company with shops in The Netherlands), KLM and Interamerican (AIG, part of the Achmea group).
How many companies are currently located in Orange Grove? And are they all aimed at The Dutch market?
We accepted 13 Greek entrepreneurs and 2 Dutch entrepreneurs (both with Greek roots) in our first selection round in September. Some entrepreneurs have just started and are doing market research and forming a team. We accept new startups four times a year, so we hope to grow the number of startups gradually.
The startups can have Dutch ambitions, but this is not necessary. Even startups only aiming at The Greek market already benefit from our connections to the Dutch companies active in Greece, and the training that we provide.
It is also interesting to see that several Greek entrepreneurs are excited about what we are trying to do, and have volunteered to be coach and mentor.
What will Orange Groove look like next year? How big will it get?
No idea. Like a startup, we like to just take action and see what will happen in response. We have commitment from our sponsors for three years and what will happen afterwards will depend on the results and opportunities in the coming years. Hopefully Orange Grove will have become part of a thriving Greek startup scene, with many connections to Dutch and other European startup event.
Are there other embassies that are doing the same?
As for Dutch embassies, I am not aware of exact copies of Orange Grove. The Dutch consulate in Los Angeles has some space for Dutch startups but no training program, and apparently South Africa also has an entrepreneurship initiative. We do get a lot of questions and interest from embassies of other countries here in Athens, and hopefully some will follow with similar initiatives.
Is running a startup in line with the mission and strategy of an embassy?
Stimulating trade connections is part of our mission, and so is public diplomacy: improving the image of The Netherlands in the Greek media. With this initiative, we do not only help the entrepreneurs in our program, but also show the Greek people that The Netherlands is willing to help the Greek economy and cares about the youth employment issues that Greece is struggling with.
Are there many Greek venture capitalists? And if not, how can Greek startups that need capital connect to other European startup hubs?
There are a few Greek venture capitalist, but not as much VC's aiming at startups as in Amsterdam, London or Berlin. This is why we connect to other European startup hubs. Note also that we have a very diverse mix of young entrepreneurs. Some of them are building a traditional tech startup, others are building more traditional self-funded nontech businesses. One of our entrepreneurs is for instance organizing bike tours in Athens, and another one is a wine expert
What are the strong points of Greece as a launch place for startups?
Greece has much expertise in agriculture, tourism and transport/shipping. For startups in these areas, Greece is a very good market to start. In general however the Greek economy has a lot to offer: Many Greeks are highly educated, in Greece and abroad, and many talented Greek graduates are very motivated to work at an exciting startup.
What advice do you have for European startups looking to expand in Greece?
A key difference between Dutch culture and Greek culture is that Greece has a low-trust society. People need to get to know their business partners first before they will do business. Networking is very important in Greece. Since many societies worldwide have the same trust-culture, it is very useful for Northern-European startups to learn to do business here.
Any other advice for startups?
If Dutch or other startups are interested in experiencing Greece, note that we are open for Dutch startups that want to work here for 6 months. They can locate here, enjoy the weather and culture and work together without outside distractions.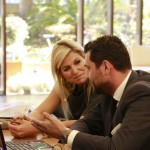 Orange grove has only just opened, but is already a big success in terms of getting exposure for the Greek startup scene. On October 22nd, King Willem-Alexander and Queen Maxima (picture on the left) visited Orange Grove and talked to the entrepreneurs.
Just this week, the Orange Grove entrepreneurs visited Greek president Papoulias. Hopefully this will inspire the Greek government to help the development of a Greek startup scene. As mentioned during Disrupt Greece, bureaucracy and paperwork are a major challenge for Greek entrepreneurs. According to Yiannis Kanellopoulos, Greek entrepreneur and mentor at Orange Grove, some things are already improving. "We can now do electronic tax declarations, which is a major time saver". Opening a Greek legal entity apparently is still challenging and time consuming.
StartupJuncture was invited to give a masterclass to the Orange Grove entrepreneurs while we were visiting. I gave a workshop on "raising money", discussing all options available to entrepreneurs, from no funding, to revenue funding to equity and loans, and the right uses for each type of funding.