Global entrepreneurship week is inspiring young people to take action in their local community, and create new jobs through entrepreneurship. Because startupJuncture believes in building connections between the Dutch startup community and other communities, we are doing a small series of articles on the Greek startup scene. Last week we covered two Greek initiatives, event Disrupt Greece and incubator Orange Grove. This week we have a guest blog by Alexandra Sarma and Ioanna Kanellopoulou who helped organize "Rising Ideas", the first startup event in the city of Patras, Greece.
On the 27th of November an "unusual" event took place in the town of Patras, in Greece. A live pitching event for aspiring entrepreneurs was organized for the first time, with 10 contestants presenting their entrepreneurial ideas before a live audience and a panel of mentors, investors and business professionals. In a town with one of the highest unemployment rates even before the crisis hit the Greek economy, the event aimed at awakening the local community to the reality that innovative entrepreneurship was now the only available option for its citizens.
The event was part of the "Rising Ideas – Start Up Competition", part of Global Entrepreneurship Week Patras. In this event people who wanted to take the leap and create their own start-up, were invited to submit their business ideas. A team of young entrepreneurs and professionals from diverse backgrounds had organized the competition wishing to encourage people to pursue their business ideas, bring them in touch with other professionals, create a network of same-minded people, inspire others to join in and plant the seeds for the development of a future start-up community.
Though such events are common place in other European countries (and beyond), in small-town Greece "start-ups", "pitching", "entrepreneurship", "crowd-funding", "angels" etc. are only just beginning to enter the every day vocabulary –but in some places they seem to be catching up quickly. A younger generation has now come to age in Greece and appears determined to take things into its own hands, breaking away from a "sinful" past that led to its current disgraced financial situation. They have travelled, studied and/or worked abroad; they have relocated to the province; witnessed the older business model collapse before their eyes; and are now seeking to redefine themselves and their future in a country in turmoil.
The small team of Patras, belonging to this generation, believed that if change was to come, this would only be possible through small-scale grassroots projects. These small-scale initiatives create spill-over effects that can kick-start the economy, rather than focusing all efforts in the country's capital Athens or simply waiting for top down policies to take effect.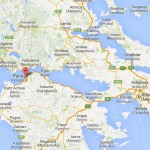 Patras is the third largest city of Greece with 220,000 inhabitants and is situated on the Greek mainland, a three hour bus or car drive from Athens. It's harbour is the main connection between Greece and Italy. Once glorious for its thriving industry (textiles, paper, raising, wine, etc.) and booming sea trade, it served as the key port that connected the East to all the main ports of Europe, North America and Brazil. But by the turn of the century, Patras' factories were shut, the sea trade was almost extinct and the economy had come to depend on public sector spending and visiting university students.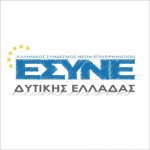 Home to a large university with a vibrant student community, a seaport and an airport, Patras has a solid base for entrepreneurship to flourish once again. So few months ago this small group of people, believing that the gloom economic environment could be reversed, formed ESYNEDE, the Hellenic Association of Young Entrepreneurs in Western Greece. The idea came during the Global Entrepreneurship Week of 2012, when they participated at an event called "Think global act local – GEW in Patras".  Its popular reception by the local community convinced them that the following year something bigger had to be organised, something that could generate a lasting impact on the entrepreneurship scene and prove that Patras could yet again become a magnet and seedbed for great talent and ideas from the wider region of Western Greece.
In the months that followed the team of ESYNEDE expanded, attracting an ever growing number of volunteers and soon the decision to organize an entrepreneurship competition was taken. The upcoming Global Entrepreneurship Week was the best opportunity for the Association to introduce itself to the town and, in turn, (re)introduce the town to entrepreneurial thinking.
Once the competition was announced using social media tools, proposals started coming in and within three weeks 37 teams had submitted their business ideas. Of these about 62% was IT related, 22% referred to products and services and a substantial 16% to culture and society. Importantly, female participation was significant with 1 in 3 participants being a woman. The scale and diversity of participation, along with the entrepreneurial wit and maturity of the proposals, astounded them.
Judged upon their innovative thinking, differentiation from similar products, marketing & income flow plan, market penetration prospects and passion, the panel of judges selected 10 teams to participate at the final phase of the competition, the "Rising Ideas – Live Pitching Event". There the teams would only have 3 minutes to persuade the panel that their cutting-edge idea could develop into a successful business, in order to be placed among the competition's top 3 winners, which would earn them free offices in co-working spaces, mentoring and acceleration workshops by accredited business consultants.
First prize: Dominostyle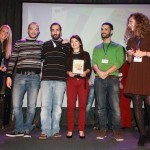 An online platform that connects fashion designers and brands with fashion bloggers and fashionistas was awarded the first prize. Dominostyle (www.dominostyleapp.com) offers to designers and brands the ability to promote their collections through customer-generated photos and enables them to easily cooperate with bloggers. "Our vision is to democratize fashion in a way that ordinary people will drive fashion instead of an exclusive elite of experts" the team explains. Their platform was launched in a beta version last month and already counts 30 registered designers.
Second prize: Ippo-sxeseis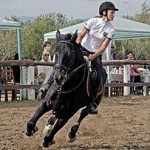 The second prize was awarded to a traditional business proposing an innovative approach to reconnect people with nature: a horse farm. "The equestrian school of Patras is not just another business", says the team of Ippo-sxeseis (a word play combining the Greek words for horse "ippos" and promises "iposheseis"). "It's an idea that tries to fulfil both business expectations and human needs. We try to bring citizens of our city back to their roots." Though open to the general public, the equestrian school hopes to also offer specialized services to people with special needs (anything from mild psychological issues to different types of disabilities). And in the future, the school hops to expand the services it offers to special populations, with swimming pools, specialty clinics and other. (www.ippo-sxeseis.com)
Third prize: Homespitality
Homespitality earned the third place of the competition. Based on the idea of a "sharing economy", this web platform wants to capitalize on one of Greece's best income generating sectors, tourism. In a country which counts 17.5 million tourist visits "our vision is to turn travellers into home guests and the locals to hosts" says the team, who's platform will allow tourists to sublet summer houses, which have up to today been vastly unexploited by similar ventures.
Honourable mentions
Though not among the competition's winners, one could not leave unmentioned the web platform Mageca, a go to destination for HCI, allowing visitors to discover apps, developers promote their work to visitors and hardware manufacturers to be found by developers. Launched since May 2013, the platform already counts 750 registered developers, 2,000 users and 85,000 youtube views (www.mageca.com). Similarly, the Flexible – Graphene Idea where the competing team has "achieved to create a flexible, transparent and conductive thin polymer model film of various sizes by PET / graphene" a technology allowing the production of flexible displays able to take the shape their users wish them to have.
A personal finance management app (SEC), a web platform providing transport and access information to people with disabilities (Prosvasis), high performing solar panels (Lighthouse Solar System, www.lighthousesolar.gr), solar charging mobile phone batteries (eco – cell) and a virtual home for conferences and exhibitions (New Generation Exhibit, www.vrexhibitions.gr) also created a stir among the members of the panel and audience.
Conclusions
So what did Patras learn from all this? From the participants' point of view, all contestants had the opportunity to train in pitching their ideas, listen to the panel's feedback, earn media coverage and network with other professionals. One could say these were the real prizes of the competition in a town –and perhaps a country- that had forgotten how to think and act as an entrepreneur.
From a more general standpoint, the event attracted a surprising number of attendees and media coverage proving that a pool of ideas and talent is readily available, waiting to unleash its innovative thought and entrepreneurial edge. For them it is the best of times and the worst of times. Though funding and market prospects are limited due to the financial crisis (in Greece and beyond), the latter has created market vacuums ready to be filled by the people who see the crisis as a unique opportunity.
All around Europe a start-up scene is emerging and regional hubs in towns like Patras are needed in order to complement the strong metropolitan centres link Amsterdam, London and Berlin. The latter may be leading the way but cannot offer Europe the entrepreneurial "revolution" it needs for its economy to overcome the challenges it faces and compete as an equal against the developed countries of the East and West. Regional start-up hubs have to be built in strategic locations around Europe and for this to happen grassroots initiatives, however small they may seem if looked upon individually, need to be encouraged, supported and recognized for their importance, as their spill-over effects may be more significant that we can currently appreciate.
About the authors: Alexandra Sarma is business developer in Greece and Ioanna Kanellopoulou is MSc Student "Technologies of Informatics and Communication in Education" at University of Patras. Both are active in the Patras startup community and members of ESYNEDE, the Greek Association of Young Entrepreneurs in Western Greece