As a final piece in our series on Greek entrepreneurs, we interview Alex Melis, CEO of Sponsor Boat.  Sponsor Boat is one of the most developed startups in Orange Grove. We talked to him about his experience of running a startup in Greece.
(This article is the final part of a series on how startups in Greece are helping the Greek economy to recover. Earlier articles covered conference Disrupt Greece, incubator Orange Grove and the local event Rising Ideas in Patras. The focus of StartupJuncture is still The Netherlands but we are happy to help other hubs in the European startup community) 
Why did you start Sponsor Boat?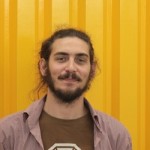 I started my first company in 2002, and it was an event organizing company. Many of our events were in the music industry, and we needed sponsors to make these events possible. Approaching sponsors was a lot of work, and often we would get no response at all. Later on I saw the process from the other side, from inside a corporation. Also from the company perspective the process of selecting events and communication about sponsorships deals was time consuming. Sponsorship requests were passed around as a 'hot potato' and no decision could be reached. With Sponsor Boat we streamline this process and make sure all requests reach the right person and get a response.
When did you start, and where are you now?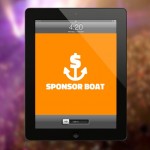 I had this idea for a longer time, but this summer I decided it was time to quit my job. Since September 2013 I am working full time on the idea. We have a four person team, consisting of two developers and two marketeers. Our website is already live so people can submit their event to sponsorboat.com, and we will help them find sponsors.
Our current website is a prototype, based on a Lean approach. It is a simple website where people can submit events.
You are based in Orange Grove, the incubator started by the Dutch Ambassador. Why Orange Grove?
Being located in Orange Grove really helps when we talk to larger companies. It is also a good place to interact with other entrepreneurs. And although we have no direct connections with The Netherlands, we like the 'Dutch mindset' here in Orange Grove: it is flexible and result oriented, a good combination for a startup. The Greek culture can be very strict and rule-driven and that is not always helpful.
You decided after your M.Sc. to stay in Greece? Why start your startup here?
Greece is an ideal testing ground for startups. If an idea works here, it will work everywhere.
On a more serious note, the Greek economy is of course in a difficult situation, and many young Greeks are therefore searching opportunities elsewhere. But it is important that people stay and build up the country again. For me, it felt like the most ethical decision to stay here and make a contribution to the Greek economy by building up a company.
And is Athens the best place in Greece for a startup?
For us it is.  The large companies that are able to sponsor events all have their headquarters here in Athens. So for startups that are aiming at large corporates, Athens is a natural choice.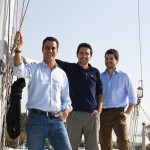 On the other hand there are many successful Greek startups that are not located in Athens. To just name one example, Incrediblue, is a startup that is becoming the AirBnB for boats. They match boat owners and people looking for a boat and crew with each other. They are working from Volos, a city in the North of Greece where they are close to boat owners. They show that you can start your company in any city, as long as you have connections to customers. If you use the Internet in a smart way, it does not really matter where your office is.
What is the biggest challenge for Sponsor Boat?
The biggest challenge is to get in touch with large companies. We need a few launching customers that will use our platform for managing their sponsoring budget. Once we have these, we will get a network effect where we get more and more events and sponsors.
And what is the biggest challenge for Greek startups in general?
The most difficult challenge for startups is finding a real problem. Every startup should focus on a real problem that many people already care about.
What are the biggest strengths of Greek startups?
Greek startups have an advantage in the areas of agriculture,  tourism and shipping, because they are close to these markets. As a system as a whole, one of the strengths of Greece is the talent pool of highly educated developers. Most developers do not have a business mindset yet, but initiatives like Orange Grove are helping people to get in contact with entrepreneurship.
What are your next steps?
With Sponsor Boat, we are working on a bigger platform, to be launched in March or April. Besides Sponsor Boat, with our dev team we are also managing a mailing list for the Greek startup community, called startupevents.gr .  It would be great if entrepreneurs in Greece could sign up so we can build a Greek startup community.