YES.TAP was started this year in Canada with the ambition to use NFC technology to simplify ordering and payments in fast food restaurants. In September the team was selected for the NFC and Contactless class of Startupbootcamp and moved to Amsterdam. We interviewed founders David, Ken, Kinson and Kenneth about their experience in the Dutch startup community.
What is YES.TAP exactly?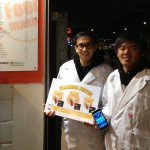 With YES.TAP we aim to speed up fast food ordering by using NFC technologies. NFC, or Near Field Communication, is a technology that allows computer chips to communicate once they are very close, like the chip in the OV-chipkaart. By putting these chips in a menu-card, you can place an order by placing your phone or NFC-card over the item that you want to order. Once you have ordered everything you need, you also pay by tapping the checkout icon.
Why did you choose the fast food market?
The time needed to order and pay is the bottleneck in most fast food restaurants. All the other steps have already been optimized.  NFC transactions are faster than other techniques, and fast food is one area of retail where speed still makes a difference, more than regular stores or restaurant.
An additional benefit that we discovered, is that our tap-based system also helps international visitors. People can order based on what they see, rather than having to pronounce their order. In cities like Amsterdam with many tourists, this is an important benefit.
You started the company in Canada, but came to The Netherlands for Startupbootcamp. Why come to Amsterdam?
Europe is a better market for us because also because of the market share of NFC capable smartphones. In the United States the iPhone penetration is very high, and unfortunately iPhones do not have NFC. Here in Europe Android is much stronger, and the high end Android phones have NFC built in.  Europe in general is also more forward thinking about new technology. Our product is therefore more likely to find early adopters here in Europe. (Note: you can check your phone for NFC capabilities here
How did you get to know about Startupbootcamp and their NFC and contactless class?
Since our startup uses NFC, we would read any NFC-related news. One of the news items we read was about the special NFC and contactless class that Startupbootcamp is doing. We thought it could really help us to be part of such a vertical program with similar technology-oriented startups. In a vertical accelerator program, there are more focused mentors with relevant expertise.
How far are you with your product? Is there already a prototype?
Of course. We have a demonstration prototype here. It is an interactive table mat which can be read with your phone. Using our app you can first order your favourite burger, then check out. We used this prototype extensively to find out how people tap their phone. People do not know where in their phone the NFC reader is placed, and for instance tap with corner of the phone. In almost any phone the reader is in the back of the phone, so you have to place the phone over the picture.
As you can see in this picture, we are actually getting out of the building and testing the payment method on the streets of Amsterdam.
You could have built an 'order by app' system using other technologies, such as QR codes. Why is NFC important?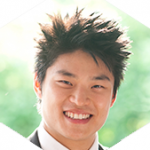 Kenneth: Our unique selling point is speed, and NFC is the technology that not only makes the ordering work, but makes it fast. If you have to take pictures of QR-codes, you loose speed. It is of course a challenge that our system does not work with every phone, but we are exploring other proximity technologies that are compatible with a wider range of devices.
Did you have any visa problems when moving to Europe?
Luckily we did not have any problems, but some of our colleagues here in Startupbootcamp have. The people with only a tourist visum need to leave the country every now and then. We hope that a special entrepreneurial visum is created soon, so that startup founders can more easily join a European accelerator program and Europe can attract international talent.
What legal entity do you currently have? And are you considering a Dutch BV?
We are a Canadian LLC (limited liability company). This is similar to a BV, except that it is Canadian. We did not have to change to a Dutch BV in order to get into Startupbootcamp, but we are open to change to a different legal structure if that will help to attract European venture capital.
Can you describe the YES.TAP team?
We are a holistic team of four people covering the core competencies needed to grow a business:
David Lai: I have a background in computer science and experience as a back-end software engineer at Amazon.com and BlackBerry
Ken Mau: I have a background in computer engineering and experience as security engineer at BlackBerry
Kinson Yip: I worked at one of Canada's largest banks and online broker. I did business development, conducted sales trainings sessions and hosted investment seminars. I won multiple sales awards & closed over $100 MM in direct sales. At YES.TAP, my focus is business development and building long term relationships with clients and investors.
Kenneth Yip: I was one of the early mobile software engineers at Xtreme Labs and saw the company grow from 10 to 250 people in less than 3 years. With YES.TAP I hope to have the same experience again.
We are hiring and looking for a designer to strengthen our team.
What is currently the biggest challenge?
We would like to meet more fast food restaurant owners and managers where we can run a test. We are approaching restaurants directly, but it would help if we would have a warm introduction. We are currently doing a pilot with Vlaamse Frites at the Dam.
What is it like to be part of Startupbootcamp?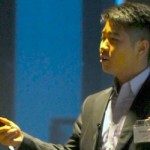 It is a very good experience because development is going very fast. We are now about halfway. We just had a press event where we could practice our pitch and we are continuously using Lean methodologies to improve our proposition and learn more about our market. Being in a startup is in general a great experience, comparable to an 'MBA of life': you learn a lot in a very short time.