Friday January 17th was the final day for the ten startups in NFC and contactless program of startup accelerator Startupbootcamp (SBC). Each team gave an inspired pitch on the main stage at ABN AMRO and showed what they had learned in the past 100 days from all the coaches, mentors and partners. In this extensive report we highlight the announcements from the startups, show you pictures of all presenters and close off with four lessons for the perfect pitch.
Keynote speakers: politicians
Why should startups join an accelerator program like Startupbootcamp offers to each class of ten startups? One of the main advantages for startups to join startupbootcamp are the connections that the program brings. For this demo day they had invited Gerrit Zalm, former minister of finance who now manages the government owned ABN AMRO bank, and Klaas Knot, president of the Dutch central bank.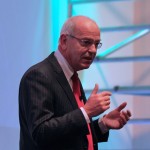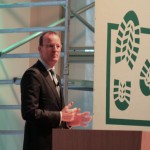 Both used their stage time to emphasize that they understand the need for innovation and the important role that startups play. Klaas Knot illustrated this by connecting the current crisis to the 1929 crash and 1930's recession. During the recession many people, including economists, believed that the world economy would not reach the pre-1929 levels ever again. The 1930 however became a period full of invention: canned beer, baby food, polaroid photograph, FM radio, nylon, radar. Klaas Knot's personal favourite from this period was the parking meter, because it brought in additional revenue. Mr. Knot had good hopes that the startups from this program would use the technologies of today to revitalize the economy, and made a personal pitch: he hoped all the startups would stay in The Netherlands. Not just because of the great investment climate and commercial opportunities, but also because Amsterdam is a great city to live in. Several startups in the program who came from abroad indeed hope to stay in The Netherlands, but only if investors can be found here.
Buzzoek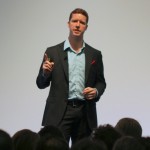 The first startup founder on stage was John Staunton from Buzzoek. This startup is changing the loyalty card landscape by using OV-chip cards for loyalty programs: people do not need to register and no new cards have to be issued. The team of Buzzoek is confident their company will make an impact "People love rewards, retailers love building relationships. One of our first customers, coffee bar Doppio, was about to terminate it's loyalty program. After it switched to Buzzoek cards, the program gained much popularity. Across their first stores, we have seen that customers using the system spend over 60% more than those who don't". Buzzoek has also shown that investors can be found in The Netherlands: The company has already raised € 250k. It is now looking for an additional € 1M in growth finance. Buzzoek announced on stage not just new customers (including Rabobank's MyOrder) but also that it will cooperate with UNICEF to identify not-for-profit projects to jointly undertake.
MobyPark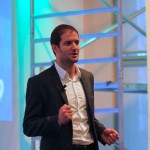 "The most successful business are the ones that offer more convenience to people". This quote and a lot of facts about parking where used by MobyPark founder Yoann Benhacoun to convince the audience that parking is serious business. "One year of our lives is spent parking" was one of the most important conclusions (based on a university of Chicago study). Mobypark solves parking problems because it allows owners of private parking spaces (hotels, offices) to rent out their space using their app. Mobypark also showed the validity of their ideas through their new clients: they announced that NH Hotelles will partner with them.
TagaPet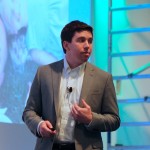 TagaPet's founder Michael Ward walked up on stage with 'born in the USA' in the background. He and the rest of the team came from the USA to Europe, showing how SBC is a true alternative to Silicon Valley for startups.  Tagapet was started to make it easier to find back lost pets. Their first product has already been launched and is a simple tag that can be scanned by anyone who finds a lost pet, for instance animal shelters. From this initial product they learned that their customer would like a more advanced pet tag, that can be use to locate pets all the time, using clever wireless technology: not GPS, but a combination of cell-id and Bluetooth. They are searching for € 500k in funding for a preproduction and ultimately a production run for this advanced tag. Using Lean, they have already validated the pricing and demand for the product. They created a fake website were they offered their product with the same specs but a made-up name, and verified that people were actually ordering their product. Not completely honest, but a very good way to confirm actual demand. The team is focusing on the biggest pet markets first (USA and Brazil) but would like to stay in The Netherlands if a local investor is found.
Tag'by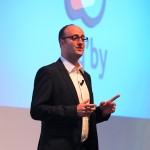 Tag'by, presented by Joel Bloch, offers shops a way to use social media to promote themselves. Tagby puts a tablet in the shop, where customers can take a picture or share something on Facebook to their friends. When some-one shares something they get a discount, and their friends also get a discount. Everyone thus benefits from the sharing activity. An interesting social take to the loyalty idea, that is already in use in Amsterdam: the pitch included actual footage of the product in use.
YES.TAP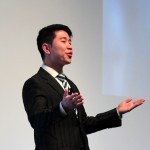 When Startupbootcamp NFC and Contactless was announced, everyone expected that this would be a payments and bank card themed program. In the end only one of the startups from this class is a payments company: YES.TAP has developed a system that allows people to order fastfood using their mobile phone. Presenter Kinson Yip introduced the company as the 'Ninjas of payments'. We interviewed the company before about their experiences so far and their successful pilot at Vlaamse Frites. On stage the company made a big announcement: The Amsterdam Arena will be partnering with YES.TAP. For the company this is a big step into the stadium market, because Amsterdam Arena is one of the most innovative stadium and is consulted a lot by other stadiums.
Watcher enterprises / Kidswatcher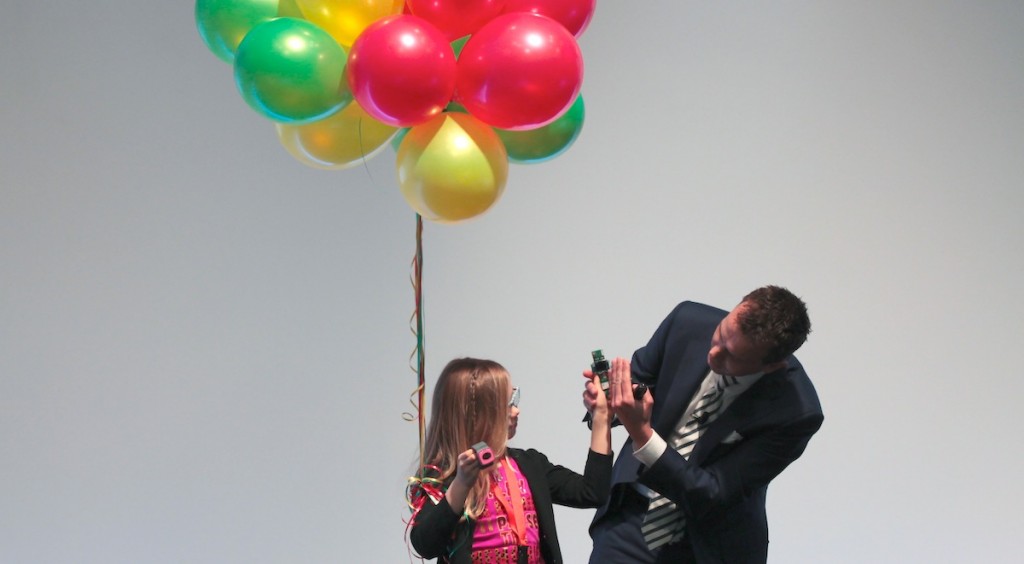 Kidswatcher had a surprise guest appearance for their pitch. CEO Erik Recter was joined on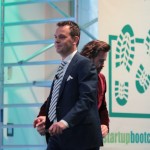 stage by his niece, who showed us how to wear their latest prototype watch. Kidswatcher (official name: Watcher enterprises) is using mobile technology to make sure parents can find their children when they are lost. They already have apps in store that help parents locate their children when they have a mobile phone. Many children in the age group 5-11 do not have a mobile phone because their parents are concerned they might lose it. Their next product in development is therefore a watch, with the smallest wifi chip on earth and works worldwide thanks to a partnership with Vodafone. The prototype is ready but the company is raising funding for bringing it into production. They already raised € 185.000 via crowdfunding and are now looking for € 450.000.
TapTrack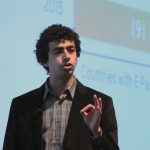 TapTrack is a classic example of a startup that has a great innovation but was in search of a problem to solve. Before being selected for Startupbootcamp they had already developed a small and efficient chip reader for NFC chips, but were not sure which chips to read and why. As David Shalaby explained on stage, they decided during Startupbootcamp to focus on the passport market. Most passports and ID cards now have a chip containing the most important data fields, and many companies (banks, hotels, employers) are required to ask for ID and store this information. Currently they use photocopies, which means they have to manually enter the data later on. Using the taptrack reader, name photo and data of birth is immediately available. TapTrack is now developing specific functionality for the ID card market and will provide scanners for a fixed price to large clients and system integrators, and via a pay per scan model for smaller customers.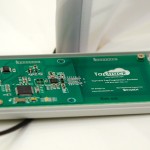 TagTagCity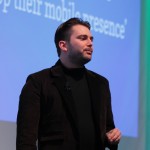 TagTagCity makes mobile websites for small business. Most small business do not have the time and energy to make a good mobile website, and therefore moose customers who increasingly use their mobile phone to find shops. Tagtagcity makes mobile website development really easy: they build the website before they contact customers, using information already available on google and Facebook. Afterwards they contact the merchant, show the website and invite the merchant to upgrade to a nonfree plan for additional features. COO Geoffrey Simon also made clear that he is a manager who thinks of his investors: "Investors never lost a penny on my back. There was always profit". TagTagcity is looking for € 1 million in funding.
Relayr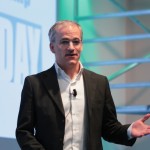 Relayr is a startup building the 'Internet of things': They believe that more and more Internet 'users' will be devices rather than people, that will use the Internet to share information with other devices. Founder Jackson Bond used a personal story to explain why the Internet of Things is important to him:
"Relayr starts with my grandmother. She wanted to change the temperature but fell and broke her hip. Unfortunately, since she lived on her own, no-one was there to pick her up and it took a long time before some-one brought her to the hospital. The risks of having these incidents made us realize she had to go to a nursing home and have 24hr supervision. My parents are also getting old but I do not want them to have to go to a nursing home. Using the Internet of Things we can provide 24hr supervision at their own home".
Many homes already have electronic thermostats, light switches and other electronics. However there is no app for connecting all theses devices, since a platform is needed to standardize the communication between these devices. The platform is called Relayr. In order to get developers excited to build application for this platform, Relayr launched the Wunderbar: a starter kit the size of a piece of chocolate that contains a set of sensors and transmitters that will help any developer start developing the Internet of things. The Wunderbar will be crowdfunded on the new Dragon innovation platform in this campaign. Relayr is also in the process of closing a € 500k funding round with informal investors in Germany.
Beestar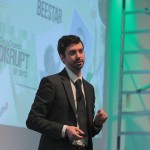 The final startup founder to take the stage was Emanuele Francioni from Beestar. He gave a non-traditional pitch, telling the story of Beestar. Beestar started out in 2012 as a  very promising startup with an experienced team and truly innovative localisation technology. For the next year, the startup experienced a long journey consisting of different failures. Their first product was Beekids: a watch for amusement park owners to give to children, delivering detailed insight into visitor behaviour. All parks were enthusiast, none wanted to actually pay. Beestar moved on to a new product: Insight, a product that tracks student attendance. A successful pilot was executed at Bedfordshire University. It was a great success, and the university told Beestar they would do a public tender to buy the technology in 2015. For a startup like Beestar this timeline was killing, so Beestar moved on to their next product. They invented Quasp, technology to track athletes. The response was universally positive. Quasp was featured on Techcrunch disrupt and international media like CNBC.  Beestar seemed to have made it, but ran into technical difficulties: the requirements from each customer were very different and impossible to fulfil all at the same time. So while the company already seemed a big success when the were accepted into Startupbootcamp, they were in a difficult situation: after one year, they still had not found a real product and money was running out.
In Startupbootcamp, the feedback from the coaches and mentors all came down to one big question: "Why?" It was clear what Beestar was doing and how their technology worked, but the company lacked a purpose. So during the 100 days of Startupbootcamp, the team got together to find out what really motivated them to form Beestar. The result can be described in the following motto's: "Technology only has meaning when it brings imagination into existence", and "What one man can image, other men can make real". (from Jules Verne).
Beestar was at it's best when focusing on the technology to make applications work, and needed partners that knew the market and could bring the technology to the market. So at the end of the pitch, Beestar revealed their new strategy. Beestar closes partnerships and creates joint ventures with partners for each market segment (a 'vertical' in SBC terminology). 20 days after coming up with this new strategy they found a first partner that wanted to invest € 500k in a sports market product. More deals followed, including again MyOrder and a partnership with Hallofo for localization of children. Rabobank, through MyOrder, is really making an effort to innovate. Beestar is not looking for funding, but is interest in finding next patners that want to invest in developing new products using the beestar localisation technology.
Honorable mentions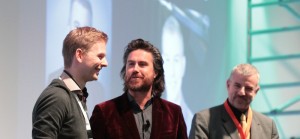 The pitch event closed with a few honourable mentions of people who were essential to this program. Startupbootcamp's startups have access to a large network of mentors that help the startups. Two people were voted by the teams to be the most valuable coach and mentor. Maikel Lobbezoo, from innovative payments provider Adyen, alledgedly spent more time with the startup than at his desk at Adyen.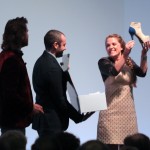 David Beckett was mentioned for his role in helping the teams practicing their pitch. The most valuable partner for this bootcamp was Nils Rouwendal from Vodafone, who first approached the Startupbootcamp organisation with the idea to have a wireless technology class. Finally, Mirte Gosker received a special present for her role as operational manager for the whole program. She received custom made high heel shoes, courtesy of Alive Shoes, SBC alumnus.
Lessons for presenters
The pitches at Startupbootcamp demo day are near perfect: it is great to see founders who can, in just a few minutes, not only present their company, but also show that there is a market opportunity and convince the audience that they are the right team to seize this opportunity. As the previous examples show, this what startups get from the program: They validate their approach, adjust when necessary (Beestar, Taptrack) develop examples and prototypes (Wunderbar), run pilots and find customers and partners (all startups) but most visibly learn how to present their company to investors. A few lessons can be observed:
Pick one presenter. Although for each startup the whole team was in the room, each company had only one presenter to avoid distracting the audience
Don't tell what you can show. Many presentations had a short movie to show first hand the results of the team.
Cut down the number of slides to the really relevant images. Each presenter had only a few slides, and each slide was decluttered so that it only contained the essentials. The focus was on the presenter, not on powerpoint.
Make it personal. Each presentation was truly different in the way it was set up, and matched the personal style of the presenter. Some people stuck to the fact, other told stories. Some were serious, other used more jokes. The result was that each pitch was really different from a standard pitch and therefore memorable.
Startups interested in joining Startupbootcamp can still apply here for the next Amsterdam program. Do this quickly, the deadline is January 25th. This program will not have a specific industry focus, so all startups are welcome to apply.

Photo's: From author / StartupJuncture