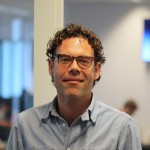 Adyen is an International payments company based in Amsterdam. Since their start in 2007 with only 7 people they have experience rapid growth and now have 170 people in 4 continents. We interviewed chief commercial officer Roelant Prins about the growth, innovation and culture at Adyen.
What motivated you and the founders and initial employees to start Adyen?
I and the others had already worked together at a previous payments company called Bibit. Bibit was started as a billing platform for small amounts of content. The initial customer was the AEX, selling financial information. The paid-content market never took off, but many of the first e-business needed a reliable way to process payments. Bibit therefore 'pivoted' to say it in modern terms to payments, became successful and was sold to the Royal Bank of Scotland. I also got a job at RBS and moved to London. In the next three years, the Bibit platform did not really developed because the corporate environment of RBS used up all the energy. There were discussions who should control the servers, instead of discussions about customers. Bibit was cutting-edge when it was acquired by RBS, but after three years of stagnation, I and others decided that we wanted to work on a next generation platform. I left RBS, went back to Amsterdam, and joined the new startup Adyen in March 2007.
What actually is a payment provider, and what do they do that banks do not?
Banks also provide payment services. For the past decades the banks have been the only party that provide payment services to merchants. If as a company – big or small – you needed to accept payments, you would go to your bank. What most people do not realize is that payments is not the sexiest part of a bank, and the boards of large banks therefore hardly think about payments: it only gets attention when it goes wrong. As a consequence it has always been difficult to get things done in the field of accepting payments for merchants when dealing with the banks: things take a long time, long term contracts, low service levels etc, We are 100% focused and dedicated on payments and therefore listen to the payment needs of merchants, provide the right services and are constantly looking to add new features using the latest technology. We use modern technology to help merchants make accepting payments much more simple, cheaper and easy.
You have been doing payments for seven years. How do you keep innovating?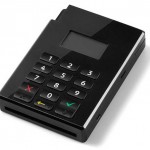 Our innovations are both about offering new services and about further optimizing existing processes. Last year we launched the Shuttle, a small terminal for card payments. It can be used as a standalone device or in combination with our complete platform against a low price point, taking away barriers for many shops. Several customers like the fact that we can do all payments for them (website and in shop). This means customers can start in the shop and then use a in-shop tablet to complete their purchase, with the shop being able to support the same options. For shop owners it is very convenient to have both channels together.
On the improvement side, we are trying to simplify processes. We are now an official member of VISA and MasterCard card schemes. The payments no longer have to go through any bank. This not only lowers costs, but also means that we have more information about payment processing: if a payment is rejected, you want to knwo the reasons behind this decision.
A big trend in our industry is around optimization: merchants now have a lot of experience with ecommerce. A lot of attention is now given on optimizing processes including the way payments are accepted.  Howe can we minimize the number of people that do not complete a payment page? Why are payments refused and what can we do to bring this percentage down? We are working hard to lower this percentage for our customers.
When you started, did you have a 'killing new feature' or some kind of minimal viable product?
In the payment industry, the most important features are reliability of your platform and the ability to handle high transaction volumes at a low cost. Our platform was designed to have these features. The true innovations are often in the backend of the system. For instance online and mobile merchants need to be able to handle multiple transactions in parallel, because many customers can be checking out at the same time. You need to design your platform with these parallel transactions in mind.
How long did it take you to build your first product?
We started full time in March 2007, and the first transaction was processed in December 2007. Thanks to the experience we already had, we designed and built the new platform in 10 months.
Did you have external funding during the first year?
We were self-funded and had some informal investors support us as well from our network.
Was the platform an immediate success?
Not immediately. Because of our background we had many contacts in the payments world, and many contacts were really excited about what we were doing and told us that they would switch once our platform was ready. When our platform launched, they all had reasons for not switching: they wanted to know who else was already on our platform, were already switching to a different platform, or asked us to come back next year. The initial customer acquisition was therefore very slow in 2008. Only one year later, in 2009, our new platform really took off.
Which part of the market became your first customers?
Online gaming companies were the first to switch. These companies needed in-game purchases as part of their business model, and wanted a payment process that could be integrated in the game experience and would not distract people whilst playing. We understood this need and could meet it better than the existing platforms.
Your main office is in Amsterdam, but you also other international offices. How did you decide where to open your offices?
We have two US offices: near Boston and in San Francisco. The one in Boston was opened first in 2009, because we had found a partner that lived in that area. The SF office was added later in 2012. In hindsight we should have opened our SFO office sooner. There is a 9 hour time difference with the US, so in order to help customers quickly during their business hours you really need to be there: if you wait until your European office opens, you lost a business day.
If startups are contemplating a US office, what city would you recommend?
Our experience in San Francisco is very positive. So many innovative companies are present in SF, and you can feel the creative and innovative atmosphere. It is also good to be part of the networks over there.
You also have an Asia office. Where is it, and why there?
Our Asia office is in Singapore. Doing business in Singapore is easier than for instance China, because the regulations are more business friendly. In Singapore we can find all the language skills we need to serve the Asian market and also are in the right time zone to serve China and Japan.
Besides opening a US office sooner, what else would you do differently, if you could start over again?
In the beginning we exclusively focused on our product. All effort went into the payments platform, and no attention was given to our website. We lost a few potential customers because our website did not look professional: we heard later on that they visited our website and did not contact us because of the way it looked. When I look at current US startups, I see that they do it differently. They have a great website and marketing from the beginning, and only make a great product later. In hindsight, I would do a bit of both: It is good to first focus on a product and your initial customers, but soon after that you should have a website that matches your ambitions.
Many companies find it hard to address and retain talented employees. How do you do this?
Attracting talent is important for us, since we are growing fast. The actual payments processes are fully automated so we do not need people for that, we have people here for the development of our platform, for customer support (the shop-owners are the customers in this case) and for sales. For us it is important that we retain our entrepreneurial and positive culture that we have had since the start. We give people a lot of responsibility and freedom, and also try to be transparent. Everyone has access to management information like the number of transactions.  As a result, most people tend to stay for a long time.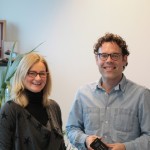 Delphine Bos (photo left) adds:  "For many people, payments is a boring industry.  It is a risk averse, conservative environment. Many people with payments experience like the fact that they can use their experience to work at a young fast growing and dynamic company."
And what do you do to make sure people who have never met work well together across continents?
We make sure all colleagues get to know each other by inviting the colleagues from outside The Netherlands to Amsterdam three times a year. They stay here for two weeks so that they can work side by side with their colleagues.
What is your view on the Dutch startup scene?
I have the greatest respect for anyone who starts a new business. It is great to see that we have so many Dutch startups. We try to support the startup scene, for instance by sponsoring events and awards, such as Startup Rally and the Techcrunch award that was given this year to Picsastock, and by partnering and sponsoring the Startupbootcamp NFC program.
Do you often work with startups?
We are often approached by startups and are happy to work with them. We always try to make an effort to see if we can help startups, even if they have no revenue yet. We do this because we do not know where the payments industry is going. By working with startups we increase the chance that we spot trends early on. Unfortunately we cannot always say yes to every startup idea. Payments is a regulated industry, so we have to know the parties involved in payments.
Any final recommendations for startups?
First of all, be super practical: try things out to see what works. As a startup you have unique opportunities to experiment fast and often. Secondly: think international. If you want to reach volumes where you can be profitable, you need the bigger international markets. Finally: try to hire truly experienced people. Once you know you will be successful, you also know that you have to grow quickly. In order to do so, you need people that already have experience.

Photo's provided by Adyen