On January 21st, Sanoma learning announced a partnership with education startup SOWISO. The deal allows Sanoma to embed SOWISO's technology in their digital learning products all over Europe. For SOWISO, it is the first deal outside the Benelux and it could mean an international breakthrough.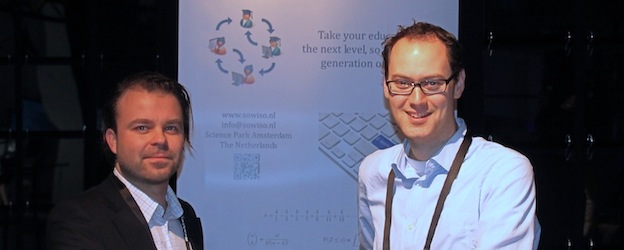 We talked to SOWISO CEO Marc Habbema (picture left, together with co-founder Max Cohen)  about the impact of the partnership. "We are of course very happy with the partnership, because it's a forward-looking company that shares many of our ideas on how the future of education will look like. The technology of SOWISO  can provide targeted feedback on open answers, giving a new learning experience for students and teachers. Luckily mathematics translates very well, so it can be used in all countries."
Which country do you expect the first implementation? 
It is hard to say, because we learned the hard way that implementation of new technologies can take a long time in the education market. Our joint ambition level is high and we expect to start the implementation soon for various countries with Sanoma learning. This week for instance I am in London to discuss implementation for Poland.
Last year you announced an investment deal with Woodwing. Did Woodwing help you get in touch with Sanoma?
The support from WoodWing has not helped us for this opportunity. To be honest, the sales process in our industry can take quite some time: Our first contact with Sanoma was more than a year ago. The funding did of course really help us achieve an acceleration in the software-development and thus helped us to improve our offering towards Sanoma. It also helped our company grow (we hired 3 developers over the last few months) and thus a more solid partner to do business with.
Sanoma learning was also excited about the partnership. "The partnership with Sowiso enables us to create new intelligent learning concepts that meet the need of today's generation of pupils", stated Jacques Eijkens, CEO of Sanoma Learning in a press release. "It will solidify our position as a leader in the market of next-generation digital learning solutions. We strongly believe in partnering with innovative domain leaders, such as Sowiso and its partner the Technical University of Eindhoven".

Photo's provided by SOWISO