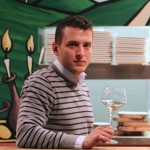 Ever since The Dutch embassy in Athens started an incubator for Greek and Dutch startups, there seems to be a special connection between the Greek and Dutch startup scene. Nick Kavounis for instance, Greek wine entrepreneur, is focusing on The Netherlands as an export market and is attending the Dutch Vakantiebeurs in person to present his company Oinovation. We interviewed Nick in Utrecht about his Dutch ambitions.
You company is called Oinovation and sells wine and travel. What exactly is your product?
Oinovation, as the name suggests, is an innovative wine company. I started the company last summer in order to promote Greek wine internationally. Greece has many great wineries that are relatively unknown in countries like The Netherlands. My goal is to promote and export high quality Greek wines.
Why the wine business?
I have a passion for the alcohol business in general. I have been trained as a sommelier before, and have worked as a marketing manager for Jägermeister. I really like the fact that alcohol is served at festive occasions, and bring people together and makes them happy. For me it is a very positive product.
What is the current focus for your business?
My focus is actually on the Dutch market. I wanted to be in a new market with opportunities for growth, so I am looking for markets where Greek wine is relatively unknown. In Germany, Greek wine is already an established product, but for the Netherlands it is new. I am more than just a wine export company: I really try to promote the wine in order to find new International customers for the many small quality wineries. It is not just about selling the wine. I want people to really get to know Greek wines so that they can become fans. This is why I introduced the idea of wine holidays: people can visit a Greek winery while on holiday in Greece, meet the wine maker and taste the product at the source. These wine trips is what I am promoting here at the Vakantiebeurs in Utrecht. The vakantiebeurs is the largest holiday fair in The Netherlands, and it is an opportunity to meet both potential customers and build new contacts in the Dutch tourism industry. After the vakantiebeurs, I am staying in The Netherlands in order to meet potential customers and follow up on the contact made this week.
Did you already know the Dutch market?
I have lived in The Netherlands for a year, so I know the country quite well, even if I do not speak Dutch.
Your company sells an existing product that has been around for centuries. Yet you brand it as a startup. What makes you different from a traditional business?
First of all, for a Greek entrepreneur I am quite young. This may be hard to believe for the Dutch 22-year old startup founders, but being 28 and starting your own company is Greece is already innovative. Most companies are started or led by people in the forties or fifties, if not older. Secondly, as the name suggests, I am willing to experiment with the product or the promotion in order to find new customers. I am also working with several universities in order to enhance wine, but unfortunately I cannot reveal what the exact innovation is, while we are still trying to obtain a patent.
What has been the biggest challenge for you as entrepreneur?
Starting a company is a lot of hard work and requires a lot of time. Especially in the first months it takes all your part time. For me it was especially hard because I started on my own, as a one person company. Luckily a lot of friends supported me and assisted me.
For me as a starting entrepreneur it was also hard to find the money to attend a trade fair like the vakantiebeurs. I of course asked for a 'startup discount' and was able to negotiate a reduced fair, but the whole trip is still expensive. Oinovation is currently self-funded, but for some of our plans, for instance product development and patent application, outside investment is needed.
You are located in the Orange Grove incubator. Does that help you?
Orange Grove helped me make a real business from my idea. Without the support and network from, I could not have realized my dream. A special mention should go to my coach: Pamela Caravas from Coaching Evolution. She has been a godsend.
Orange Grove receives a lot of European visitors, including Euro commissioner Neelie Kroes. You were able to ask here questions. What did you ask her?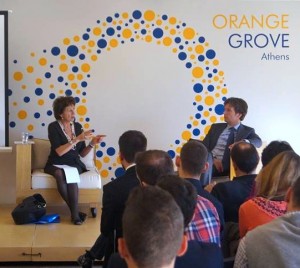 One of the problems that innovative food companies face is red tape. It is difficult to communicate with the European bodies that make the rules regarding food products, especially when they do not respond to emails. When she wanted to know how Europe can help startups, I raised my hand and explained my troubles even getting a response. The need for better regulation cannot be stressed enough: innovative companies need honest and fair regulation that makes innovation possible, and a human response on questions regarding regulation. It is however great to see that she takes an interest in the Greek startup scene.
Many business start doing business at home because International trade involves extra regulations. You had an international focus from the start. How did you deal with this?
This was not the hardest part of the business. It is important for a small business to focus, and my focus is on the promotion, market and business development. The actual shipments and logistics are being handled by existing wholesalers. I currently also focus on selling wholesale, to traders, supermarkets and restaurants. Later this year we might launch a direct-to-consumer website. Marketing Internationally is the hardest part: you need to reach as many prospects as possible with only limited marketing funds.
Do you have any recommendations for other entrepreneurs?
I would encourage any entrepreneur to attend relevant trade fairs for your markets. Attendance is an investment, but it allows you to meet new partners and make new connections, like combining wine and travel.  A more general advice is customer focus: every entrepreneur, especially of traditional business, should spend a lot of time thinking about the business from a customer perspective. I focus on what new experiences I can offer to consumers, and what combinations I can make with partners to reach customers I have not reached yet.

Banner photo: Glen Scott @ Flickr