Vice president Neelie Kroes of the European commission is a strong supporter of the European startup scene. She frequently visits startup hubs to  talk to entrepreneurs directly. Recently she was in Greece, and was interviewed by Alexandra Sarma, Christos Syrimpeis and Yiannis Kanellopoulos for Mojo radio's startup program called "why not". With their permission we publish this interview here on StartupJuncture.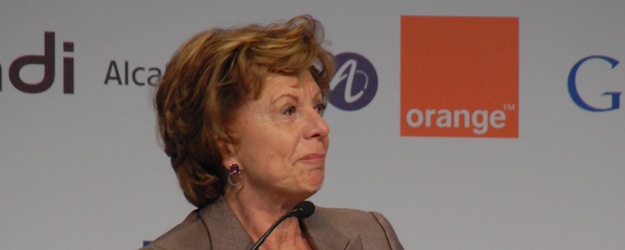 How hard do you think will be for a European citizen to adopt an entrepreneurial spirit similar to that of a US citizen (e.g. becoming less risk averse)? What are the primary impediments and what are the steps/measures that we, as EU need to follow/take?
Neelie Kroes: When I travel in Europe, the European startup scene gives me a lot of positive energy. The great ideas and the amazing attitude you see, is so refreshing. We need to harness the power and energy of this community, and support them. We don't need to copy others from other continents. We can be ourselves and look at our own inspiring examples. For instance, all the impressive entrepreneurs that are part of the "Start Up Leaders Club" , such as Rovio, Skype, Tuenti, Spotify.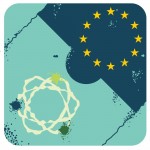 They told me that Europe has a lot of potential and quality. Their motto is: be creative and courageous! At the same time we can do a lot ourselves, with less red tape for smaller companies. And helping ideas to bridge the gap from lab to market. For this we have a programme called "Start up Europe". And in "Start up Europe" we are looking at the resources entrepreneurs need: like accelerators, venture capital, and crowd funding. Also our new programme for research and innovation, "Horizon 2020" , isn't just the biggest ever. It's also more than ever focused on innovation, and entrepreneurs.
A lot of emphasis is given in technology startups and less in traditional commodities entrepreneurship (agriculture, tourism, etc.). Not all European countries can become Silicon Valley type incubators and no economy can grow solely by investing on products/ services for computers and mobiles. How startup mentality and traditional commodities can be bridged, so that the traditional economic sectors can also be revamped and innovate?
Neelie Kroes: I agree not all startups have a technological component, although many can profit from technological innovations. And so do "traditional commodities", e.g. from booking sites and language applications; these innovations are often being developed by small companies. However, creating a startup mentality is not only important for ICT-related initiatives. It's about making Europe startup-friendly and making sure that there is a climate where funding is available. Where people can easily start a company, and are allowed to learn from the mistakes they make. This is positive for all economic sectors.
In your manifesto, you suggest that Governments should cover its procurement needs from new smaller companies too, as an indirect measure to stimulate entrepreneurship. Today, the basic criterion for awarding a procurement contract is having the lowest bid, so that the process can be considered transparent and the government can lower its costs. Do you have any concrete suggestions on how governments can open their procurement processes in order to remain transparent and cost-effective while maintaining a high quality of service?
What is important to realise is that this is a Manifesto of the entrepreneurs themselves; so not from the Commission. We received the input from entrepreneurs, and they pointed out that the criteria for awarding the contract are not usually the reason why small innovative players do not get the awards. There are issues that need to be tackled first to attract the small player to bid and raise their chances. The newly created European Digital Forum, as part of the EU start-up Europe initiative, will look into this particular topic in the coming months and come with concrete proposals.
What would be your advice to a young entrepreneur or a young scientist from Greece who would like to move to another country as his country is severely hit by the crisis? Also, how can we turn the tide so that from the «brain drain» phenomenon we end-up to a «brain gain» one?
Neelie Kroes: The Greek startup scene is hot and it is getting hotter. I was impressed by the ideas and its level of ambition. I was also impressed by the initiative of the Dutch Ambassador who is giving an incentive to the Greeks startup scene through Orange Grove. There is a lot of potential in Greece and by stimulating startups, Greece can take a piece of the cake in the booming App economy in Europe. Over the last 5 years 800.000 apps have been created on our continent with many jobs resulting from it. Greece is on the right track and they should keep on going.
At the same time: be inspired by other European examples. Travel, start partnerships, work together! It is too simplistic to always talk about brain drain. Make optimal use of the freedom of movement for workers within the European Union. Turn it into a brain gain for all of us. The Greek government, as well as other national governments, should create a fertile environment for initiatives so they can startup; and stimulate the right mind-set so they actually do startup, join forces and create a booming startup climate for Europe. The European Commission (E.C.) does support them in that via the "Start Up Europe" programme. In the end politicians don't create jobs, entrepreneurs do!
For the below mentioned critical issues, the responsibility lies on the Governments of the Member States (MS) and not on E.U.:
Education
Attract talent through a European Start-Up Visa
e-Corp
How can the European countries with red tape and rigid public sectors promote all these, which can be critical for promoting entrepreneurship in E.U.?
Neelie Kroes: It is a very good thing that a lot of important policy issues are taken care of by Member States (M.S.), for instance education. Member States know best what they need and how they can accomplish their goals. Only when member states have given a clear mandate to the E.C. we will follow up on this. European countries at this moment are all dealing with cutting back the red tape. So that is very positive. And they should continue doing that. Entrepreneurs can share their experiences with the government and can help with finding better solutions and better ways of working. The "Startup Manifesto" in this sense is a very helpful document for many governments to create the right environment and organising the right requirements. It is an opportunity and I hope that many entrepreneurs will sign the Manifesto on the Internet and present it to their governments as a useful and important tool. I also recommended to the Greek startups that were present in Athens when I was there, to perhaps write their own, more specific Manifesto for the Greek government. So a lot of things can be done to create change! The newly created Start-up Europe Partnership, as part of the EU startup Europe initiative, is one of the tools that will contribute to network with the relevant stakeholders all over Europe. The European Digital Forum will certainly liaise with all these networks to ensure that these topics are brought to the attention of policymakers and politicians across Europe in line with what is requested in the "Startup Manifesto" (action 22 and 21).
Usually, when it comes to taxation and red tape, E.U.'s M.S. tend not to be uniform. For instance, Greece doesn't have a stable taxation system, especially for S.M.E.s and freelancers; and this usually demotivates young people. How can E.U. then ensure that all young entrepreneurs can compete and be treated equally within all its member states?
Neelie Kroes: Taxation is a national competence, so individual M.S. decide on the tax rates. However, stability should not be confused with same tax rate. Taxation is only one variable and the whole ecosystem is important, for example the situation in access to finance is very different across Europe.
Recent studies indicate that technological evolution is accelerating and its impact on tomorrow's jobs will be critical, creating the risk of destroying jobs that so far have been untouched (e.g. driverless cars, software for reading legal cases and documentation, etc.). What are the actions that the E.U. is considering to implement in order to mitigate this risk? How soon can these actions be implemented?
Neelie Kroes: Technological evolution will impact tomorrow's jobs. It always has and always will be. That's not a bad thing. Although some types of jobs will disappear, many others will be created. For example, the apps-creation business alone has led to 800,000 jobs in Europe in the last five years. It is expected that for every job that disappears due to I.C.T, 2.5 jobs will be created. Therefore it is important to anticipate and make maximum use of these developments. It is, crucial to prepare citizens, both the young and the old, in the right way for these jobs. Teach them the right skills.
The original interview with the Greek introduction can be found here at Mojo radio. Also check out the rising ideas competition in Patras, or talk to Greek entrepreneurs like Alex Melis or Nick Kavounis. We would like to thank Yiannis Kanellopoulos for giving us permission to publish this interview.
Photo by Camille Gévaudan