Last week at startup event Hackers & Founders the team behind Oedipus Brewing presented their most recent beer, as well as their plans for setting up their own brewpub. They're currently well underway with a crowdfunding campaign to fund this small brewery on the Westerdock near Amsterdam CS.

Oedipus (named after the Greek mythological king, because they all really love their mothers…) was founded by a team of four, 2.5 years ago. Their aim: create tasty beers, unique flavours and be different from the mainstream. The four started out with their own experiments in the kitchen of one of the founders (Sander). Their basic equipment comprised of nothing but a couple of large pans and plastic tubes, completely focussed on different tastes.
Within a couple of tries they managed to produce something that actually started to taste like beer and their set up started to grow more and more professional. After the early months they also started to get more demand for their different beers, so much so that they started selling them. By now they've grown into an actual micro brewery, delivering specialty beers to a rapidly growing number of pubs, restaurants and specialty stores in the Netherlands. Using the facilities of other, larger brewers, the startup now produces over 3,000 liters of beer a month, generating roughly EUR12,000 in revenues (p.m.).
So far the startup has produced five different beers (four in the picture below), next to the small scale and constant flow of experimental brews: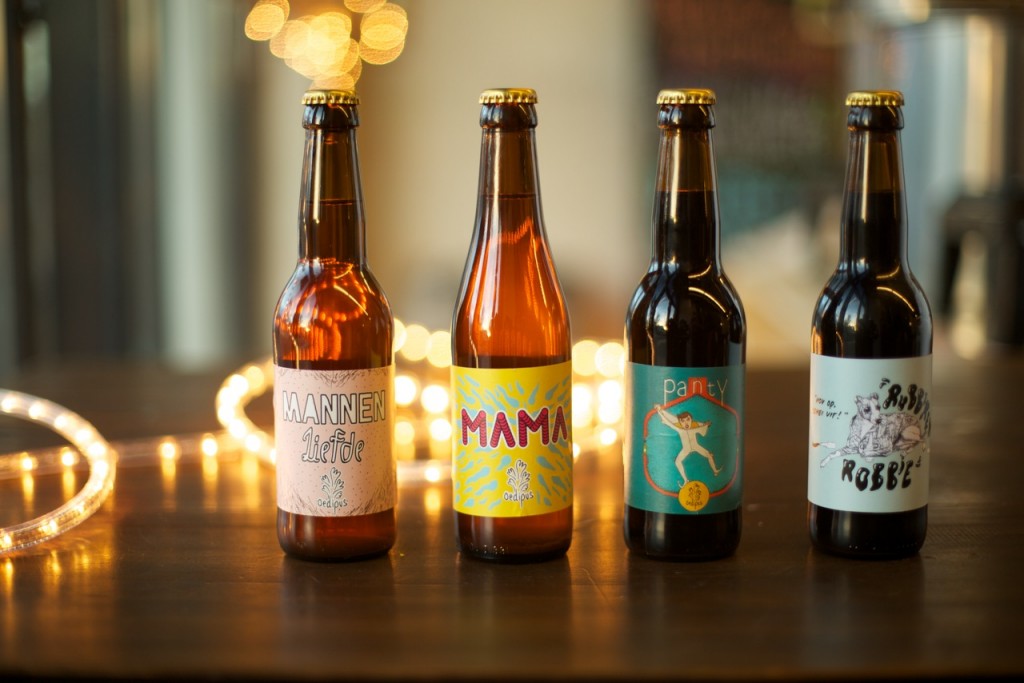 They're currently in the process of perfecting the taste of their fifth brew: Gaia, a full, amber, bitter IPA, 7%.
Oedipus has now reached a next step in their development and the team is looking to establish its own brewpub, right next to Central Station. They're in the process of raising EUR200,000 via crowdfunding on CrowdAboutNow. They aim to use the brewpub as their own little brewery, to inspire people for beer and also to teach others how to set up and produce their own beers. The brewpub will also have a limited menu, in cooperation with guest chefs.
In case you're interested in backing their initiative you can already participate (and earn interest & free beer) from EUR100 onwards. To see their passion check out their movie below (Dutch):
Banner photo by Pieter van Marion (creative commons via Flickr)
Other photo credits: Oedipus Brewing