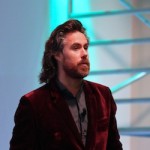 Startupbootcamp is one of the most successful and fastest growing startup accelerators. Started only three years ago, they have now completed 9 classes in Denmark, the Netherlands, Israel, Germany and Ireland. We interviewed co-founder Patrick just after the demo day of the SBC NFC & Contactless program, and asked him about the direction of Startupbootcamp.
The NFC & Contactless program was the first 'vertical' program of Startupbootcamp Amsterdam. What exactly does this entail?
Normally a program is open for any startup, regardless of what sector they are in: if the team shows potential they can be selected. In a vertical program, we focus on a specific sector. In the case of 'NFC & Contactless' the theme was wireless: any startup selected had to do something with wireless technology.
The name 'NFC & Contactless' suggests that the program will be about payments. In the end, only YES.TAP is doing payments. Was this something that developed during the program?
The idea for this program came from one of our partners: Nils Rouwendal from Vodafone convinced us that we should get in touch with startups in this area. The original idea was indeed a very narrowly defined program only open for NFC startups. We quickly modified this to the more general 'wireless' theme in order to have enough applicants: only 3% of the wireless startups that applied was doing payments. You should also realize that payments are in fact a regulated industry so it is hard for a startup to enter a market starting with payments. Take for instance Buzzoek: definitely payments-related but they greatly simplified their product launch by not actually doing payments.
What was the most challenging part of doing a vertical program?
Getting enough applicants. For our normal programs, we get 600-700 applications, many from highly qualified startups. We then invite the 20 best teams to Amsterdam or what other city the program is in, and select the best 10. For a vertical program it is much harder to find as many great startups, simply because many teams are not active in the right sector. In the end we received over 250 applications, invited 15 startups to Amsterdam and selected the best 10 for our program.
And what is the best thing about a vertical program?
The startups have a lot of synergy: since they understand each other on a technical level, they bond a lot more and can learn a lot from each other. It is also easier to attract the right mentors for the type of startups you will select.
So will there be more vertical programs? Which ones?
Our next vertical program will be the Financial technology program in London. In order to realize a vertical program, we also need to find partners from that vertical, like Vodafone and Adyen, which can support the startups.
Will there still be regular programs as well? Which ones?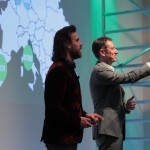 Definitely. The next program in Amsterdam is open to startups from all industries, and applications are also open for Istanbul and Israel. As announced on stage at the NFC demo day, we hope to add Barcelona and Rome very soon.
Why these cities? Is this a shift in focus towards Southern Europe?
Actually, the choice to do a program in a certain city depends on the presence of local businessmen and women who are willing and able to organize a Startupbootcamp program. The global Startupbootcamp organization forms the umbrella under which local Startupbootcamp programs are set up. We are already in discussion with many other cities were we would like to organize a Startupbootcamp program, but we have to make sure all the pieces come together before we can give a go to a  local team.
When you look at the startups in this class, you notice that they are asking for larger investments than in last classes: They are looking for € 400k – € 1 million investments. Is this due to the success of SBC? Or are these hardware startups more expensive?
I think it has to do with the special focus of the program. It is indeed more expensive to develop a hardware product than it is to create a service. I think it also has to do with the fact that some of the startups we selected already had a lot accomplished: they were simply more mature startups.
I was surprised to see some of the startups already raising funding during the program. Do you believe this is a good strategy?
It depends. I understand that it helped Watcher enterprises and Buzzoek to have extra funds early on to speed up the development and expand the team. On the other hand, raising funds is time-consuming and can be expensive. If you have someone in your team who can focus on raising funds while the rest of the team keeps its focus on the development, it can be a good strategy.
What are you looking at for the selection of the startups?
In the first stage, we focus on the team: is the team complete, how long have the founders known each other, etc. Ideally a team should have the three D's: developer, distribution (someone with a network in the target market for business development), and design. With these criteria, we narrow down the field to the strong teams. In the later phase, we also evaluate the idea or product.
What is the most important change you made in the program in the last two years?
One of the biggest causes of failure for startups is disagreement between founders. Commercially viable startups sometimes stop when founders cannot agree on a direction. We added preventive pre-mediation to our program. The founders talk regularly to each other in the presence of a mediator. The goal is to sort out differences before they become conflicts. Many conflicts are resolved this way, and when it gets to a conflict, the mediator is already familiar with the startup founders and the company goals.
Interested in joining a Startupbootcamp vertical class? The next vertical call is Startupbootcamp Fintech in London. Applications close on June 22nd.