Entrepreneurs, including start-ups, are often in need of graphic design, starting with a logo. One affordable solution for teams without a designer is crowdsourcing: offering the design task as a contest that designers from all over the world can participate in.  99designs is one of the companies that offers a platform for design crowdsourcing.  Originally from Australia, this global company has a Dutch market team, and we asked Tamara Wouda from this team to share her tips for a successful contest.
What do you do when you have a great idea but little money to spend? You crowdfund it. What do you do when you have a company but no resources?  You crowdsource it. 99designs is a place to get professional design work for prices affordable for small business and startups. A design is typically run as a contest: designers from all over the world get a chance to design a logo. The client only pays the winner (an amount agreed beforehand, typically around € 250).
99designs is not aimed specifically at startups: many clients are small 'normal' businesses, from restaurants to personal trainers. One could argue (and many designers have) that a startup should not outsource any graphical design. Design is a very important part of any service, and especially when you have a non-existent product or a very abstract service, getting the right design that communicates what your company is, is very important. Running a startup, especially under the Lean startup methodology, is also about just starting to do things and launch a minimal product quickly. Modern crowdbased services like 99designs are made for this: getting a decent logo quickly on a startup budget using global talent.
This sounds as easy as 1-2-3 and in many cases it is. However, when managing a design contest isn't your daily occupation, it can be slightly challenging. In this article we share some tips and tricks for startups that want to run the contest. We are looking forward to hear positive and negative experiences in the comments from startups who tried this.
Before the contest
Every contest starts with a design brief, this isn't anything different from working with a (freelance) designer offline. Make sure you provide a design brief that's well thought-through.
Apart from the obvious information to share, like your company or product name, you should also provide the designers with the background of your startup. This will help them to understand where you're coming from. For example, state the company's values and the target audience. You want to have a clear and concise brief, use bullet points and numbering to clearly list out what you're looking for. Add samples for inspiration and to show the designers what you like. And, as odd as it may sound, add details on what not to submit! This saves both you and the designer a lot of time.
Extra options to think about is the possibility to make the contest 'private'.
A private contest is protected by a non-disclosure agreement that designers must agree to before they can view the contest brief and submit designs. On top of that, the contest will not be indexed by search engines. For a stealth startup or one that still needs to file patents, this is a good option for extra security. [editors note: if you are really into stealth mode, you should create a brief with a made-up company name of the right length. You can during finalization of your design, ask the designer to insert the real name].
During the contest
1. Invite designers
Keep an eye on your watch list and proactively invite designers from there based on their previous work. It is possible to go through their portfolio on their profile page to see if they'd be able to suit your needs. Another way to "curate" your design talents is to browse through the designer directory. You can filter the list on category, subcategory, industry and even location if you prefer to work with designer from your country.
2. Feedback. Feedback. Feedback.
Giving feedback is probably the most important part of the entire contest. Without your guidance, it will be unlikely that the designers will create a design you love.
"The best way to manage the contest is to give feedback twice a day" according to experienced clients. "Preferably once before lunch and once before you go to bed. This way, you cover the time zones and it gives you the efficiency to judge many entries at a time." This is especially important for startups in a hurry: if you need the logo asap, you can speed up the design process by giving faster feedback.
You can leave feedback in 3 ways: star ratings, private comments on design entries and annotations. We briefly explain these.
Star ratings will give the designers an insight in how well they're performing comparing to the others: 1 being "has potential" and 5 "leading contender."
Leave private comments on the entries from the designers and explain what you like, what you don't like and try to point them in the right direction. This will help the designers to adjust the designs.
Annotations give you the possibility to give feedback in the entry of the designer. You click on the element in the design you want to comment on and type in your thoughts. This makes it extra convenient for the designer to understand where you are talking about.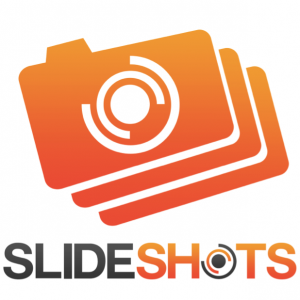 Sieuwert van Otterloo: "We used 99designs for designing a better logo for slideshots.com, a photo service. We had a logo made ourselves that did the job but no-one was excited about. In may 2012 we decided to try  crowdsourced design in order to get a better version. The initial designs from the first few days were not great: they were ok but no better than our original logo. By rating both good and bad ideas and giving further explanations to each designer, we got better and better designs from a handful of designers during the competition." After the 4-day qualifying round, the contest holder has to select up to 6 designers to go through to the final round in which they will have 3 more days to work on the design entries. "The winning designer for Slideshots was 'Najam47', possibly from Pakistan, but definitely some-one we would not have hired or met without crowdsourcing". Above you see our final logo. Below is a selection of the concepts received during the contest.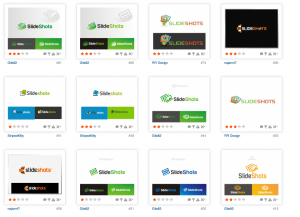 Make sure you keep the contest positive, fun and show your personality. Although the design process is run through the Internet, the designers are ultimately people too. The more engaged you are in it, the more motivated the designers will be in helping you find the perfect design.
After the contest
99designs is known for crowd-sourced logo design, but it can and it essentially is a lot more. Many customers start with a design contest and end up finding a designer with whom they keep on working. You may need to update the logo from time to time to reflect changes in your focus or new placement ideas.
Building cross-country relationships between clients and designers isn't anything rare on the platform. Many clients give their winning designers follow-up work through 1-to-1 Projects: the contest is a good way to find a designer that understands what your product is up to.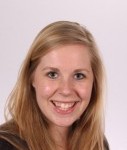 About the Author: Tamara Wouda joined 99designs' Berlin office in April 2013. As Country Manager for the Netherlands, she is responsible for overseeing 99designs' expansion in the Netherlands. Previously she studied at the University of Vermont and graduated in Media, Marketing & Publishing at the Amsterdam University of Applied Sciences.

Frontpage photo by Pieter van Marion (creative commons via Flickr)