Last Friday was demo day for the startups in the high-techXL program of Startupbootcamp. It was an exciting day for all involved: for the startups who all need serious money to build their company; for the organizers to see of the Startupbootcamp formula also works for more capital-intensive chemical and hardware companies, and for the Eindhoven region to see whether this region is indeed able to attract and support the right startups. Collectively the pitches were a success: the pitchers showed the diversity of high tech startups, the different ways to explain complex companies, and the opportunities for investors to make meaningful investments through early stage companies. We report the highlights from each pitch.
For those who do not know Startupbootcamp (SBC): SBC is an accelerator network that organises bootcamps at different locations in different countries. For each bootcamp, the 10 or 11 best startups are selected, receive an intensive 100 day training program, in order to deliver a pitch on demo day to secure investments. SBC has already organized several bootcamps in Amsterdam (read reports here and here) but never before in Eindhoven. Startupbootcamp HightechXL is not simply the same SBC program from Amsterdam at a new location. It is a fully independent program, built by a different team and network of coaches and mentors. The goal is to open up the network of the Eindhoven region to startups that are into hardware, chemistry and other more capital intensive industries. The startups presenting often have patented technology that has been developed for years, but still need multiple millions to build production facilities. Several of the driving forces behind the last SBC program (Patrick de Zeeuw and Mirte Gosker) were present but just attending. Local organizers are Guus Frericks and Eric van den Eijnden van Dutch Expansion Capital, and Patrick Gabriëls from Ernst & Young.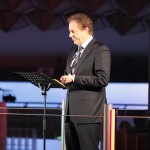 The organizers showed the support from the region by securing Rob van Gijzel, mayor of Eindhoven, as keynote speaker. Rob van Gijzel emphasized that Eindhoven is one of smartest regions in Europe. Companies can find their first development partners, supply partners and lead customers just around their doorstep. He was followed by Johan van Hall, chief operating officer from ABN-AMRO, before the startup pitches commenced. We present the ten pitching startups (nine participants and one wildcard) here by the type / theme of the pitch.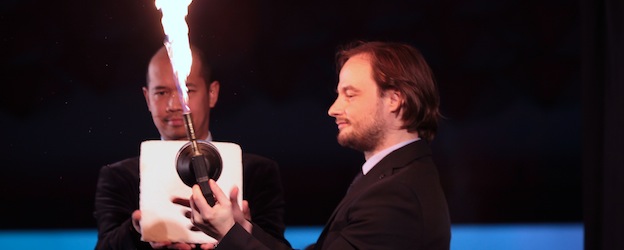 Best product demonstration: Green earth aerogel
Easily the most memorable product demonstration was made by green earth aerogels, who use rice leftover material to make a fireproof building and insulation material. Co-founder Marco Antonio had to do his speech in Spanish, supported by co-founder Fortunato. He made the advantages of their product nevertheless completely clear by bringing a blowtorch on stage, using it on a aerogel tile held by Fortunato, showing it would not burn, would not get hot, and was completely safe and undamaged afterwards. Hands down a spectacular product demonstration. As one building expert we talked to afterwards confirmed: "The fire resistance and weight and also the low environmental footprint are strong selling points. My only question is sound isolation: if the material offers this as well it could become a best-seller".
Showing the impact: Watly and Prospero
Two companies decided to focus not on their product but rather than the impact their product will have on the lives of ordinary people.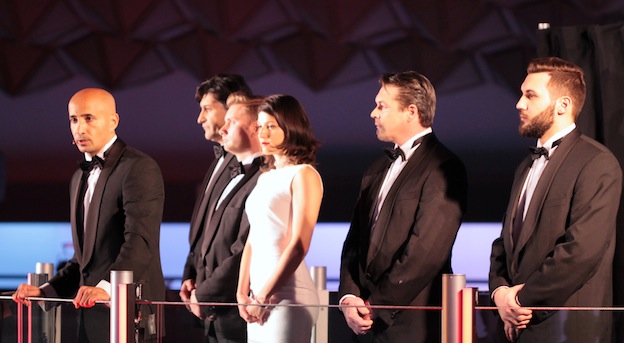 Watly boldly established itself as a "why" company: they make water purifiers in order to make a difference in the thirld world, and invited investors to not only make a financial decision, but to make a real difference in the real world by investing in their company. They also revealed a full size prototype of their solar powered water purifier and brought their whole team on stage. An impressive presentation that hopefully will get them the investment they need.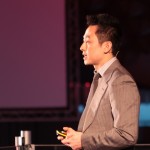 Prospero made a similar statement by linking their product to cancer research: their improvement to mass spectrometers will ultimately help researchers to work better and faster towards a solution for cancer. Although this is also a laudable goal, the need for mass spectrometers is less tangible that that for clean water, and the market volume is probably smaller as well. Prospero does have the advantage that their solution can be added to existing mass spectrometers, so even if they will not become solely responsible for curing cancer, they can build a valuable niche business.
Impressive numbers: Aquaszero and Medeye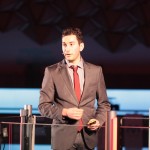 The most impressive pitch from a commercial perspective was Aquaszero. Expectations beforehand were low for some investors: their product, removal of arsenic from water, does not sound like a common problem for most people. During the pitch, Kyriakis Loufakis junior (who runs the company with his father, Kyriakos Loufakis senior) simply had the best numbers at hand: They are seeking an investment to build a factory for their filter material that can earn itself back in one year. They have three existing customers in Greece and declarations of intent to buy in volume from India.  If the numbers are correct, this company would be the investment of the year for the investors present at demo day. The company intends to build the factory here in The Netherlands at Chemelot. Hopefully they will succeed in closing the funding soon.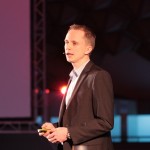 Mint solutions also impressed by emphasizing the business value of their innovation. Their product is  the medeye scanner, that checks medicines for each patients and prevents medication errors. The device is already being tested and is the most cost-effective way to reduce medication errors: it not only improves safety but also saves nurses time. They are already partnering with Achmea, who recommends the use of these devices to hospitals.
Most disruptive: Ingeny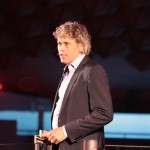 Ingeny had the honor of promising the most disruption but also asking for the largest number: they are looking for € 5.5 million divided over multiple tranches. With this money, they promised to disrupt the DNA analysis industry by shortening the time needed for analys from two hours to 20 minutes. "Imagine going to the doctor and getting the test result and the right medicine right away, rather than having to come back later", explained founder Boudewijn de Kerf.  "or even better, imagine a doctor doing DNA analysis during surgery to see if a tumor has been removed completely". Besides medical applications, the fruit and vegetable industry is also interested in using the technology to speed up the search for new and better varieties.
Beating the shade: Sensus energy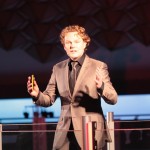 Sensus energy 'merely' presented an incremental improvement. Luckily they did it with a lot of passion. They developed an innovative chip that makes solar panels more effective in the shade. They did win over the audience with the last page of their pitch: a picture of Lucky Luke shooting down his own shadow. The company not only had an interesting pitch and solid numbers to back up their claims but also had some interesting prototypes and demonstration setups at their boot during the breaks. Their chip not just generates more power per cell, but allows more innovative designs since it allows placement of panels at partially shaded locations.
Better graphics: Think silicon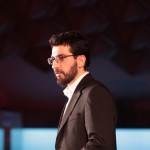 Another company with an actual product at their boot is think silicon. This company, like AquasZero, also has a team of Greek founders. Their product is impressive: graphics chips that are twice as efficient. They are talking to people from Samsung to apply these chips in mobile devices, and are looking for a € 1.2 million investment and partners for product and market development. In their pitch they launched their product line called Nema. The chip's higher efficiency means it can be twice as fast or use half the power of existing chips. They have not made up their mind yet on which of these two benefits are most important to customers.
'Normal' tech companies pitches: Proxible and blinksight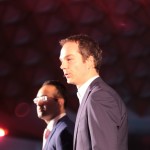 Finally, this demo day also had to software-focused companies on the pitch roster that would also do well in a 'normal' accelerator program. Proxible is a company that uses information from smart location sensors to come to better decision making. An example use case is to help tourists and attractions manage traffic and avoid queues, and proxible has an agreement with the city of Amsterdam to do this. Using the sensors and their data platform, they can send messages to tourists like "Take the boat ride @ 1010 to the Rijksmuseum. Then walk over to the Van Gogh Museum for the tour at 1400. Show this screen for a 10% discount" to spread the traffic. On stage they also announced a next customer partnership, with the Westfriesgasthuis. Dutch Expansion Capital is one of the investors in Proxible.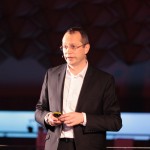 Blinksight was not an official participant in the Startupbootcamp, but received a wild card to pitch for the audience of 600 investors anyway (probably because SBC organizer Guus Frericks is part of the Blinksight team), and Blinksight develops chips that allow for ultraprecise indoor location determination. The strong point of their pitch was the emphasis on a strong team with extensive experience in chip development: as an investor, you want to invest in teams that are able to deliver, especially in such high development cost industries.
Startups not present: Diaderma and Stalactite3d
Two startups that were officially announced in this startupbootcamp's lineup in October did not present: Diaderma and Stalactite3d. We talked to one of the founder or Diaderma to understand qhy they have chosen not to demo. Diaderma as a company is still in existence and working from their office in Enschede. They have decided in January, after discussions inside the team and with the Startupbootcamp management, to step out of Startupbootcamp and develop their company outside SBC. One of the concerns of two of the founders was the fast marketing and sales-oriented approach that Startupbootcamp prefers.  Some founders did not believe this was the right approach, due to the long time needed for implementation and validation of products in the healthcare market, and the risk of reputational loss if expectations made on demo day towards investors were not met. An interesting detail is that only part of the team has actually attended most of the bootcamp: two 'younger' members (both in age and time already involved in Diaderma) with a focus on marketing and sales were in Eindhoven most of the time. Two 'older' members with a focus on product development and research were mostly in the main office and lab in Enschede.
Although it is unusual for startups not to complete the program, it is good that this decision was made before demoday to avoid confusing pitches on stage. Hopefully Diaderma will succeed with their more traditional strategy.
The other announced startup that did not pitch was Stalactite3D. The founders of this startup did not want to give up their day jobs in order to participate in SBC HightechXL and according to the SBC organization the team fell apart after the program commenced. We could not reach the founders for further comments.
Overall impression
Before the demo day, it was not clear if Startupbootcamp could repeat the previous successes also for hightechXL startups. Product development at software and service based startups is truly accelerated during the regular startupbootcamps or the Rockstart accelerator classes. For bioscience, healthcare and semiconductor startups this is unrealistic: their development scale is years, not months. What became clear however is that Startupbootcamp helps the startups by supporting them with market focus and customer dialogues: through Startupbootcamp the founders practice thinking about their market approach and story towards markets and customers: for the startups in hightechXL it was very valuable to shift their focus from inward looking (product development and research) to the outside world (customer and investor appeal). Especially the mentors and coaches were praised for their role in teaching the startups to communicate their value.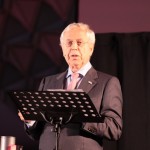 Another strong point of this Startupbootcamp is the development of investor networks around the high tech startups in the Eindhoven region. Jan Hommen (former head of ING, currently chairman of the Brabantse Ontwikkel Maatschappij) expressed clearly in a keynote the need for 'old money' to learn more about startups. "Change has always happened, but nowadays even change is changing". In Europe we need to respond faster than we used to in order to keep competing with Asia: "Time is the most valuable resource in innovation".  Working with startups offers an additional innovation model, next to the traditional innovation happening in research departments.  He stressed the need of startups for capital, but also vice versa: "Capital is always looking for opportunities for investment". Hopefully the startups will find the investments needed to realize their ambitions.
The demo day closed with the organizing team on stage. On the left founder Guus Frericks.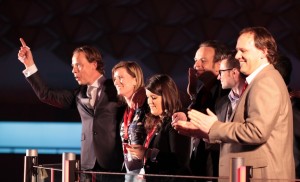 Photo's: From the author / StartupJuncture