Casengo, an Amsterdam based customer support startup, announced the raise of a EUR1.5 million funding round today. The funding is being supplied by a syndicate of European investors, led by Dutch investment firm henQ.
Casengo's cloud application for customer support empowers online retailers and other small businesses to respond to customer questions faster and better than ever. It mixes support software like Zendesk with chat applications like LiveChat. Using a single inbox solution it introduces a blend of email, chat and social media. "Our software allows companies, however small, to offer live chat to their online visitors," says founder Floris van der Veen. "On top of that, it allows their team to easily manage incoming emails and social posts."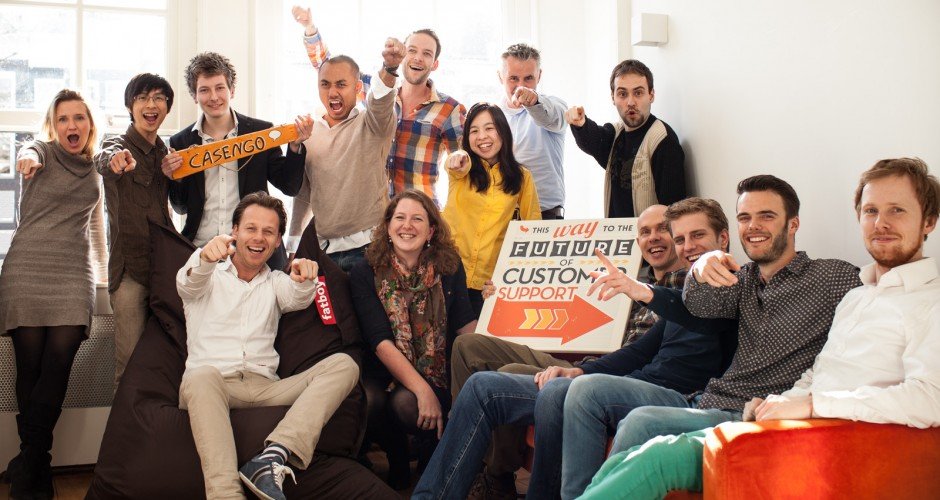 The full Casengo team
Founded by two brothers, Floris and Thijs van der Veen, in 2012, Casengo's goal was to enable SME's with the tools, they had been providing large corporates with for a decade. Both brothers have a strong background in the industry having launched Livecom, a customer support application aimed at large enterprises such as Philips, BMW and ABN AMRO in 2003. Livecom is currently active in 27 countries, while their new venture is already being used by over 2,300 businesses worldwide.
Venture capital firm henQ leads the group of European investors who inject EUR1.5 million in Casengo. "We see that retaining existing customers is getting at least as important as gaining new ones," says Herman Hintzen, henQ's managing partner. "Customer service is a huge growth market. Using Casengo, even small businesses can now continuously improve the responses they give to their customers. Casengo's experienced team made the application from scratch as an international, multilingual platform. That makes it stand out from its – mainly American – competitors."