Pastbook, one of the Dutch startups selected for The Next Web's boost program, is launching their new iPhone app today. The app makes the core service of Pastbook, to create an instant photo album based on photos from you social media accounts, usable from an iPhone of iPad.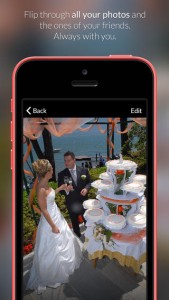 Pastbook was started in 2011 in Milan as a small project, but moved to Amsterdam in order to join the first class of startup accelerator Rockstart, in March 2012. Since then they have been in Amsterdam. Pastbook was started, as explained in their pitch in 2012, because people's most precious memories are no longer preserved on paper: the best moments are captured on social networks. Pastbook provides an interface that can translate your Facebook timeline in a photo album. In the last two years Pastbook has built on this idea to include other networks (Instagram, Flickr, Picasa, Dropbox, Skydrive and more) and into collaborative photobooks where multiple people work together to make a book about an event (wedding, concerts etc). It is great to see that a startup like Pastbook, that came to The Netherlands in order to join an accelerator program, is still part of the Dutch startup scene and is still developing even two years after the original incubation phase of the accelerator program. They are one of the companies present today and tomorrow at The Next Web conference (see other Dutch TWN participants here)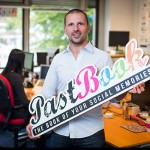 The company received funding in two earlier rounds: first directly after graduating from Rockstart, the second time in November last year. The app was announced at TNW at 14.00 today by Stefano Cutello, founder and CEO of Pastbook and can be downloaded from the App store.

Photo credits: Pastbook