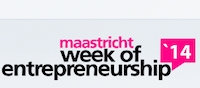 Maastricht entrepreneurship week, now in it's sixth edition is one of the biggest entrepreneurship events in the south of The Netherlands, and is also uniquely positioned to bring together entrepreneurs from the Dutch, German and Belgian communities. Central in the program was a pitch competition, where 19 startups pitched for an audience of 15 informal investors and entrepreneurs.
Most people think of Amsterdam when they consider the Dutch startup scene. Maastricht however, being close to the German market is also a good location to launch or expand a startup. Maastricht university, like other Dutch university has a center for entrepreneurship that organizes events like the Maastricht Entrepreneurship Week in order to promote entrepreneurship among students. This 'week' is actually a three day event, with a formal opening, workshops and keynote talks, for instance about corporate innovation, legal aspects and entrepreneurship education. The main event however was the pitch competition. Organizer Luuk Linssen: "In the pitch competition we give the stage to a wide range of startups from The Netherlands and Germany, including several promising Maastricht startup. Hopefully the startups can benefit from the meetings with investors today.  As an organizer I always see some points for improvements, but overall I was very excited about the level of the pitches this year".
The best tech startups
Lumutar is a new company that in a few months will launch their platform for sharing lenses and other photo equipment. Many photography enthusiasts have a collection of expensive 'prosumer' lenses at home that are not in constant use. Provided insurance and shipping is arranged, they are willing to share or rent them to other people and earn some money. Lumutar hopes to become the sharing platform for this niche: their aim is to become the AirBnB of photo equipment.
Wirecloud.de taps into what used to be called the paranoia market but is now the very healthy security market. Thanks to Edward Snowden and others we know about massive surveillance and espionage programs. Wirecloud protects the phone systems of small and medium sized companies. They have used existing high quality cryptographic software (developed by well known cryptographic hero Phil Zimmermann) to create secure phone switches. They already have 30 paying customers and are looking for further investment to finance growth.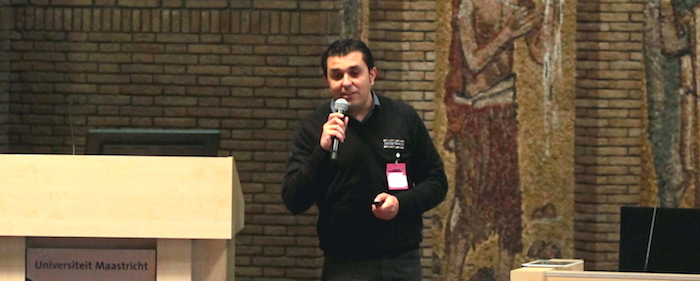 Iristrace is trying to increase efficiency and effectiveness in quality assurance processes, by replacing paper forms with a modern software solution. The most interesting part of the pitch was the personal experience of the team: One of the founders was involved in a chain of bakery stores, so had to deal with a lot of food safety paperwork, one other founder has been involved in the safety certification for toys in Europe.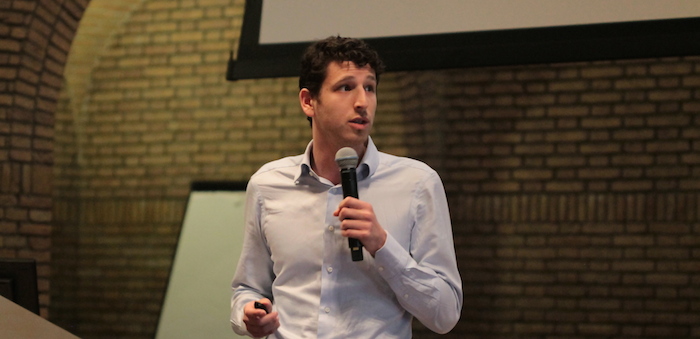 Procwise is, like Iristrace, a startup selected for the current Startupbootcamp class. Procwise is aiming to fix a big issue in the huge online education market: they want to build the platform for monitoring online exams.
Lavaboom is also aiming to solve a huge security problem: insecure email. Their aim is to build a free, secure email service. Like wirecloud they are using existing cryptographic software (open PGP, also based on the work of Phil Zimmermann) but built a shell around it to make it user friendly. Hopefully they will succeed to make encrypted email the norm.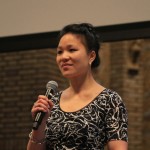 Noticed is a small app that helps people be better at professional networking. It is an app that can be used to 'notice' the people you meet at a networking event. The team of Noticed has been able to build the first version of their app in a very Lean way, using the app crowdsourcing platform of SellAnApp.
Fresh ideas
Next to the above technology driven startups, there were some small alternative plans that may not have the venture capital appeal, but were still interesting new ideas that may grow into mature businesses:
Cakeglass is a company aiming to 'disrupt the cake market' by making cakes in small glass jars. Their promise to create better tasting cake (with a secret recipe, like Coca-Cola).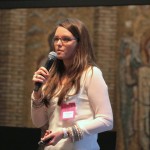 Beautycase offers a platform for make-up instruction video's. Although there definitely is a huge make-up market and potential for disruption based on online video's, it was not clear to the audience yet that beautycase has the winning business model.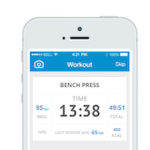 Fitto is, as one jury member pointed out, one of the many fitness apps in the app store. Fitto aims to differentiate itself with a fitness genius feature that automatically generates workout programs for specific fitness goals.
Binnovart is a platform for artists and art collectors that aims at cutting out the galleries as middlemen and make the art market more efficient. Their unique feature is a reverse auction, designed to encourage participation.
Airobe  is a clever invention that uses the motion sensor technology of the Microsoft Kinect to make shop windows interactive.  Passersby can control the screen that shops place in their window with for simple gestures. Clever use of gaming technology.
Cellmates is a local student company that makes anti-bascterial screen wipes especially for cell phones and tablets. They showed their problem by asking the audience how many people used their phone in the bathroom, and how many cleaned it afterwards. The team subsequently surprised the audience by asking only € 10.000 to convert their 'student company' in an actual business. It sounds like a very viable crowdfunding proposition, for instance using Symbid or crowdaboutnow.
Overall winner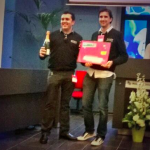 Iristrace was the overall winner of the pitch competition: they were able to collect the most 'votes' (each jury member could hand out a certain amount of monopoly money to the startup or startups of their choice). Hopefully their example and the other startups will inspire the staff and students of Maastricht university to also become entrepreneurs.

Photo's: From the author & Maastricht Entrepreneurship Week