Earlier this month, educational startup SOWISO launched a new Calculus Course to help first year students with Mathematics. For SOWISO this indicates a change of direction: they have crossed the line from just a technology platform to content producer. We asked founder Marc Habbema about this new step.
Who are you hoping to reach with the new Calculus initiative?
We are hoping to reach new students that are going to university but have a gap in their calculus knowledge. We will reach those students through their respective universities, as they are responsible for organizing these first year (or summer) courses.
Why this initiative?
There has been a lot of talk in the media about the gap between high school and university (SvO: see for instance this thesis or the work of Jan van de Craats): not all high school graduates, even though they have the diploma, have the core mathematical and language skills that are needed to succeed in university. As a result, many students drop out in their first year. (a very costly trend! For universities and society) For the past three years we have been working on a platform that can be used to learn mathematics using open answers and intelligent feedback, very suited for personalized learning. We did not want to wait any longer for a content provider to use our platform to solve this important problem so we decided to do it ourselves!
Would you call this an i-Tunes moment? Just like Apple went from a computer firm to a music and media firm, you are moving from technology into content?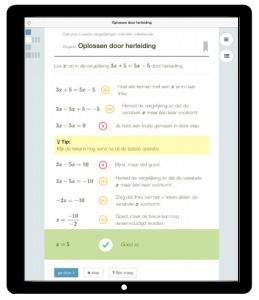 I would not say it is a major switch, more like an interesting addition. We are continuing with our main technical activities, such as providing the platform for our University and educational publishing clients, who create their own content on it. Our main focus is still to be the company providing the best platform, and occasionally we will make our own content when we feel there is a market-opportunity.
Who are you targeting with the new course? Students, lecturers, universities?
All of them. They all benefit it in their own way. Students really experience personalized learning, something that could not be offered before because these calculus courses are normally offered to hundreds of students at the same time. Teachers benefit because the intelligent software takes care of some of the (mostly dull and repetitive) tasks for the teacher and he or she can focus more on the creative part of teaching again. The institutions themselves also benefit because the drop-out rates decline and they can manage with less student-assistants for these courses, which saves them a lot of money.
Speaking of gaps: next to a gap in mathematical skill, there is also a gap in language skills. Can we expect a SOWISO spelling module?
Good question. Together with one of our current publishing clients, we are researching an extension into languages e-learning. Of course there is no need for our mathematical formula editor in a language course, but we could provide intelligent feedback on open answers, also text.
Finally, we heard that you recently visited Greece. Are you hoping for more collaboration between European startups? Are you going to collaborate with a Greek partner?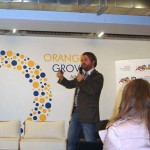 I indeed visited Orange Grove, the startup incubator in Athens, because it can be very valuable to have an International network. We are now working with the University of Patras who will do a field test with our platform.
More info about the course can be found at : www.sowiso.com/calculus/. A freely accessible demo chapter can be found here: http://calculus.sowiso.com
Image credit: Creative commons / Widowquinn