A little over four months ago, three students with a background in Economics launched United Wardrobe, an online marketplace for second hand fashion clothing. Their goal was to become largest online "wardrobe" in the Netherlands. Four months later the community has more than 5.000 registered users and over 10.000 fashion items listed. Mission accomplished one would say! In a series of guest posts co-founder Sjuul Berden will share his experiences and insights about starting and building an online community with United Wardrobe. In this post he will introduce the concept and explain the key elements of an online community before launching for the public.
The initial idea for United Wardrobe started on a rainy Friday night when my sisters were arguing about what to wear that night. Especially my younger sister could not resist lending the fashion clothes from my older sisters. As it turned out my sisters were not the only ones interested in sharing fashion clothing, there were numerous Facebook groups and real live events where people trade fashion. This showed there is a market for connecting people interested in fashion via an online platform. But still we were not sure what product to build and how to market it. We needed to solve different challenges related to our product, community, and go to market strategy.
Here are a few things we did:
Provide your community with daily news and encourage interaction
Before building the first version of our product we read a lot of articles about startups, online communities and technology. Here we found that people come together because they share a common goal, purpose or interest. In order for us to become the largest online "wardrobe" in the Netherlands we decided we had to learn from the best. Social networks like Facebook, Twitter and Instagram became successful because their members share daily news updates with their friends or followers. Think about it, don't you visit Facebook each day because you want to be updated about your friends adventures? The secret sauce here is encouraging "interaction" between your users. Therefore, United Wardrobe is not just a marketplace but a social network for selling and buying secondhand fashion.
Take care of the technology part and build the essential features
An important part of our product was the technology part. Both Thijs and I have a background in business economics but no technical skills. So we decided to ask Dohmen a fellow student to join our team. With his experience in running online businesses over the last three years we were able to accelerate the development phase. We found that in order for users to start selling and buying items, our social network needed to at least have the following features: adding a profile and cover picture, following users whose style they like, commenting on the products you like, keeping a list of your favourite items and giving users the option to make offers on products. All of these functions supported by an interactive notification system.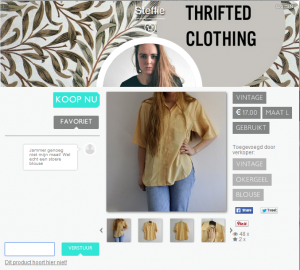 Solving the security issue
If we wanted United Wardrobe to grow big (read:international) we had to overcome one more challenge: security. We found that many people had problems with the payment or delivery of their bought items online. We figured we could solve this problem by adding a neutral player into the process: ourselves. When you buy an item on United Wardrobe you can pay with Ideal or Paypal, the money is then transferred to United Wardrobe. The seller is then asked to mail the product within 5 days. Once the bought items are delivered, the buyer has 14 days to let us know if he or she didn't receive the product correctly, after that the seller is paid.
Effective advertising on Facebook – Engage in existing Facebook groups
About a month before introducing the first version of our product we launched our first PR offense. This was mainly done using social media advertising, we gathered thousands of likes on Facebook by our well designed (credit: Jan Becking) social media campaign. Another game changer: Facebook groups. Despite the fact that some Facebook groups had thousands of people trading fashion (which could potentially threaten our business proposition), advertising (and posting) in specific groups gave us the opportunity to effectively target our market segments. We talked with the group owners and managed to get our pictures covered in their groups headline. 
With everything ready to go, United Wardrobe launched on the 15th of January. The launch went incredibly well;  over 2.000 unique visitors, 500 registered users, 1.000+ products and the first 10 transactions.  Curious about how we managed to grow 1000%, from 500 to 5.000 users, in four months? Read our next blog post in about a month.

Guest post by Sjuul Berden, co-founder of United Wardrobe, an online network for secondhand fashion.
Banner image credits: Andrew Becraft