If you are going to only one startup-event every year, go to a demo day. You see a very selective group of startups who have trained hard to tell their story as clear as possible. This week we attended demo day for the 2014 class of Startupbootcamp Amsterdam: Triprebel, Signaturit, Ukky, Procwise, Iristrace, Sendcloud, Formtaste, Giaura, Leapfunder and Undagrid.
Demo day is the highlight of every accelerator program: it is the moment that the startups have been training for and their moment to shine on stage and impress investors. Each startup gives a ten minute pitch. Many people in the room already have seen some parts of the pitches before at preview or practice sessions, but most of the startups save the best announcements for the actual demo day. This years edition had eleven startups presenting: SBC had decided to accept 11 startups and all of them made it to the finish line. Below we summarize the highlights of each pitch and show the presenting founder.
In addition to impressive startups, Startupbootcamp also has a tradition for signing up impressive keynote speakers for their demo day. For the NFC and contactless demo day, they had Klaas Knot of the Dutch National Bank. Last year they even had queen Maxima. This year they had the queen of the snowboard: Multiple Olympic/Paralympic champion Bibian Mentel.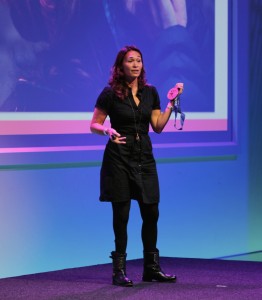 Bibian told her story as a professional athlete to reach the top and the battle she had to fight with cancer. In short: she was training for the Salt Lake city winter Olympics in 2002, when cancer was discovered in her lower leg. The first time she was not too scared: she decided to have an operation, kept training and hoped to recover fully. Unfortunately, the cancer came back and the second time around, she did feel scared. She decided to let the doctors amputate her lower leg. A few months later she was invited to hand out the awards at the Dutch championships and while she was there also participated in the snowboard cross: not only did she qualify, she actually won the even. Sport really helped her in the recover and in dealing with the major setbacks: "In sport I could put all my emotions." Unfortunately, the cancer kept coming back in her lungs multiple times. Nevertheless she kept training and even started a foundation to help others as well: the Mentelity foundation. With this foundation she wants to stimulate young people with a disability to find out their possibilities. She trained the team for the Sochi Paralympic games, and won a gold medal herself.
Her advice to startups: Never give up and eventually you will win gold. She also had a message for the investors: if you do not find an investment today, consider the Mentelity foundation.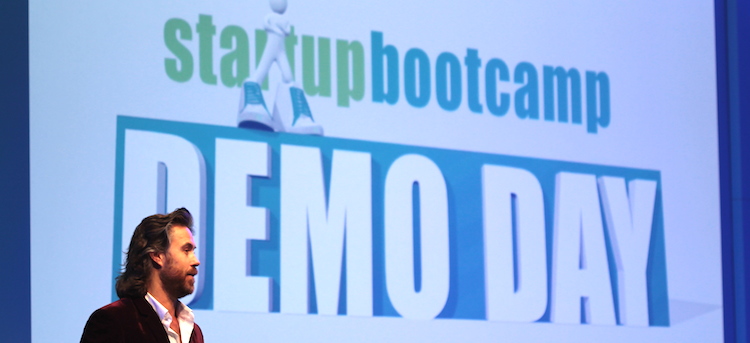 After this keynote speech, Patrick de Zeeuw from startupbootcamp introduced all the startups and let them give their pitch. Here they are in order of appearance:
Triprebel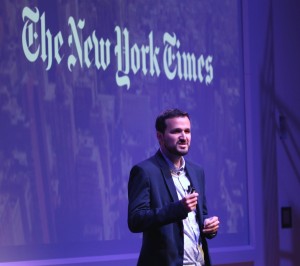 The founders of Triprebel are avid travellers and see traveling as the ultimate form of rebellion. Their rebellion starts with a simple service: a hotel booking service that saves you money even after you booked. They make clever use of cancellation policies of hotel booking sites to cancel and rebook once your room becomes available at a lower price. Their claim is save 4 hours of your time and 53 euros per hotel booking. They had a first website live when they were selected but have improved the usability website significantly. They already have € 35k in bookings collected and have been approached by hotel group Accor for a pilot. They are raising € 600k in total, and have already found € 278 k.
Signaturit
Signaturit helps you sign any documents anywhere. It is an email based service that allows anyone to sign a document using a laptop or even a mobile device. Their service is already live and used by serious companies, including the best football team in the world: FC Barcelona. They came from Spain to Amsterdam but their product works worldwide.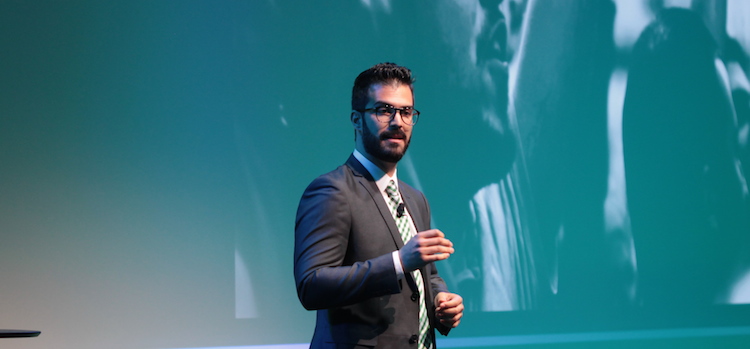 Ukky
Ukky has built an app that helps parents collect and manage photo of their children, and to create photo books. In the words of Michiel op t Landt: "If your children will ask in 20 years for photos of their childhood, wouldn't you like to show them a book like this?". Since the start of Startupbootcamp the team has made many improvements to the app, and plans to make many more. They are searching for investors for € 250.000 to raise user experience, bring it to Android, and grow to 100.000 users in one year. Today they revealed their strategic partnership with Unicef, so that parents who use Ukky can also help less fortunate children.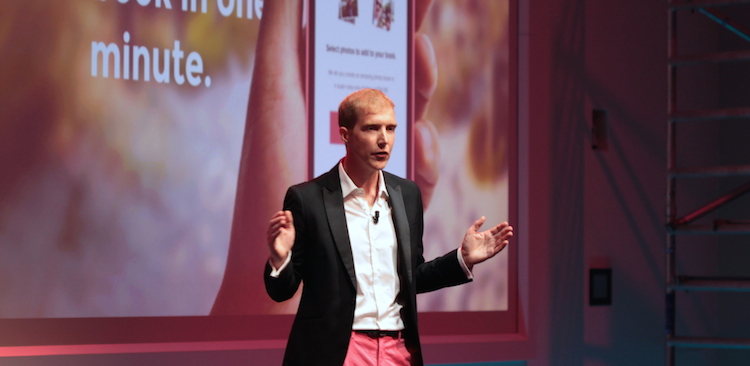 Procwise
According to Patrick de Zeeuw, founder Daniel Haven of Procwise is an extremely good hustler: a person who gets things done. In the case of Procwise, Daniel Haven wanted to make it possible to take exams online. Currently this is often not possible: online students are forced to travel in order to sit an offline exam. The concept of proctoring is already well known in the United States. Online proctoring is already applied 800.000 times a year. Luckily for Procwise, the US solutions are not legal in Europe: they record personal information that one cannot export out of the European Union. Procwise is therefore ideally positioned to capture the European part of the online exam market. On stage, Daniel announced that procwise has signed a deal with ECDL, one of the biggest testing companies.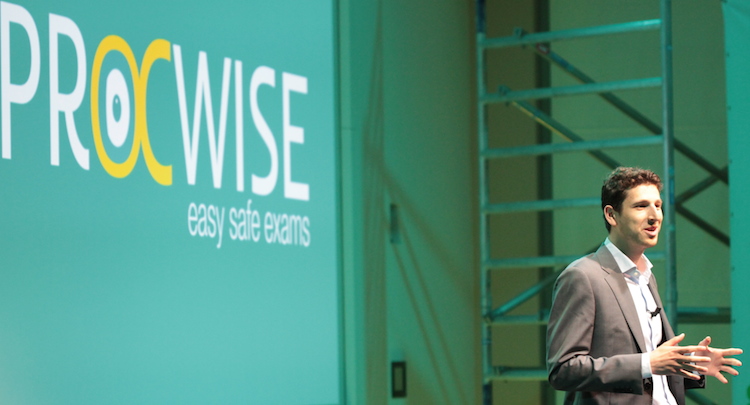 Iristrace
Iristrace aims to revolutionize the auditing industry, by using modern technology instead of pen and paper. They were the winners at Maastricht Entrepreneurship Week pitch contest. Iristrace announced their focus market and first large customers. Their product will be used in the maintenance department of KLM for a pilot. According to the KLM innovation manager (Rogier van Breugen) the Iristrace service can save many hours of work. Another innovation revealed in their pitch is a new calculator. You can calculate live on the Iristrace website how much time and money can be saved by digitizing audits using an impact calculater. Finally they showed their current market presentation: More than 650 businesses have already signed up (up from 500 before Startupbootcamp).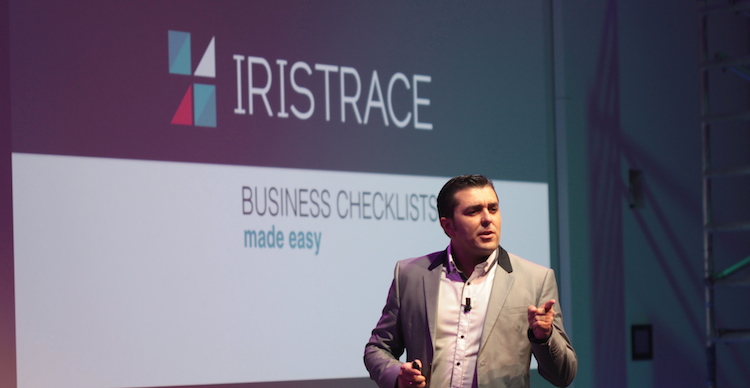 Sendcloud
Sendcloud is a clever service for webshops that saves webshops time and money by generating shipping labels. Rob van den Heuvel, founder of Sendcloud built sendcloud out of his own experience and frustration. Three years ago he had webshop for phone gadget. He spent too much time just printing and pasting shipping labels, especially after a successful Groupon deal. SendCloudalready raised € 150.000 last month and are now hoping to raise one million euros to expand into Europe. Their service is already used by 400 weshops.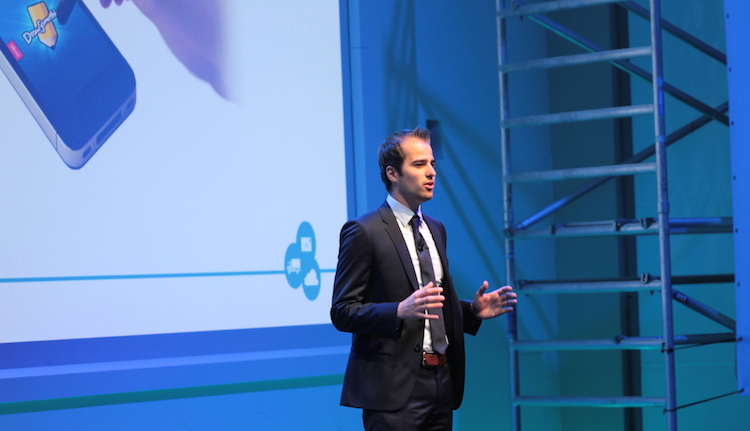 Formtaste
Formtaste truly put the demo into demo day: the team is constructing the next generation of vending machines, and they demonstrated their product right on stage. Impressive that they have been able to build a series of real machines at a startup budget. Their product looks like just a printing machine, but is actually much more: it is a next generation platform that fully uses the possibilities that a cloud-connected printing machine offers. During Startupbootcamp they tested whether print is still relevant: They placed 6 of their first machines at
6 different locations for 45 days. Over 17.000 prints were made, proving that there is a large market. Their next goal is to sell and deliver 700 printies before 2016. They have a clever mixed business model: selling machines, monthly software fee and customization of machines. Their biggest announcement was that they are moving into 3D printing: the next generation of their Printie kiosk will be the printie 3D: the first 3D printing vending machine. It is already in development and will be launched end of year.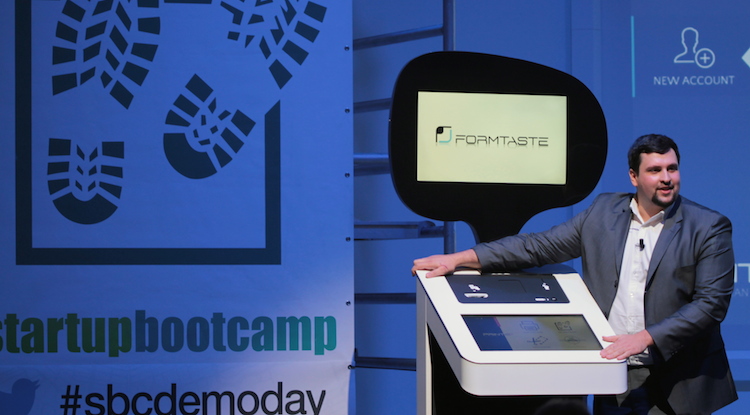 Wagaduu!
Wagaduu! is using online technology to solve the biggest pains of race organizers: publishing the results and marketing and promotion. On stage they demonstrated the latest version of their platform, using the results from the Rotterdam marathon. They also demonstrated their next generation product: a google glass app that gives people real time feedback while they are running their race. There aim is to become the biggest platform for racers. To do so, they are looking for € 480.000 in funding.
Giaura
Giaura is the first startup in Startupbootcamp that has a space background: they use patented European Space Agence technology to capture and release CO2. During Startupbootcamp they made a strategy to conquer earth as well as space with this technology. The first step is the aquarium market: where CO2 expansion. The second step is the building ventilation market. The third market they want to conquer is the Bio-fuel market: CO2 capture is an important step in producing bio-fuel, for instance using algae.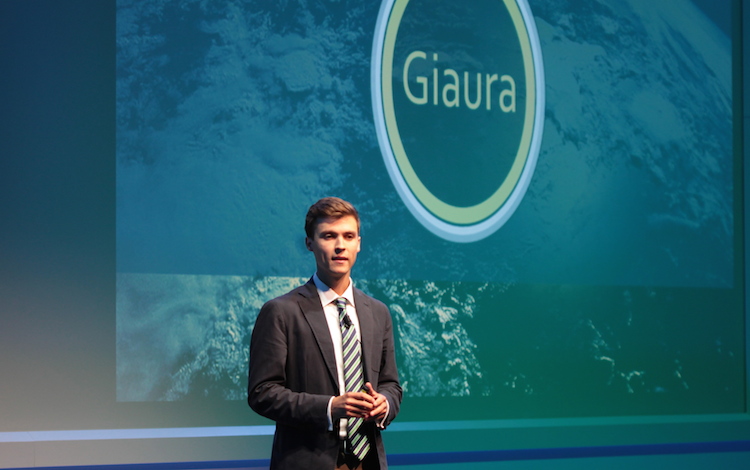 Leapfunder
Leapfunder is not a crowd funding tool, but it is a better solution for the problem of getting early stage funding. It is a platform where startups can raise money from informal investors. By their estimate there is € 1 billion of capital in The Netherlands available more than enugh to fund all startups. They hope to unleash this capital by making it easier to invest small amounts (starting at € 1000,-) in a startup. They do this using convertible notes: the investment starts of ats a loan but will be converted into certificates of shares later on for a fixed discount. This conversion is a solution for the valuation problem: the valuation will be always right, since it will have a fixed discount over the next funding round.
Just to show how interesting leapfunder is for startups, the team launched a special page where you can invest in four of the current Startupbbtcamp startups. At Leapfunder.nl/SBC you can invest in Ukky, Procwise, Giaura and Iristrace. Leapfunder also announced that they are now working on their biggest deal so far. The current record holder is Buzzoek with 235.000 euro. The current deal is a biotech firm that wants to raise more than 2 million euros with convertible notes.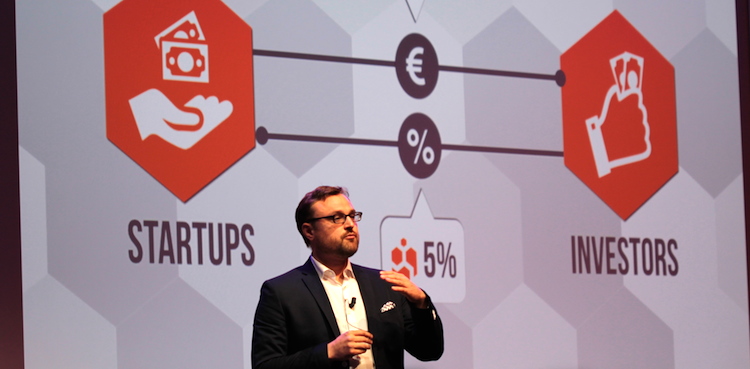 Undagrid
Undagrid is an Internet of Things company that wants to set a new standard for wireless sensor networks. Their proposed standard has interesting benefits for certain applications. For instance the sensors can communicate among each other, so that sensors not directly in reach of a base station can communicate directly. CEO Rolf van der Velde started his pitches by drawing attention to two previous Dutch inventors. Bluetooth was invented by a Dutch guy named Jaap (Jaap Haartsen). WiFi was invented by a Dutch guy named Cees Links. Rolf hopes he and his team can become the inventor of the next standard.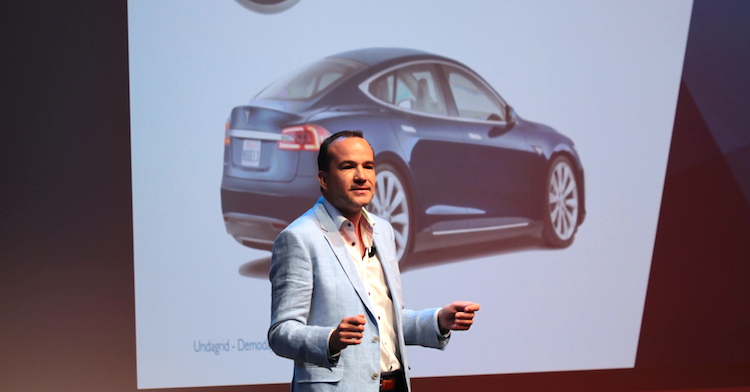 Photo's: From the author & Startupbootcamp