Startup weekend Amsterdam is one of the most popular startup weekends in the world.  It is again a success: the 2014 edition delivered some great products and pitches according to the jury. In the end three teams went home as winners: Bucket Buddies, Local Heroes and Yournalism.
Startup weekend is a well-tested formula for helping people test a startup idea. In just one weekend people get all the help they need to build a prototype, talk to customers and finally pitch their idea to a jury. On friday teams are formed, on saturday the teams learn by doing with help from mentors and on sunday they pitch. If all goes well, teams make more progress in one weekend than they would normally make in three months. Startup weekend is also a great way for people to meet co-founders. Like we said in our announcement post, startup weekend is a bit like dating: you get the opportunity to work with new people for one weekend only. Afterwards you can continue the relationship or go your own way.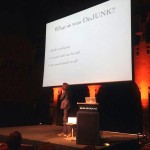 Before we discuss the winners of the startup weekend, we would like to give an honourable mention to the team of DeJunk. This team went through 53 ideas during the weekend!  They deserve lots of credit for truly testing ideas. Many traditional startups are only looking for evidence that supports their current idea, and as a result cling too long to unsuccessful ideas. Validation should be trying to put ideas to the test, and kill ideas that are not valid. Admitting you are wrong is an import quality for starup teams, and team DeJunk may not have presented great ideas, but have proven they skills of true validation. They were awarded by the jury for the 'puzzling prize' as a consolidation.
Bucket Buddies

Bucket Buddies was the overall winner of the weekend. The idea behind Bucket Buddies is to let people team up around their personal goals. The name derives from the term 'bucket list': a list of things people would like to do before they die. Bucket buddies first target group is exchange students. With their idea the team wants to bring together people based on common goals, and providers of experiences. During the weekend they built a first version of the app and demo video. Although the app is simple, it already shows the kind of inspiration it hopes to provide: new countries, health, family connections and career and sports are all included. We are looking forward to hear about the next steps of this team.
Local Heroes

Local Heroes was the winner of the second prize. Their idea is to connect travelers with locals in the cities they're travelling to. When visiting a city you ask a question based on what you would like to do today or tomorrow and get local insights from local people. It has three basic steps:
Ask a question
Get matched with a local that answers your question
Reward the local for his service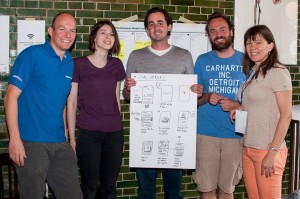 For Thijs Albers, part of the Local Heroes team, the weekend was a great experience: "I came in with an sketchy idea on a small paper, and walked out of the weekend with thoroughly checked and validated business idea. It was great to see how much an idea can grow in just one weekend, with the help of the whole team and the mentors. "
Yournalism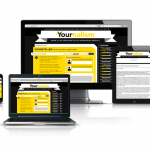 Yournalism brings crowdfunding to the world of professional journalism. The founders of Yournalism already knew each other before the weekend, but they participated in the weekend to bring their idea further and also to meet new technical cofounders. "The weekend was very inspiring for us. We made a mockup and a prototype, and validated the donation willingness."  said Huub Schuijn, cofounder of Yournalism. With their ideas, the team won the social benefit prize. This prize is award to the startup idea that has the most positive impact on society.
The event was closed by a pitch from Dwight Gunning for startup next. This is a new initiative to help teams that want to continue after a startup weekend. It is a small program with additional mentorship, designed to make a team ready for an accelerator or incubator. The program is already organised in many cities, and this year there will also be an Amsterdam version. More details will follow once they are announced.
All in all the organizers can look at a very successful weekend. We are looking forward to next year's edition (and the Utrecht and Groningen editions).

Banner photo: Startup Weekend