Mint Solutions, one of the hightech startups that were in the 2013 class of Startupbootcamp HightechXL, has raised EUR 4.425 million in a Series A funding led by Life Sciences Partners (LSP) and co-led by Seventure Partners.
Mint Solutions was one of the participants in the Startupbootcamp HightechXL, the accelerator program based in Eindhoven (see our demo day report here). The core product of Mint Solutions is the MedEye scanner. This device can be placed next to hospital beds and check that the patients get the right dosage of the right medicine. MedEye has already been deployed in the Netherlands with further roll-outs planned there, the UK and Germany.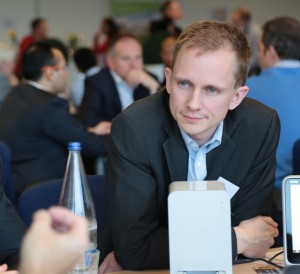 "This financing is a significant milestone for Mint Solutions", said Gauti Reynisson, CEO and co-founder of Mint Solutions. "Response from hospitals has been very strong with many reaching out directly to us to learn more about MedEye. We now have the opportunity to get MedEye in the hands of nurses in a number of European hospitals. Our starting focus is on the Netherlands".
The funding round is led by LSP, a network of investors that has been active for over 25 years and is based in Amsterdam, Munich and the USA.
Also involved is French investment fund Seventure. Seventure is a subsidiary of Natixis, the corporate investment management and financial services arm of Groupe BPCE, the second-largest French bank. The fund manages more than €500m and invests since 1997 in innovative businesses with high growth potential in Digital Technologies in France and Germany, and in Life Sciences all over Europe. One of their previous investments is Vistaprint.
For Startupbootcamp HightechXL, the € 4.4 mln investment is the largest investment so far. The applications for the next class of HighTechXL are now open. Startups can apply here until sept 30.

Photo's: Mint Solutions