Team 'Paygel' won the first Dutch FinTech Hackathon on 6 July 2014. Within just 48 hours, the Paygel Team developed a service that allows for easier, faster and safer online payments. The winners received prize money of 5,000 euros and a chance to take part in an UtrechtInc accelerator programme. The people's choice award went to team 'Fritz'. It built an app that lets parents approve payments.
First Dutch FinTech Hackathon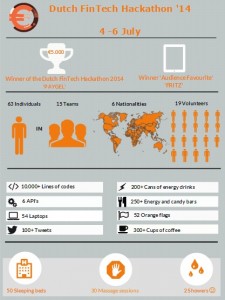 Rabobank, in association with UtrechtInc, Ordina, the Economic Board of Utrecht and TNO, held the first Dutch FinTech Hackathon at the offices of UtrechtInc in Utrecht. 63 participants, divided across 15 teams, were challenged to develop a technical solution for 'Next Generation Financing' within 48 hours. On Friday ideas were generated and teams were formed. On saturday and sunday morning the teams worked to build a working prototype, to be presented on sunday. All the teams were able to use APIs from the Openbank project, PostNL, OAuth.io, LiquiDYodlee, MyOrder and Paypal.
Hackathons are often used inside and outside companies to generate ideas. For instance companies like Atlassian, Facebook and Google frequently have Hackathons to stimulate innovation. Unlike these one-company hackathon, the Dutch Fintech hackathon is open: teams could from every background were welcome, and could you the technology of their choice. One of the teams was for instance from data startup Owlin: the team used the Owlin news aggregator to build a risk dashboard for finance officers.
Ideas
A diverse range of pitches were presented to the jury yesterday: account sharing, fraud detection, CSR advice module, real-time risk analysis, an iBeacon shopping app (add-on on MyOrder), crowd funding and banking platform, and cargo container insurance.
The ultimate winner, Paygel, developed a service that provides for easy, fast and safe online payments. You can shop online simply using a laptop or tablet and pay using Paygel on the mobile device. Customers can make a payment easier and faster because the app remembers his or her details.
The people's choice award went to Fritz. They developed an app that lets parents approve their children's online purchases or payments.
A special award went to DonationBundle.org. This platform offers a donation bundle. You can choose which good causes you would like to support each month in your bundle. And you are given the freedom to change the bundle, so consequently also your good causes, whenever you like. This platform was built by the developers of MoneyMonk.
More than programming
While the focus was mainly on programming during the Hackathon, participants also had the opportunity to take part in other activities including workshops by professionals such as pitch trainers in order to tweak their pitches and were assisted by experts from API suppliers who helped the teams get started. The participants relaxed by playing a game of chess, table football or table tennis. And if they still had built-up tension, they could have a back and shoulder massage. The culmination of the weekend was the World Cup Netherlands-Costa Rica match the participants watched on their laptops on their laps.
Jury verdict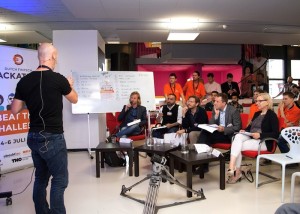 The five-person jury was extremely impressed by the high quality of the pitches. Nektarios Liolios, Managing Director of Startupbootcamp FinTech: 'I see lots of hackathons and pitches, but you have built some fantastic things this weekend.' Annemarie van de Berg, Chairperson of the Board of Directors of Rabobank Utrecht, was also impressed: 'What amazing energy and speed. It's wonderful to see how passionate these teams are about the topic of FinTech.' In addition to Nektarios and Annemarie, the other members of the jury were Richard Straver, serial entrepreneur in FinTech, Tony Bosman, trendwatcher, and Allard Luchsinger, Director of Velocity Capital.
Next steps
 'We do not see this Hackathon as a one-off. As Rabobank we want to be and remain part of the ecosystem of FinTech start-ups and developers,' says Rabobank Innovation Manager Maarten Korz. Hopefully the Hackathon will return next year.