Startupbootcamp FinTech, the first Startupbootcamp accelerator class exclusively for financial technology startups, has announced the ten startups selected for their first class. Here is an overview, including the Dutch startup InvoiceSharing.
Startupbootcamp is changing from a 'horizontal' accelerator family (multiple programs in different cities and each city accepts all kinds of startups) into a more diverse accelerator group with both horizontal and vertical classes. After the success of the first two vertical classes (HightechXL in Eindhoven and NFC and Contactless in Amsterdam) last year, they have introduced two new vertical programs: smart transportation and energy in Berlin, and Financial Technology (FinTech) in London. These vertical programs follow the same structure as the normal programs. The ten best teams are selected from all applicants, these teams sell 8% of their shares to Startupbootcamp in exchange for € 15.000 in funding and an intensive mentoring program. The startups move into the accelerator for 100 days were they train their investor-readiness. At the end of the program they are presented to investors at demo day. The vertical programs use the same structure, but the added focus has several benefits: mentors and investors know what to expect, the startups have more relevant experience to share with each other.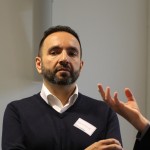 Program director Nektarios Liolios has been travelling the world in order to meet hundreds of startups that use new technology to bring change to the financial industry. In the end more than 435 startups applied for a place in the program, and the top 20 was invited to come to London this weekend. Based on the feedback and interaction with the mentors, the ten best startups were selected and will join the program in August. He was in Utrecht in May for a selection day at Rabobank and gave his perspective on innovation in the financial sector: "Innovation in the financial sector. First of all the financial institutions are very risk averse. They have to be because of the ir positions and the importance of trust in the sector, but it does not help them innovate. Secondly there is very little interaction between innovation on the inside of financial institutions and the outside. " With this program and especially the help of sponsoring institutions Rabobank, Lloyds and Mastercard there should be more opportunities for tech startups to enter financial markets.
Here is the full list of selected startups (descriptions adapted from Techcrunch where the selected startups were announced).
Creditable – 
South Africa
Creditable enables credit unions, lenders, businesses and individuals to give loans to their customers, employees, suppliers and family professionally in just five minutes. It aims to make credit more affordable, accessible, transparent and inclusive, and to re-imagine and re-engineer societal behaviour around credit. The team is led by Sechaba Ngwenya.
Epiphyte
 – United States
Epiphyte helps financial institutions to "talk" to crypto-financial networks, while operating within existing regulatory frameworks. Epiphyte provides banks and financial institutions with the expertise and tools to increase margins and provide new services, by taking advantage of cryptocurrency and blockchain innovation.
FriendlyScore
 – Poland
FriendlyScore creates credit scorecards based on big data from Facebook. Using the Facebook API, it aims to become the 'Klout' for creditworthiness.
Insly
 – Estonia
Insly is a beautifully designed cloud-based tool for insurance salespeople, enabling them to manage sales from start to finish. There is no upfront investment and the web-based service needs no installation. Insly is already used by more than 60 insurance market leaders across six different countries, handling millions of transactions.
InvoiceSharing
 – The Netherlands
InvoiceSharing is a financial services marketplace which enables 100% free electronic invoicing. After they raised some first funding last year they went freemium, offering digital invoicing for free to all suppliers and earning money when they provide additional services to purchasing departments.
Liquity – 
United Kingdom
Liquity is an online marketplace matching buyers and sellers of private company shares. It provides private company directors with a comprehensive suite of shareholder and equity management services and matches investors with private company shareholders who want to sell some or all of their equity. It facilitates complete deals, from introduction to transaction completion including escrow and custodial services.
M-Change
 – Kenya
M-Changa's proprietary technology enables anyone to quickly and inexpensively manage a remote fundraiser. Registration of a fundraiser via mobile phone or online takes only a few seconds. Immediately, users receive a personalised M-Changa account number and can start accepting mobile money and credit card donations to their fundraiser.
milliPay Systems – 
Switzerland
milliPay makes online micro-payments as simple as browsing. It allows users to pay with a single click, across the web and on any device, whatever the amount. milliPay's innovative cryptographic protocol helps processing payment transactions extremely secure and efficient.
Tab – United States
Founded in 2012, Tab integrates with existing bank systems to enable real-time social payment networking. Friends can connect payment cards together to share purchases on a single card. Tab stores payment card tokens on file, splitting the total when any merchant charges a tab-enabled card, and charging everyone their respective portions dynamically, automatically, and instantly.
Up Investments – United Kingdom
Up Investments enables people to find, manage and grow all of their P2P and equity crowdfunded investments, all through one free and simple platform. It's the world's first crowdfunding supermarket where shoppers can browse, buy and manage investments from all the leading crowdfunding brands.