LOEY, the annual election of the Leading Online Entrepreneur of the Year, has opened the nominations for this year's awards. Especially interesting for startups is the special starter award. You can nominate people (yourself or someone else) until August 8.
Since five years, LOEY has a special starters award to recognize young entrepreneurs. Any entrepreneur with an 'online' (at least scalable, technology-enabled) business that has existed for at least 6 months and at most 3 years. The winner gets no prize money but an award and exposure to the LOEY network. "Many starting entrepreneurs are innovative, and like experienced entrepreneurs can inspire others. This is why we want to recognize these entrepreneurs." Says chairman Patrick Kerssemakers (also CEO of Fonq). "Especially for young entrepreneurs a LOEY nomination can bring a lot of exposure and value". The LOEY is unique among startup awards that it focuses on the person rather than the company.
Until august 8, entrepreneurs can be nominated through the form on loeyawards.nl/starters. There are five categories:
e-Commerce
Tech
Marketing & Media
Education
e-Health
After the nomination closes, the professional jury selects the top three, and the crowd then decides on the winner. All nominees are invited to the final event on September 3 and get access to the LOEY network.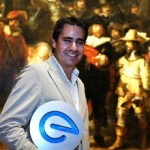 Previous winners of the starters award are Valentijn Bras (Scoupy) (photo), Christiaan Henny (eFaqt), Ruben Timmerman (Springest) and Maarten Lens Fitzgerald (Layar).
Photo: Loey Awards