Internet of Things startup Relayr, now based in Berlin, has used crowdfunding to fund the development of their primary product Wunderbar. In this guestpost, co-founder Jackson Bond explains how they did it and what they learned.
Hardware startups are tough to get started in. Almost anyone with a computer, a good wifi connections and good basic knowledge of how the internet works can start a SaaS business of some kind. But when it comes to hardware, cash flow is critical. A "real" item requires all kinds of production and manufacturing costs, along with additional bureaucracy for health and safety measures. The man-hours are long and the iterations are highly time-consuming. Marc Barros tells his story here in detail – about how even an outwardly "successful" hardware startup, ranked at the top of world business lists and having thousands of customers – was still close to being broke for not being able to manage the flow of money properly.
This story is one of many that kept us up at night wondering if we were making the right decisions. Nevertheless, we decided to take on crowdfunding for our Internet of Things starter Kit. Our Wunderbar is a chocolate-bar sized package containing six different beacon(BLE)- sensing modules that communicate wirelessly. The kit is aimed at app developers, hardware makers, tinkerers and Internet of Things enthusiasts. We decided to crowdfund the Wunderbar with only 6 weeks to prepare. Nobody knew us and we didn't even have a working prototype. Ambitious, or just crazy??
Turning away from normal investors
There are many reasons to choose the crowdfunding route rather than go for investors. Cutting a long story short, these seven reasons motivated us to switch.
not giving away equity
testing market interest
collecting pre-sales
faster than building a relationship and arranging an investment with the average investor
It is not necessary to show traction, revenue or customer lifetime value in the same way
Getting the attention of individuals or firms interested in investing in this kind of product or startup
You can generate publicity
Kickstarter or no kickstarter
Initially we thought we would be crowdfunding through Kickstarter, because many other hardware startups have done so with great success (e.g. Pebble, LIFX). With Kickstarter however you never know how much you are going to raise. This caused us problems because we had a lot of questions. Should we dream big, and imagine owning a category? Should we stick to being experts in a newly-developing niche? Both require different milestones. Raise too little, and we don't look ambitious enough. Raise too much, and we might be tempted to grow too fast, and ultimately burn out. These questions led us to turning away from Kickstarter at the last minute and choosing Dragon Innovation instead.
Dragon Innovation has a team specializing in hardware crowdfunding that could answer these hard hardware questions. They also bested Kickstarter in being available for direct contact. We switched because of their hardware expertise, and their added value in Marketing and PR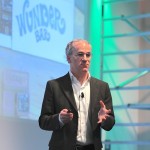 support, as well as their own industry network. If you are successful, they also offered to help with their production expertise. But believe me, we were super nervous about switching from Kickstarter to Dragon at the last minute. For many days we thought it was a mistake. Now we could not be happier, but we will never know what might have happened had we been on Kickstarter. Might we have been lost in the crowd? The success rate of tech products is shrinking on Kickstarter as the overall number of tech projects grows massively, now around 2500. This was the final factor in deciding which route to go. So in January, on demo day of the Startupbootcamp NFC and Contactless class, we launched our campaign (photo).
The results of our crowdfunding campaign
As you can read on the Wunderbar campaign page, our crowdfunding campaign was exactly the success we hoped for. Our product was 122% funded on March 4. Our target amount was $ 91.000, and we raised a total of $ 111.472. Exactly the right amount we needed to get actual production going. The result of a crowdfunding campaign is much bigger than just the money. These are the two most important extra results in our view:
Extra result #1: publicity
Dragon Innovation is a young crowdfunding platform, but the team has a great reputation. This made up for the lack of a huge network such as what Kickstarter has. The lack of a million-person network meant a more intense stint of PR and marketing, which was ultimately successful. We had hoped to have backers in the thousands rather than the hundreds, but we the result was a very targeted and interested group of backers who invested more than average. Within this group of backers were representatives of major electronics distributors who approached us with some compelling offers. Conrad Electronic made a great impression on us and we decided to work closely with them and sell them a Master License for manufacturing and distribution. We can now work in partnership with the other resellers and distributors around the world to bring WunderBar to market.
Result #2: discovery of new markets
Our target buyer is a developer working on hobby projects, much like the Arduino community are hardware hobbyists. However, we were also contacted directly by industries e.g. the healthcare industry, banking and logistics who wanted to develop new smart projects based on our Wunderbar. Big corporations contacted us to use it in their own engineering and corporate Innovation Days and Hackathons. It is said that startup founders can often become narrow in their perspective of the possibilities of their inventions. We had also grown used to the idea of simply satisfying one specific niche. It was exciting to think of the opportunities now open to us!
From these results, we learned seven important lessons about crowd funding for a hardware startup.
Lesson #1: doing your background research is king
I believe our success lay partly in studying current and past campaigns related to our industry in depth.
In our case, the target audience consists of developers and makers, not consumers. Quite quickly during the research stage, we discovered that the majority of tech projects on Kickstarter are consumer oriented. Nonetheless, we dug around Kickstarter and Indiegogo to find products aimed at our audience of hardware and software engineers that were as similar as possible (e.g.twine,udoo,espruino). We also considered some cool-but-geeky consumer oriented products likeSmartThings,LIFX, and RigidBot. Back in Sept 2013, when we started to consider crowdfunding, there were very few of these kinds of campaigns to analyze. But we did find a small selection of loosely-related ones, in the Arduino/RasberryPi niche, and focused on the data from 26 of these products in the connected hardware space.
To help us understand our product positioning, we looked at KPIs like
# backers
funding goal %
campaign duration
Campaign duration in months
average pledge per backer
# backers per perk
backer rate per perk compared to the entire campaign
pricing and quantity distribution
pledges/perk
distribution of backers across the perks
We found that across 26 tech hardware projects between Nov 2011 and Sep 2013 (on Kickstarter):
the average campaign duration was 36 days
the average pledge per backer was $159,60 (€125)
the average campaign goal was $60,461
the average number of backers was 2571.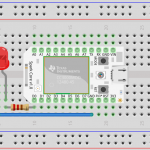 Upon deeper analysis of a closely-related campaign to ours, spark.io, the cheapest four perks were responsible for around 72% of backers and 30% of revenue, whereas the top five (of 13 total) most expensive perks brought in 40% of revenue. This was the data we used to make choices for our crowdfunding campaign.
Unfortunately, it's impossible to do more than speculate on if things would have been different if we had used Kickstarter. It was the hardest decision to make (even more so because we did it the night before it was due to launch on the platform!) but in the end, we were very happy with the result.
Lesson #2: discovering and building your network
People like Seth Godin and Tim Ferriss are never going to have much trouble crowdfunding for their books due to large and loyal pre-existing networks. We, like many startups, had to commit to this with a lot less assurance of success. We almost cancelled the whole thing a week into the campaign! Luckily, that moment passed and we made it – but not without a LOT of blood, sweat and tears.
No matter how small you are, your personal network is crucial to getting those first few dollars in the crowdfunding kitty. Nobody wants to fund a project with an empty basket. The diagram below shows how the waves of influence spread out through networks for the average crowdfunding campaign. The initial hours/days are 20-30% funded by family and friends. This in turn causes the 2nd wave: word spreads to their networks PLUS by now your marketing efforts should start to be tapping into the early adopters. The final wave is through the networks of these people, and thus 100% (or more) funding is reached.
This didn't go as planned for us. Our success was based on:
10% from family and friends
the network of Startupbootcamp, the startup accelerator program we were part of
the spread of our Kickstarter preview link (before we made the switch to Dragon)
We were discovered by an executive marketing manager and business developer at Huawei in Hong Kong. He offered to put us in touch with Paul Poutanen, founder and president of Canadian-based mob4hire. It's the world's largest network of mobile testers and developers with some 60k members globally. He was super supportive. He said his community would be excited about the WunderBar so we set up a cooperation. We allowed his community early access to the campaign, and thus to the 50 units at the Super Early Bird pricing. He sent out a mailing 24 hours before we went live with a link to the campaign, and we agreed on a pre-release timing – four hours before we announced we were actually live. According to our statistics we attribute about 7-8% of our backers to the "Mobster" network.
Also, through persevering on social media, emailing and content we became known amongst a small knot of highly relevant and influential makers and engineers. In turn, they became evangelists for us (since they would not get their goodies if the project didn't get funded)!
One of these influential makers was a Director at the Dutch Elektor Media Group. His company discovered us on Dragon and reached out. They said they wanted to sell the product and offer it to their readers. They immediately purchased 10 WunderBars and we arranged a deal, whereby his readers would get a special price for a limited weekend time period. Elektor featured it in one of their newsletters and that weekend we managed to bring in 64 backers through that newsletter. Accounting for nearly 22% of total backers.
Lesson #3: settling on the right money goal
In the previous point, I talked about how important researching was. When it came to the pricing strategy, this was thrown into chaos because we had paced it for Kickstarter and not Dragon. Our original goal was $50k. We ended up settling on $91k at the last minute with Dragon. The benefit of having a lower price was to create a higher likelihood of success. Based on the numbers from other campaigns we calculated it to be safely within reach, as well as being psychologically more attractive to backers. $50k was below the average of the campaigns we had studied. But the risk of raising only $50k and then having essentially the same costs for production, packaging, shipping, customer service, etc. seemed dangerous as well.
However, when the Dragon team looked into our product, they suggested 100k. Even then, we were squeamish to accept, and put it at 10% less.  We doubted this decision many times during the campaign, but now in retrospect, it seems to have been the right financial decision to choose our breakeven point as a low-risk, safe experiment. If we succeeded, it would secure funding and bring attention. If we did not reach it, we only had the cost of preparation, but this would be offset by the marketing upside.
Lesson #4: make your own script
The pressure of trying to get everything done in 6 – 8 short weeks (over the Christmas holidays as well) led us to make some shortsighted decisions. One of these was hiring a professional scriptwriter for the promotional video. We invested in a professional script writer and came out with a beautifully corporate script and video. We only realized AFTER the video was made (when we watched in embarrassed horror at the result of our €4k investment) that it was a disaster. Great for a corporate, but the wrong tone of voice for a community of developers.
We were again super lucky to have a young, very good and flexible film maker. He agreed the first video was unusable, and agreed to a total rewrite and re-shoot, which we did together in a 24 hour period, without being charged much more. But the second time around, we wrote the script ourselves and managed to salvage some key shots and animations from the failed first attempt.
In retrospect, it was really important that we could share all of our progress, our images, films, texts, etc. within the StartupBootcamp community of teams to get immediate feedback. This helped us affirm or reject our own opinions and reach decisions in minutes, rather than hours or days, or perhaps never. Having the outside perspective, outside the team, really helped us move quickly. And honestly, we would not have had a better result by spending more money on a highly polished video from some professional agency. Likewise, it was crucial to have the time to make the mistake of the first video, and we were lucky to have the team to enable a 24 hour turnaround.
Lesson #5: working with responsive partners
Something we really didn't anticipate was the application process of Kickstarter. Just like the Apple App Store, we submitted… and we waited. With the possibility of having to wait 2 days to 3 weeks, being able to get our marketing strategy rolling in a timely fashion was pretty much impossible. No updates, no contact. Through a contact of a contact we finally got through to a member of Kickstarter, only to realize we'd have to postpone for a further 4 weeks. Serendipitous, perhaps, as ultimately it gave us more prep time and we were discovered by Dragon during this breathing space.
Lesson #6: hiring the right team
For such a tight schedule, and having almost no groundwork laid on the community-building side, we knew we had to hire for this project. We did not try outsourcing, so I cannot add much to that debate. We took on two interns and (again through the StartupBootcamp network) a growth consultant. Despite the outside hires, we still did not have anyone on the team who had experienced a crowdfunding campaign before.
Again, we got lucky! The interns were dedicated and hard-working, and the consultant helped to lay the groundwork for the 6 week sprint. She was a really experienced, smart and strong consultant in the area of "growth-hacking" – that is, metric-focused, driving increasing brand awareness and community growth. She helped lay a solid foundation to work with once the campaign started. She essentially provided a template and coaching for growth-hacking during the two month pre-launch period, including publishing relevant articles on 3rd party blogs, finding, ranking and pitching to industry influencers, writing highly relevant articles for our own blog, growing our social media presence, visiting relevant meetups, and more. This foundation gave us relevance and credibility, as a newcomer to the market, which helped us later attract backers, both individuals and companies.
Lesson #7: just do it
Would we have been served better by waiting another month, another two months? In reality, probably not much. Our personal networks (i.e. the networks of the 4 co-founders) was not larger than 500 each. Our product, as stated earlier, was not consumer-based. This hardware tech niche is fast to saturate and I believe we did a pretty good job of it considering the resources we had. The sense of urgency also added to the adrenaline and excitement, pushing us as a team to do better.
Having a "minimum viable landing page" ready from early on was a great asset. All the information curious people and tech enthusiasts could want was there, rather than just surprising people with a crowdfunding page on Day 1 of the campaign. On this landing page, people were able to sign up to our newsletter during the period leading up to the campaign launch – we collected over 500 email addresses. It was also an awesome way to test the design (and copy) of what our crowdfunding campaign page would be like.
We also started a forum, where interested people and backers could question us and propose ideas for the Wunderbar sensors. I think this was super important in getting people to trust us and creating a good buzz around the campaign.
Ultimately you need to launch the product and show your networks that you are really doing it and not just talking about it. You really cannot be afraid to take that risk and go for it. We discovered that it was the launch that both committed us, but also created the necessary sense of urgency to drive the campaign forward 120%.
Next steps
After completing the Startupbootcamp Accelerator program in Amsterdam in January, we moved the company back to Berlin. We love Amsterdam, ibut our families live in Berlin and it has always been our plan to live and work there. Our offices are at The Rainmaking Loft, the home of Startupbootcamp Berlin and a very nice open environment. In late August we are shipping the Wunderbar to our backers. We also closed a distribution deal with Conrad, where we will sell the next batch of Wunderbar sensors.
About the author: Jackson Bond is the co-founder of Relayr, the team behind the WunderBar. The WunderBar is a set of wireless detachable sensors and smart modules, all of which can be monitored and controlled from your phone and web apps.

Banner photo: Pablo Fernández @ Flickr
Other photo's: Relayr