Double Dutch design is a Dutch fashion startup that uses modern technology to make custom bras especially for large breasted women. The company was founded by Marjolein Oomen and is currently using crowdfunding to finance the first production run. We interviewed Marjolein to get her view on fashion innovation.
What does Double Dutch design do?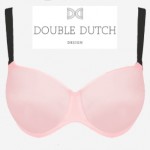 Double Dutch design makes customized lingerie for cup D+. This may sound like a niche market, but it is a growing market: in the last 15 years, the average bra size in Europe has grown from 75B to 80C, and 33% of Dutch women has a D cup or larger. Many of these women struggle to find a perfect fitting Bra and that is what we are trying to address.
How do you compete with large established brands?
Our secret is a combination of old-fashioned attention to detail and use of modern technology. In order to reach a perfect fit, we have designed our own 'cup' that is included in each Bra. We have tested the fit or our design with our test panel, consisting of women from the target group and will continue to work with a test panel to make sure our products fit.
In order to compete with other brands on design, we make use of digital technology to provide customization. In each shop we have one Bra of each size in the shop so customers can try out the right size. They can then order a customized bra, in the design and colors they need. This is a form of semi-customization: the parts are already produced but the final Bra is designed on demand. This is a new and Lean business model that is harder to implement for large, established shops.
How and when did you decide to become an entrepreneur and start the company?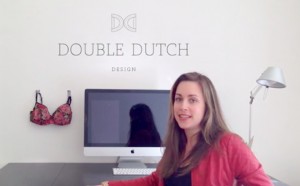 I participated in the SPOE program: a program from the Dutch government to let prospective entrepreneurs travel to the United States and learn from leading companies over there (the program no longer exists, info on SPOE can be found here). I did an internship for three months at an e-commerce platform. In July 2013 I came back and started building Double Dutch Design. It took a year of organizing and talking to organize the company: find production partners, sales partners, and design the first product. The company is bootstrapped until now but an investment is needed to start production.
You have decided to use crowdfunding. Why?
I would like to build relations to help Double Dutch Design forward. Through crowdfunding I hope to not just collect the money I need to start production, but also to build a network of supporters. For me it is important that the backers really care about the company, not just the product. This is why I have chosen to use equity crowdfunding: the backers benefit financially from the success of the company. Thus I did not wanted to do a kickstarter campaign where people just pre-order the product. However the campaign offers some benefits: women who have the right bra-size are invited into our testpanel and get a double dutch bra as an extra incentive.
The campaign is listed on both VERA and Symbid. Can you explain how this works?
VERA is a specialized crowdfunding community for women (both as investors and entrepreneurs) that started in the beginning of 2014. They have helped me with some advice early in 2014. VERA uses the Symbid platform internally and the same campaign format and investment rules as Symbid, so I could put my campaign on both platforms simultaneously. The help from the VERA community is very welcome, but I did not want to exclude other investors.
Is it also interesting for men to invest?
Definitely. First of all, I tried to give the company an attractive valuation so that there is a good chance for a financial return. I used the Equidam valuation tool to understand the value of Double Dutch against other crowdfunded companies, and then offered additional shares to make it extra attractive. I am raising € 65.000 and am offering 15% of the shares, so the pre-money valuation of the company is less than € 400.000. (the valuation of the company after it receives the 65.000 euros is € 433.000). Secondly we have added a matching boxershort as one of the extras if people invest more than 100 euros.
You are currently the sole founder of Double Dutch. Do you have plans to expand the team? Yes, I believe it is better for the company to have a larger team. Ideally I would like to find co-founder (male or female) with experience in fashion production or distribution, or a CTO that can help improve the custom ordering options.
What is your advice for other entrepreneurs?
Share your idea. Everyone you meet has a potential new perspective that can be used to move the idea forward. People in the Netherlands can be very protective of ideas, and recommend you to keep them secret. In the end that will only show you down.
Investments in Double Dutch design can be made via the Symbid campaign. Like all Symbid campaigns, one can invest in amounts of 20 euros and receive certificates of shares in the company.