Today the Dutch Edu-tech Startup Gibbon launched an iPad app to bring peer to -peer education to a global scale. The company added the ipad to their offering because learning is moving from desktops to tablets.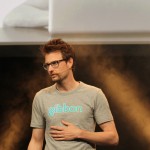 Gibbon was founded in 2013 and part of Rockstart's class of 2013. The focus of Gibbon is on peer-to-peer learning: they believe people are moving aways from classrooms towards self study. To do so people need online material, preferably curated so that people study huh quality material in the right order. Unlike other curated content sites (ZEEF for instance), Gibbon pages offer a real learning journey.
Since the launch of the website in January, more than 2500 playlists have been created on the Gibbon website. It is now possible to check all these lists via the iPad. The iPhone app will be released this November and Android is expected early 2015, the company announced in their press release. The iPad is available as of today. We asked captain of growth Wout Laban a few questions about this launch.
Does the iPad version have all the features of the website? Is it designed to make the website redundant? 
No, it does not. The iPad is designed to bring the learning experience of Gibbon to comfort your hands. Gibbon is all about casual learning and the iPad brings you the comfort to learn in the train or on the couch. Something the website could never do.
This first version of the iPad does not have any of the teaching functions yet, although it does sync all your activity with the web platform and brings real time updates from your teachers. Later versions of the app will have teaching functions, but the website will always exist. The creation of playlists is an activity something that is much easier on website.
What was the most important feedback you received from your user base? How did that influence the iPad design?
A lot of users really enjoyed the content that is available on Gibbon, but preferred reading on a mobile device instead of a laptop or desktop. This helped us to make the decision to keep the app focused on learning and make browsing through content easy as well as going to the next chapter. With just a simple swipe you go to the next chapter.
You decide to launch the website version first, then table, then phone. Why this order? Why not focus on one platform? 
When we started with Gibbon early 2013 we build our first prototype, which was an iPad app. Halfway through the development we learned that the creation part of Gibbon was truly a web activity and we had to stop the development. Without users that create playlists our platform is useless. We had to nail this before we could focus on the learning, that is why we launched the web version first.
We have always seen the iPad app as the ideal platform for our users, that's is why we chose that over the iPhone application. Although our vision is to become the leading platform in casual learning on all platforms, so iPhone and Android apps have a high priority in our roadmap.
You are part of the Rockstart class of 2013. Are you still connected to Rockstart? How are they helping you in this phase?
Correct, when we decided to fully focus our energy on Gibbon, we joined the Rockstart Accelerator. Now a year later we are still in good contact with Rockstart and we benefit from their network, specially on days like this when we launch a new product. Next to that many of the of the Rockstart mentors and members of the Rockstart family became teachers on Gibbon.
What are the most original or surprising Gibbon paths that users have created? 
We have always had a great selection of playlists about Design, Programming and Entrepreneurship, but over the last few months we have been releasing a few new topcis like: Science, Photography and Lifehacking.
Although users create playlists in a large variety, two of my personal favourites that stand out are: Art Fraud, Art Forgery, Art Crimes and a playlist that was made just last week: Gifs, Gifs, and Nothing but Gifs, a playlist about you guessed it… Animated Gifs, the history, use cases and more. Both playlists have a high entertainment factor but are also very informative.
Based on your experience as a startup, what is your advice to other education startup founders?
Even though there are many initiatives that aim to disrupt education, it is still a very traditional market. When you talk to education institutes they often try to persuade you in tweaking your technology to fit traditional use cases. In my opinion it is key to stay true to your own vision and break through the old systems to truly change the way we educate ourselves.
The Gibbon iPad app can be downloaded here. For more info on Gibbon check the Gibbon page in DutchStartupDatase

Photo's: Gibbon