Yournalism seems like an incredibly useful idea: a startup that raises awareness for social issues, helps journalists make money and publishes stories people want to read. In just a few months, Huub Schuijn and the other founders of Yournalism have gone from idea to official go-live. We interviewed Huub about the launch.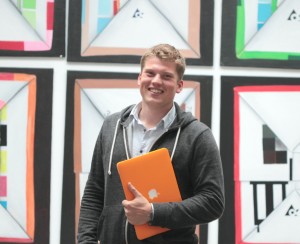 Anyone who works in the media sector knows that newspapers and other media are in trouble: the number of paid subscribers is decreasing as young people are used to reading news online and for free. As a result, newspapers no longer have the funds to pay journalists for stories that require research. Yournalism was started by Sybren Kooistra, Huub Schuijn and Wadim Seminsky based on the idea to use crowdfunding. The team tested this idea in the Amsterdam Startup Weekend, and ended up winning one of the main prizes. Encouraged by this success they went to work to go from startup weekend to a real company.
What exactly is the business model of Yournalism?
We are a website where people can post an idea for an investigative journalism story: a potential news item that requires some journalistic time and effort. We set a fixed limit, e.g. 3000 euros. If enough people donate and the limit is reached, the story is made.
Is Yournalism another crowdfunding website?
We see it as a crowdsourcing rather than crowdfunding. Although there is some money collected, our most important function is to validate that an investigation will have an audience. People are not betting on a story on our platform: if a story succeeds, the bakers get early access to the story but no financial kickbacks.
Will Yournalism become a platform for scandals and other negative stories? If so, how do you manage liability?
Of course it is possible for investigative journalists to discover problems and missteps, this is not the main focus. There are many topics where clarification and well-researched clarification is needed, or local news stories that are important for the people living in a certain area. We hope to finance these productions that have an interested audience, but that are not made without our support. Scandals may be discovered but we only publish well-researched facts and do not expect any negative sentiment.
You used a Startup Weekend to validate the business idea. What exactly did you validate?
We validated during the weekend that customers are interested. We built an example campaign page and checked whether people are willing to pay for journalism. This worked out: out of 400 visitors, 35 were willing to pay at least 2.50 euro.
We also joined Startup Next, a new initiative to help teams that want to continue after startup weekend. Through coaching they helped us bring the idea further.
Has the formula of Yournalism changed in the last few months? How?
Not a lot. Our main achievements have been to connect to 50 experienced journalists to make sure that we can make the stories that get funded. We also collected 15 interesting proposals. We currently have 8 proposals live, and will add a new proposal every day. The one aspect that we are changing is the introduction of wallets so that people can donate for more than one campaign. Otherwise we spend too much effort collecting small donations for every campaign.
How is Yournalism funded, and what are your future funding plans?
We are currently funded by the founders with an additional 20.000 euros in prize money from the Fonds voor Journalistiek . In the future, we may use crowdfunding for additional funds.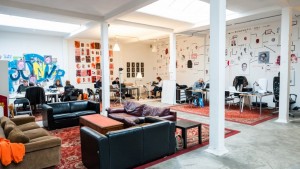 Yournalism is not located in a traditional startup-incubator or flex-office. Why not?
We have been invited to join the nieuwsatelier, a shared office especially for news and journalism startups. As you can see, our office is an open space were we can work with our neighbours, such as Follow The Money. For us this is a great place to work from.
If you would like to try out Yournalism, you can become backer of several campaigns, for instance for health and healthcare, politics and economy and sustainability. 

Photo's and banner image: Yournalism