Would you like to have an automatic thermostat, but do you not want to share your shower schedule with google? Dutch startup Thermosmart has made their own smart thermostat as an alternative to NEST. As of today the Thermosmart is available at De Bijenkorf.
The Thermosmart is a wifi-enabled smart thermostat. It learns at what times on which days you would like to have your house heated and makes sure it is heated only when needed, raising comfort and lowering heating costs at the same time. Ever since google has bought NEST, smart thermostats have become the prime example of what the Internet of Things can bring: smarter devices that adjust to your needs without any need for programming. With google NEST however, there are of course privacy concerns. It is therefore very good to see that there is a locally developed product that is available with the same main functions and without any strings attached.

Thermosmart the company was founded in December 2010 by Hans Kouwenhoven and is based in Arnhem, at the Greenhouse Arnhem incubator: a specialized incubator for green initiatives. In December 2013 the product was nearly ready for launch, and the company lauched a crowdfunding campaign on crowdfunding platform OnePlanetCrowd. The company set out to raise a modest 25.000 euro, and eventually raised 43.000. It was purely a prepaid campaign: backers did not receive shares or certificates but have been rewarded with a predelivery of a Thermosmart. Through this campaign and online sales, the company has already sold and delivered 400 thermostats. This may sound like a small number, but it makes it one of the leading hardware startups: it is very challenging to develop and build hardware on a startup budget, so kudos to this team for making it happen.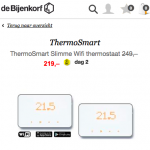 Today Thermosmart is launched at the Bijenkorf. The campaign slogan is 'mooi en makkelijk' (beautiful and easy), with a campaign design by KSM. The Thermosmart is one of the headline products of the current Bijenkorf salespromotion, and for a limited time only cost € 219,-. The regular price is € 250,-.

Images: Thermosmart