A conference is a place to get inspired by new ideas, creative thoughts and interesting people.  Amsterdam based startup networktables makes sure this also happens during the conference lunches and dinners: It lets attendees pick their seat online so they can share their meal with the people they want to share it with, and solves the problem of ineffective lunches.
Meeting the right people
At a conference nearly everyone is looking to meet the right people. In order to find a specific or suitable person to talk with, it is possible to consult participation lists and download certain conference apps. Still, searching through the crowd remains a quest. Inspiring encounters and interesting conversations are scarce, often you end up at the back of a line trying to give away your business card.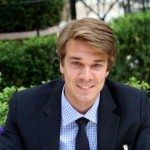 Matthijs Otto is cofounder of EatToMeet, a social dining startup that is participating in the Amsterdam startup NEXT program. By launching networktables he is moving into the B2B domain. Matthijs: "the lunch- or dinner-table is the perfect place to really sit down and talk to a person you want to meet. Often during meals, large crowds of people make it extremely difficult to create a lasting encounter. Almost always you end up sitting together with a group that has no shared interest." Otto has a perfect example: "While speaking to a large crowd sitting at different tables, I asked who was currently interested in 'sharing economy'. Guess what? Seven people were interested in the topic, but they were all sitting at different tables."
Pick a table
The team of Networktables believes this should happen in a different way. The team developed a new service especially for conferences Matthijs explains:
It's simple. Having registered for a conference, the confirmation e-mail will include a link to the Networktables-website. As the page opens, you can see the tables organized according to various topics and/or interesting keynote speakers. Furthermore you see the names, pictures and professional background of those who chose to sit around the table.
We do all the work. They send e-mail reminders if someone hasn't picked a chair yet, allow invites through social media, and include a handy search tool. All these features make it super easy to find people with similar interests and be confident that your presence at the conference will not be wasted. After all, it is up to you if you take a seat at 'table 5 next to Matthijs Otto, founder of Networktables', or if you'd rather share food and thoughts with 'Sofie Willemsen, a journalist at table 3'.
Eat To Meet
As indicated previously, networktables is a sister-page of EatToMeet. At this website, people can also sit at tables for diners with strangers, but in this case it is organized in restaurants in major cities. So anyone who likes good food and interesting conversations, is able to share a dinner with people in his or her city. More than 350 people have already done so in 70 restaurants in Amsterdam, Utrecht, The Hague and Barcelona.
When corporate parties approached Otto because they wanted to use the Eattomeet system for their table seating at major events, Networktables was born. The system was already tested at the European Young Leaders Conference in Brussels and the Innocos Cosmetics Conference in Rome, participants were happy to choose their own seats.
First experiences
Otto: "I was allowed to join the 'Environmental' table at the conference in Brussels: An environmental activist sitting next to me was making really interesting points to a politician working on the same topic. At that point I realized that if she had been sitting anywhere else, that entire conversation would not have taken place."
The team's ambitions are big and wide. Not only lunches at conferences, but also the table-seatings at a wedding, a business meeting or a different major event can be arranged by Otto: "The only thing you need, is a table."

Photo: EatToMeet