BUX is a new investment game / method that makes investing fun again for retail investors. It allows anyone to get experience in stock picking with free virtual money and upgrade later to real money. BUX has only just been launched and has more than 10.000 users.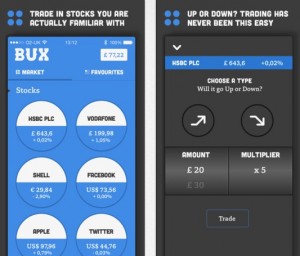 BUX is a new and modern trading platform for casual investors: people with a bit of money that are interested in getting experience on the stock market. Many traditional banks have become risk-averse and are encouraging customers to get ultrasafe financial products in order to meet their fiduciary duty, BUX manages risks by letting the customers gain knowledge and experience. The key element is simplification: BUX offers well known companies and a simple up-or-down investment option. The innovative feature of BUX is that virtual trading and real trading go hand in hand: anyone can sign up and start trading for free with virtual money. Once they are successful they can upgrade to 'seriousBUX', a trading account where one can actually win and lose money.
BUX started in 2013 and has been silently building on their platform until last month, when the BUX app was finally released. Founder Nick Bortot:
What are your target markets?
We have launched in two countries: UK and The Netherlands. The Netherlands because the team is located here and because we have a good network of media contacts to generate publicity. The UK because our partner that provides the trading platform is located there. We have not sought any publicity yet in the UK but are already receiving signups through word of mouth. Most of our customers currently are in The Netherlands. The number of users is growing day by day. Today (oct 8th) we are at 15.000.
And do people indeed move from virtual trading to real trading?
Since we use a freemium business model, it is important for us that enough users upgrade to a paid real account. Luckily many do: about 5% of the users (around 500) have moved on from FunBUX to SeriousBUX. For a freemium startup that is a really high conversion percentage so we are very happy with that. Another Key Performance Indicator is engagement, which in our case is number of transactions: already 100.000 (real and virtual) transactions have been made.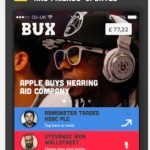 We noticed that you provide trading-related new on your website. Several startups (SNTMNT, Owlin) are active in searching and collecting news. Have you considered using such service?
We know these parties and have talked to one such party. However our current news service, BUXBuzz that we make ourselves is good enough for most of our users. Only a small fraction of users have a news-driven trading strategy. These users probably already use such innovative services themselves.
When reading the small print on the website, it seems that the BUX brand is owned by a UK Limited company (Ayondo Markets). Why is this?
For every financial startup it is important to have the right permissions from financial risk authorities to offer financial products. It can be very costly for small firms to get all these permission. To avoid this cost and overhead, we work with a partner that already is qualified. BUX is a Dutch company that owns and develops the BUX concept and creates awareness among users. People who sign up, become customer of our UK partner that will let them make actual trades. BUX thus focuses on the innovative part and uses reliable partners to ensure we comply with all regulations. We are owned by the management and partly by our first investor, Orange Growth Capital.
 Do you have any advice for other FinTech startups?
Do not try to do everything yourselves. It is wise to outsource those activities that take a lot of effort to set up and where it is hard to offer additional value.
BUX can be found at getbux.com.

Banner photo by Pieter van Marion (creative commons via Flickr)
Other images provided by Bux