One of the last problems of ecommerce is getting items delivered: many people order online because they are at work, and cannot be home permanently to receive packages. MYPUP has a solution tot his problem: special electronic lockers. We interviewed two of three co-founders Luke van der Wardt and Martijn van Schaveren.
First of all: how did you come up with the idea for MYPUP?
We came up with the idea of MYPUP when we had to use certain nutrition at home. We needed to get these items in time, but could not take time off from work every time in order to be home. So after a few times we did what many people do, and shipped these items to our office. This was the only way we could get these deliveries without taking time off. For large employers however, handling private shipments are costs: the reception and postal room staff of a large office building spend a considerable amount of time accepting and handing these packages. We decided to build an automated solution for this to receive and ship your online parcels.
And what exactly did you build?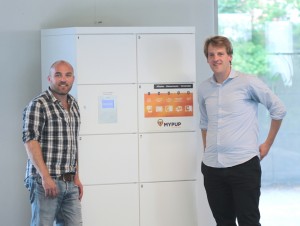 We build smart electronic lockers. If you order something, instead of having it sent to your home address, you send it to an address provided by MYPUP. All packages are delivered to the Pick Up Point of MYPUP at your office that you selected in your MYPUP account. You will receive a text with your unique pickup code to open the locker and get your package. And you can also ship your parcels via the Pick Up Point, saving both employer and employee time.
What is your business model?
Most delivery startups add an additional delivery fee, that has to be paid either by sender or receiver. This business model often does not work, since consumers are very price conscious. We realized that we save the employer a lot of costs by taking parcel handling away from the reception desk and, or postal room. Our preferred business model is therefore to ask a monthly fee from the employer for the time we save their staff. Depending on the agreement with the employer, there may also be a small fee from users.
Do you already have customers?
Yes. We have placed several Pick Up Points at different locations in Amsterdam, our first area of operations. Among them some large companies like an airline, a financial institution, a telco, WTC Amsterdam and VastInt (the property management company of IKEA). And there is a lot of interest from other companies and property owners, all of them recognize this issue.
What has been the response from users?
The response has been better than expected: once an employer or building manager decides to place a MYPUP, user uptake is fast. One thing we discovered is that there is a large peer to peer market: employees share a lot of items amongst each other, or buy and bring presents for each other. Especially at an International, 24-7 company, people often use our lockers to share items directly between them: peer-to-peer use. So the lockers also provide a valuable extra service.
Hardware startups often have significant extra costs for developing and producing physical products. What are your doing to minimize these costs?
We partner with existing locker suppliers so we can focus on our added value. We only build the wifi-enabled locks and the backend system that generates and sends the access / shipping codes. An added advantage of this strategy is that our solution can be retrofitted if organisations already have lockers.
You applied to Startupbootcamp and reached the top 20 this spring. What was your overall experience?
We really enjoyed the experience of the selection days. It was interesting to talk to the mentors and to get their feedback. In the end we were a bit disappointed that we were not selected, but we have learned a lot. It was not a major setback, shortly after the selection process we obtained several new customers, and decided to stop chasing accelerator programs and focus on building and delivering services to our customers.
Using the Lean method, we built the product ourselves and found our first customers. We are almost cash-flow positive already. We would like to find investors in the future but only to accelerate growth and to expand faster.
There are several alternative pickup solutions in the market, both from startups such as Saddle and from existing companies such as Kiala. How would you position MYPUP next to these alternatives?
It is good to see that several parties are focusing on the delivery problem, it proves that there is a market. They both focus on a public consumer solution, where we try to service both the employee and the employer.
We also noticed that several existing delivery companies are working on their own concepts. These solutions however only take deliveries from their own delivery firm. For employers this is not acceptable. Employers want to have a complete solution, because they cannot place a Pick Up Point for every single delivery firm, that costs too much space.
MYPUP, as an independent, universal solution, offers this advantage.
When will you come to different cities?
We have a very clear strategy to first validate our service by finding more customers in Amsterdam. After this validation step we will go to the rest of The Netherlands and perhaps other countries. With the current traction we expect to start this roll out at the end of this year.

Images: MYPUP