Dutch crowdfunding platform for app ideas SellanApp has suspended its services with immediate effect and is filing for bankruptcy, the startup announced to its users just now. 
SellanApp was forced to discontinue its service by its shareholders, reports the team: "as it proved impossible for SellanApp to raise sufficient funds to keep its service up and running." The startup was right in the middle of a new crowdfunding campaign via Symbid, where it now also displays the message sent to users. SellanApp was looking to raise EUR100,000 at a valuation of almost EUR3 million. Apparently the divide between boom and bust is pretty narrow in startup land with the company going under, instead of raising at this significant valuation.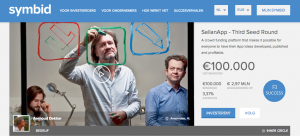 SellanApp Symbid campaign, which was live until earlier today/this week
What happens now is that an executor, as is familiar with Dutch law, is handed over the responsibility of SellanApp. As part of this, for the startup it's legally not allowed to take any further steps, like performing refunds or the transfer of apps.
Executor
The management of SellanApp says it will work together with the executor to seek how they can "continue their service and/or to minimize any damage that the discontinuation of the service might incur to all parties involved." For now, an executor still has to be appointed. That usually means it will take 4 to 8 weeks before answers can be given (by the executor).
Symbid
SellanApp was founded in 2012 by Aernoud Dekker and Milan van den Bovenkamp. De startup itself was crowdfunded on the platform Symbid, raising 150.000 euros – making it one of the big successes on Symbid. It was also highlighted as one of three success stories on the platform, until it was removed when the SellanApp news broke (or before that).
Earlier this year, crowdfunding website for books TenPages was shut down, making SellanApp the second Dutch crowdfunding platform to go under this year. In case of TenPages the assets were sold to a third party, including the rights to the book titles and proceeds.
Given the leading position the Netherlands has in innovative crowdfunding concepts (first platforms globally for book publishing, app ideas, equity crowdfunding, convertible crowdfunding, bands) the bankruptcy is another blow.
Besides a crowdfunding platform SellanApp was also crowdfunded itself and is now the second well-known blowup among crowdfunded projects in the Netherlands. The first crowdfunding project to file for bankruptcy in The Netherlands was the restaurant Blauw – Den Haag (other locations of the same restaurant were not involved and are still operational), via platform Geldvoorelkaar, also earlier this year. These first bankruptcies go to show that the risks in crowdfunding are significant and not to be underestimated by the funders.

Banner image: modified screenshot from SellanApp website