Websummit Dublin 2014 is now in full swing. Thousands of people have travelled to Dublin, including more than 60 Dutch startups. Here are the most interesting talks and startups we talked to on day one.
Moonshot period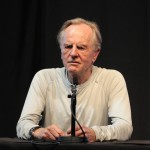 Websummit has grown from a few hundred people a few years ago to 20.000 people. It is amazing to see so many people from the tech scene together in the same space. This creates an atmosphere of anticipation: apparently we are at a transition period of large technological change. One of the true veterans of technology breakthrough is John Sculley, the former CEO of Apple. He gave a short talk about what he calls 'moonshots': events such as the moonlanding that change the way people look at things, such as the moon landing or the world wide web. He thinks that the current rise of Internet of Things and big data analytics creates such a moonshot period.
Dutch startups
On the floor we talked to an many of the Dutch startups we could find. Each startup had a single meter stand to show their demo and talk to media, investors and the general public. One of the startups we talked to on day 1 was Bundlin. Bundlin is a new curated content platform that has launched last Monday: the website went live while the team was in the plane to Dublin. "We are excited to have so many visitors, both here and at our new website. All the feedback has been positive, except one thing: People want the feature to create their own curated pages". Let's hope that Bundlin grows further after the summit.
Heppee

The Heppee team has built an app for children whose parents are divorced. "Children with divorced parents often have a difficult schedule, moving between two parents. Especially young children can fee insecure. " One of the team members of Heppee is a child development expert and has a very good experience in using a child-focused diary to help them deal with it. The Heppee app is simply the digital format for this. The app helps the children see when they move to the other parent, and also helps the environment (grandparents, care-takers) to know where the child is at each day. A very useful app indeed
Wevolver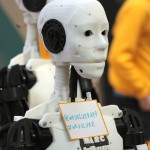 One of the startups we did not include in our overview of Dutch startups at Websummit is Wevolver. This orginal Dutch startup has moved to London so is no longer known as a Dutch startup. "We got an offer to join a London accelerator program and therefore moved there. The program is completed but the team liked it in London so we are staying there". Wevolover is a collaboration platform for open source hardware projects: people can share and work together of design documents for hardware. Compared to the other startups that only get one meter of exhibition space, they have a huge spot to display some of their products. "We brought one of our flagship projects, a humanoid robot that is being designed to go to the zoo for children in the hospital: the robot will drive around and let children see what their friends are doing. When we told the organization we wanted to bring several robots, we got this larger space".
Other startups
We talked to include UseClark, a smart document reader that helps people speedread any book by highlight the right words just in time. What is open now, a real time map that shows users which basrs, shops restaurants are currently open. "Our ultimate vision is a simcity-like map that shows you what you would like to know. It is more than opening hours, for instance we have integrated solar information to show people where you can have a drink in the sun".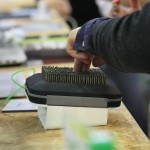 Virate.eu is a new platform, to be launched in December, aimed at young people that can post a video review for anything they would like to post a review. Also interesting were two music demos: The team of Nupky created a novel musical instrument that can be played by making impressions with your hand: one of the most interesting and interactive demos on the floor, but no novel business model. Creative concepts showed off Pro Jam, an exciting new app for musicians, that allows people to play along with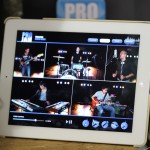 professional musicians. They recorded many popular songs with all instruments on different tracks, so that they can be switched on and switched off. You can hear the whole song, and if you would like to play the drums you can switch off the drum part and fill it in yourself. A good use of technology combined with high quality recordings of the best session musicians from the Netherlands.
Other startups presenting were Sendcloud, Qlever, Suppleye and Datatrics. We asked each of these startups for their goal at Websummit. "It is not about investment directly, but more about getting a perspective, collecting feedback from an international audience, and talk to the other startups". Also present was Swipeguide, who published a guest post earlier this week.
Main speakers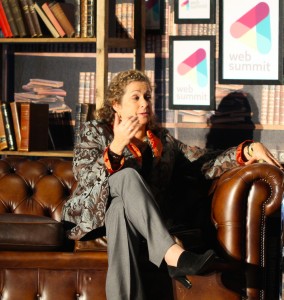 All the small startups have small exhibition booths. The CEOs from large companies are speakers on the main stages, either in a presentation or as a fireside chat. One of the speakers was John Collison, cofounder of Stripe, a payments firm. He was asked which other firms he thinks of as competitor. Not surprisingly, he seen bitcoin as the main challenger. It truly is a different experience. All the traditional players can be outcompeted with better support and service.
On a smaller stage, the library, the web summit has made room for people for social initiatives and other more-than-money causes. It is great to see that the summit has room for the bigger issues in society, but it is sad to see that these talks are not so well attended as the traditional talks. One of the speakers at this smaller stages was Abigail Disney, an independent documentary maker. She talked about her first documentary "Praying the devil back to hell" about how a women's protest movement influenced the peace talks in Liberia. Through her work with women all over the world she has seen that women often do not get the recognition they deserve: "women are often the glue that keeps society together".
Interestingly enough for a conference with les than 20% women, other speakers also agree. John Sculley was asked about the next Steve Jobs: "The next Steve Jobs may well be a woman, since women are the largest untapped resource in societies around the world". Websummit is large but there is still room for growth: If web summit would manage to unlock this extra resources and have 20.000 women attending next year, that would make Websummit an even better conference than it already is.