Bra design startup Double Dutch Design, founded by Marjolein Oomen, has won first prize at HaarlemValley and raised a total of € 87.500 from investors. Second prize was for CRE Group and third prize for UseClark.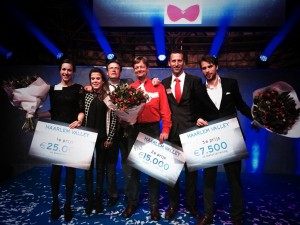 HaarlemValley, also known as 'Present Your Startup' and inspired by TV shows Dragons Den and Shark Tank, is an initiative of Vallenduuk attorneys. This event isn't just about attracting investors, it's also providing all the contestants, and especially the three prize winners, with a whole set of services ranging from working spaces to personalized coaching and legal services. Sixtysix startups applied for the event and on November 27th, eight finalists gave their final pitch in De Lichtfabriek in Haarlem.
By winning the event, Double Dutch Design won a package of services with a value of € 25.000. Moreover, € 35.000 was invested in the company by Nick Stals and € 20.000 by Jeroen van der Toorn. Apart from these investments, Double Dutch Design raised an additional € 32.500 via Crowdfunding platform Symbid.
Double Dutch Design is an Utrecht-based company that wants to revolutionize the market for bras by offering cusomizable and comfortable bras at affordable prices. Customers will be able to design and customize their bras, using an online interface. The company focusses on women with cup D or larger, because for them it is especially difficult to find a perfectly fitting bra. With the recently raised funding, the company aims to finance the first production run. Last August, Startup Juncture interviewed founder Marjoliein Oomen about her plans.
Double Dutch Design may have won HaarlemValley, second prize winner CRE Group can look back at a very successful event as well. The Startup, which is developing a hybrid drive system for buses, not only won the second prize with a value of € 15.000, but also raised € 200.000 from a German investor. Winner of the third prize, with a value of € 7.500, was UseClark. This startup is developing an app that enables people to double their reading speed.

Photo credit: Haarlem Valley